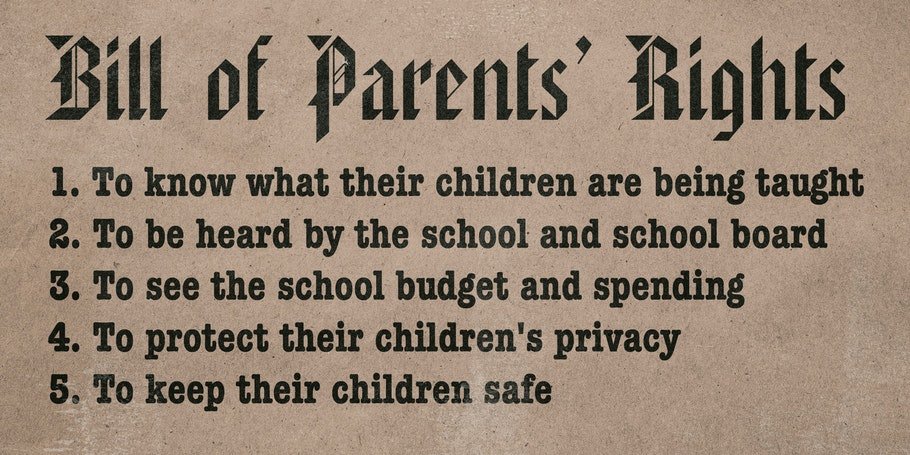 GOP Pushes a Parents' Bill of Rights
By  DOUGLAS ANDREWS January 25, 2022 in Politics
"Think about this," said Joe Biden at his disastrous one-year anniversary presser. "What are Republicans for? What are they for? Name me one thing they're for."
Okay, we'll bite: Republicans are for undoing everything Biden has screwed up. And the list is long. Republicans, it's safe to say, are for closing our southern border, getting rid of wokeness in our military, maintaining peace through strength with our geopolitical foes, fixing our economy, reducing inflation, restoring our workforce, smoothing out the supply chain, reopening the Keystone XL Pipeline, regaining our energy independence, lowering gas prices, moving beyond the permanent pandemic and the unconstitutional mandates, making our elections more trustworthy, funding our law enforcement officers, getting criminals off the street and into prison, and giving parents a greater say in their children's education.
Hey, it's a start. And the last of these items has already been beta-tested. Indeed, parental concerns about how and what their kids were being taught was instrumental in electing Republican Glenn Youngkin governor of a state, Virginia, that Biden had carried by 10 points just a year earlier.
But while merely being against Biden's demonstrably awful agenda will probably be enough for the GOP to wrest control of Congress from the Democrats, it's always better to have a positive agenda of one's own to run on. Republicans seems to understand this, and they've enlisted Newt Gingrich, the architect of the GOP's 1994 takeover of Congress, to help them fashion a list of policy pledges. As the diehard anti-Republican Washington Post reports:
Newt Gingrich, whose "Contract with America" in 1994 is linked with the GOP takeover of Congress in that midterm cycle, said he has been advising House Minority Leader Kevin McCarthy (Calif.) on a set of policy items for Republicans to take to voters ahead of the November elections. House Minority Whip Steve Scalise (La.) and other members of House Republican leadership are also involved in the project, which is not expected to launch until the spring or summer.

Republicans are expected to focus their new platform on education policies aimed at tapping into parental discontent; countering the rise of China with new economic measures; and "oversight" of the Biden administration. They are also looking at invoking other traditional GOP goals such as cutting taxes, restricting immigration, criticizing Silicon Valley and repealing environmental rules.
This high-level agenda sounds pretty good even with the Post's derogatory framing. Were its scribes more honest, for example, they'd have put the word "illegal" between "restricting" and "immigration." Merely "criticizing" Silicon Valley isn't enough, either, nor are Republicans interested in "repealing environmental rules" just for the sake of doing so. The goal would be to undo the most grievous aspects of the Democrats' business-crushing, job-killing regulatory overreach.
As for "tapping into parental discontent," the Republican goal is more ambitious. Here, House Minority Leader Kevin McCarthy has released a "Parents Bill of Rights" focusing on five areas that address the primary educational concerns of parents: the right to know what their children are being taught; the right to be heard by the local school and school board; the right to see the school's budget and spending; the right to protect their children's privacy; and the right to keep their children safe.
The Parents' Bill of Rights was authored by Republican Congresswoman Julia Letlow, who holds a PhD and was herself an educator. The bill was the focus of a recent discussion among Republican members of the House Education and Labor Committee. As The Washington Free Beacon notes, most members of the Republican Study Committee — the House's largest Republican caucus — seemed very supportive of the bill, which now has 107 cosponsors.
With the Democrats' "power and control" agenda having been exposed through the party's oppressive pandemic response and its heavy-handedness in public school curricula, the GOP hopes its midterm agenda will appeal to voters across the board.
Indiana Congressman Jim Banks, who chairs the Republican Study Committee, said it best: "Our common-sense bill simply establishes parents' rights to have a say in their kids' education — a principle supported by the vast majority of Americans. That's why Democrats are the party of teachers' unions, and we are the party of parents."
~~~
~~Reprinted with permission. See the original article here and leave some comments! 
By  DOUGLAS ANDREWS January 25, 2022 in Politics "Think about this," said Joe Biden at his disastrous one-year anniversary presser. "What are Republicans for? What are they for? Name me one thing they're for." Okay, we'll bite: Republicans are for undoing everything Biden has screwed up. And the list is long. Republicans, it's safe to say, are…
By  DOUGLAS ANDREWS January 25, 2022 in Politics "Think about this," said Joe Biden at his disastrous one-year anniversary presser. "What are Republicans for? What are they for? Name me one thing they're for." Okay, we'll bite: Republicans are for undoing everything Biden has screwed up. And the list is long. Republicans, it's safe to say, are…