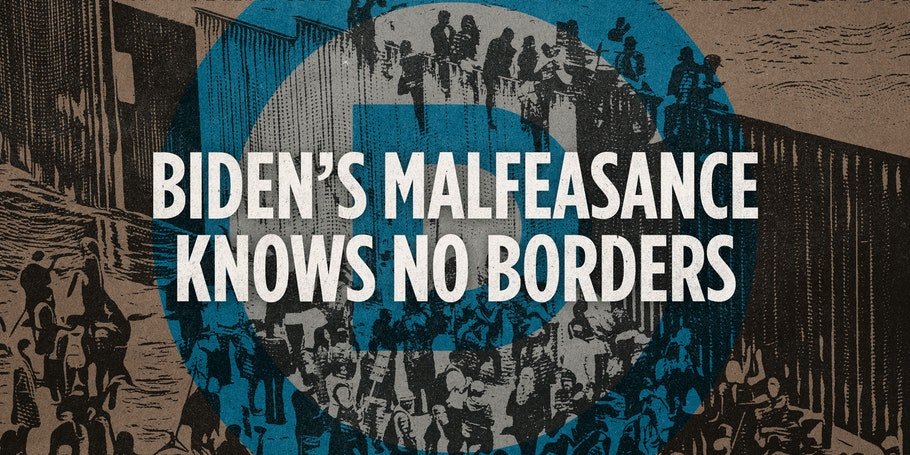 Biden Finally Releases December's Awful Immigration Numbers
By DOUGLAS ANDREWS January 25, 2022 in Immigration
We knew they'd be bad, but we didn't know they'd be THIS bad.
Joe Biden isn't fooling anyone — at least not anyone in our editorial shop.
Late yesterday's release of the administration's long-overdue and unequivocally awful December immigration report was perfectly timed. Perfectly. Minutes before that release, at the end of his prepared remarks on a meeting of the White House Competition Council, Scranton Joe called Fox News's Peter Doocy a "stupid son of a b**ch," thereby ensuring that the nightly newscasts would be covering his salty insult rather than his far more consequential southern border malfeasance.
Thus, the timing of this release — just after the Doocy dustup — is every bit as contrived and convenient as the classic Friday afternoon news dump. In fact, it's a two-fer: Biden effectively buries the bad news, and he wins a few points with his base by ripping into a reporter from every Democrat's most reviled news network.
As for those border numbers, we can see why the administration was so reluctant to release them. They're infuriating. "The number of unique individuals encountered in December 2021 was 135,040, a 5% increase in the number of unique individuals encountered the prior month," said the statement from U.S. Customs and Border Protection. "In total, there were 178,840 encounters along the Southwest land border in December, a 2% increase compared to November."
As the GOP's Mark Bednar notes, this is a record-setting December. That number of encounters, in fact, is more than 2018, 2019, and 2020 combined. And the Republican National Committee's research team says, "It's a 142 percent increase over last December, and a 231 percent increase from the average number of December apprehensions during the Trump administration." So much for the dishonest White House contention that the surge earlier in 2021 was "seasonal."
To say things are getting worse, not better, is a gross understatement.
Here, we should take a moment to consider just how unserious the Democrats are about protecting our nation's sovereign borders. As the GOP's team reminds us, not once has our nation's commander-in-chief been to the border to see the crisis for himself, and other than a brief drive-by, there's still no record that Biden has ever visited the border. As for his "border czar," Vice President Kamala Harris, she hasn't held a single immigration-related event in the last five months.
Clearly, Joe and Kamala and their fellow Democrats have been committed to changing the demography of the United States. If their goal was to make America less white and more brown, less educated and more dependent on government programs, they've succeeded well beyond their wildest dreams. As The Epoch Times reports, December's numbers bring the 2021 total close to 1.9 million. And this doesn't include the aliens who were determined to be inadmissible at a port of entry, which pushes that sad total beyond two million. That's like adding the populations of Wyoming, Vermont, and North Dakota to these United States.
And lest we think these two million illegal immigrants all crossed the border in search of economic opportunity, we should think again. According to recently retired Border Patrol Chief Rodney Scott, U.S. Border Patrol agents stopped 14 noncitizens who were on the terror watchlist while trying to cross the border between October 2020 and August 2021. Who didn't they catch?
Elections, as they say, have consequences. Especially rigged ones.
~~~
~~Reprinted with permission. See the original article here and leave some comments! 
By DOUGLAS ANDREWS January 25, 2022 in Immigration We knew they'd be bad, but we didn't know they'd be THIS bad. Joe Biden isn't fooling anyone — at least not anyone in our editorial shop. Late yesterday's release of the administration's long-overdue and unequivocally awful December immigration report was perfectly timed. Perfectly. Minutes before that release, at…
By DOUGLAS ANDREWS January 25, 2022 in Immigration We knew they'd be bad, but we didn't know they'd be THIS bad. Joe Biden isn't fooling anyone — at least not anyone in our editorial shop. Late yesterday's release of the administration's long-overdue and unequivocally awful December immigration report was perfectly timed. Perfectly. Minutes before that release, at…