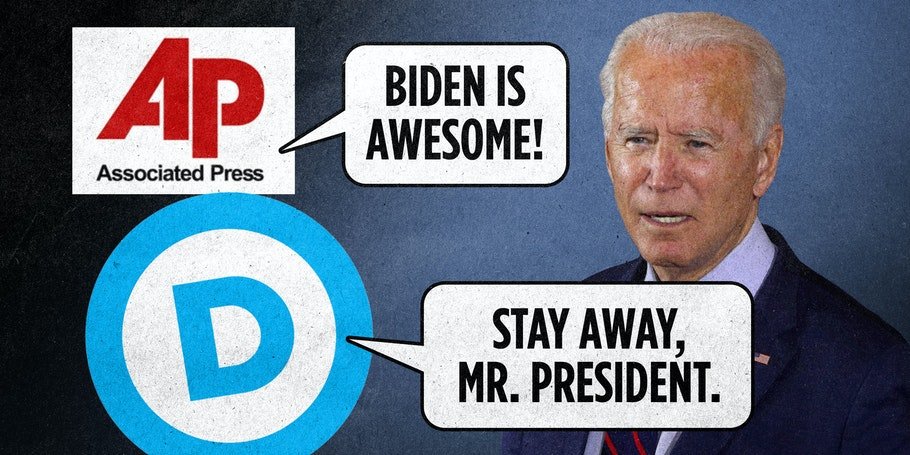 Joe Biden Is Toxic Even to Democrats
By DOUGLAS ANDREWS January 24, 2022 in Politics
With his poll numbers in the toilet, office-seeking Democrats don't want this president anywhere near them during the campaign season.
If the midterm message from congressional Democrats to Joe Biden could be distilled into just two words, they'd be these two: Stay away. Want four words? Stay very far away.
Anyone who doubts Scranton Joe's toxicity need only have observed perennial candidate Stacey Abrams's unwillingness to take the stage with Biden during his recent race-baiting trip to Georgia to tout his party's twin voter-fraud proposals — the Freedom to Vote Act and the John Lewis Voting Rights Advancement Act. These two proposals, which make it easier for Democrats to rig elections, are understandably near and dear to Abrams's heart — after all, she's running for Georgia governor again. That she'd want to keep from being seen on the same stage with her party's standard-bearer and Barack Obama's former vice president is telling indeed.
Not even Texas gubernatorial candidate and gun-grabber Robert Francis O'Rourke wants Joe Biden stinking up his state. When asked point-blank whether he'd welcome the president's help on the campaign trail, Beto didn't mince words: "I'm not interested in any national politician — anyone outside of Texas — coming into this state to help decide the outcome of this," he said.
If office-seeking Democrats are bloodsucking vampires, then Joe Biden is a gigantic clove of garlic. And if Biden was serious about his recent New Year's resolution to focus on the 2022 midterm elections, someone out there had better set him straight. There are no doubt Democrats in super-safe districts who'd tolerate a visit from the president, but you won't find a single swing-district Democrat anywhere near Biden between now and November.
"We're going to be out there making sure that we're helping all of those candidates," said Biden during last week's presser. And then he let loose with perhaps the most snort-worthy quote of the young year: "Scores of them have already asked me to come in and campaign with them, to go out and make the case in plain, simple language as to what it is we've done, what we want to do, and why we think it's important."
Got that? "Scores" of Democrats have asked Biden to do for them what he's done for the country. (We can't help but think that a score isn't what Joe thinks it is.)
Scranton Joe continues to defy gravity, as poll after poll shows him falling off the floor. One recent example, from Quinnipiac, showed Biden's approval dropping from a dismal 36% to a Maalox-chugging 33%, while another poll, from normally Democrat-friendly NBC News, has 72% of Americans saying the country is headed in the wrong direction, compared to just 22% who say we're heading in the right direction. A big gap between these numbers is invariably bad news for the party in power, and it marks just the sixth time in the poll's history when the wrong-track number has topped 70%.
"There is nothing but flashing red flights and warning signs for Democrats," said Republican pollster Bill McInturff.
That a full 22% of respondents to that NBC News poll somehow think our nation is on the right track with a wide-open southern border, a feckless foreign policy, a dispirited military, a weak economy, a depleted workforce, a bollixed-up supply chain, a permanent pandemic, soaring inflation, rampant crime, heightened racial tensions, and out-of-control public schools might seem like cause for concern, but it's possible that those folks are simply Republicans registering their optimism for a coming attraction: The Great Shellacking of November 3.
Of course, Democrats with flagging fortunes can always count on the mainstream media to buck them up, and that's precisely what the Associated Press tried to do recently with a puff piece about how Biden is "delivering on promises."
"During his first year in office," the AP reports, "President Joe Biden took action on a number of his key campaign promises, from rebuilding U.S. alliances globally to distributing vaccines across America and the world. But others remain works in progress or dependent on Congress to address."
Somehow, the article didn't live up to its headline. And were there any lingering doubts, columnist Deroy Murdock dumped cold water on them with an item-by-item takedown of this president's failures followed by a single indisputable conclusion: "Joe Biden has kept one promise: He's not Donald J. Trump."
~~~
~~Reprinted with permission. See the original article here and leave some comments! 
By DOUGLAS ANDREWS January 24, 2022 in Politics With his poll numbers in the toilet, office-seeking Democrats don't want this president anywhere near them during the campaign season. If the midterm message from congressional Democrats to Joe Biden could be distilled into just two words, they'd be these two: Stay away. Want four words? Stay very far away.…
By DOUGLAS ANDREWS January 24, 2022 in Politics With his poll numbers in the toilet, office-seeking Democrats don't want this president anywhere near them during the campaign season. If the midterm message from congressional Democrats to Joe Biden could be distilled into just two words, they'd be these two: Stay away. Want four words? Stay very far away.…