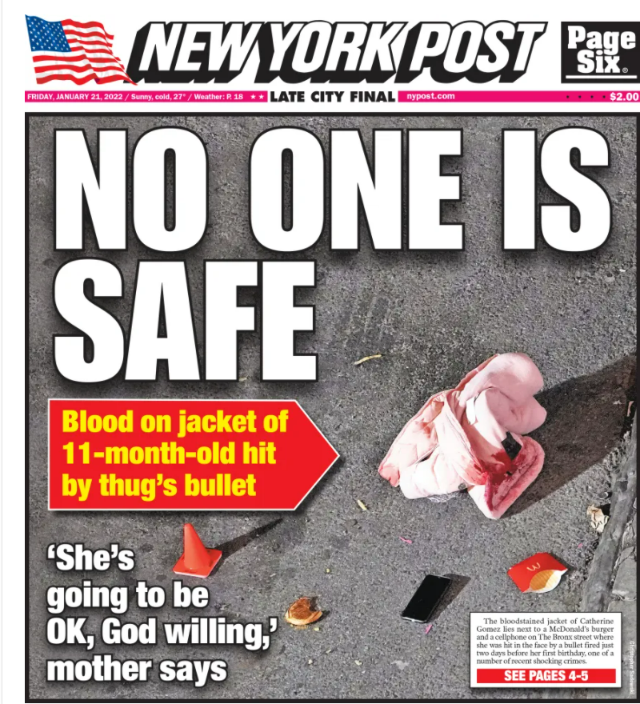 Weekend Reads: No One is Safe
Posted by Maggie on January 21, 2022 in From the editors
Yesterday, when I saw the news video had the above pink jacket blurred out, with police and others feet far away from it, I thought, "My God! Why is nobody around that baby and tending to her wounds? Why is she lying on the cold hard ground??!!!??" Made no sense to me that nobody would be near the baby, especially the mother and EMTs! However, the media, in its more and more rarely accurate and correct, poor batting average these last few years, they attempted to either shield the public from the horror of an innocent baby … or hype up the "If it bleeds it leads" impact by blurring out the empty pink jacket to cause viewers to think it was the poor little baby on the ground. The current, and growing, horror of violent crime upon the innocents in this country's big cities is bad enough, but the MSM's clumsy judgement in reporting on it is asinine.
Show and tell the factual truth, and stop trying to buffer the perps at the expense of the victims…
Kevin Sheehan and Gabrielle Fonrouge: Bronx mom whose baby was shot in the face: 'It's in God's hands' … Little baby Catherine Gomez turns one-year-old today. God bless her.
CBS NY: Prayer Vigil Planned On First Birthday Of Baby Girl Shot In Bronx
Brandon Gillespi Jewish advocate blasts media coverage of Texas synagogue attack: 'Evil': 'The only thing more frightening than a violent act of antisemitism, is a violent act of antisemitism that the world is happy to ignore'
Put on your COVID shocked-face, folks:
Can we just be done with masks? Has even 1% of people looked into the characteristics of aerosolized transmission and virus virions that are 1/10th of a micron and the repercussions of that physical reality? pic.twitter.com/TzFFAK46Fh

— KBirb (@birb_k) January 20, 2022
Yesterday morning my lengthy "virtual visit" on the phone with my personal doctor was quite interesting. After we went over my blood test results and medication updates, we had a conversation about COVID, the vaccines (he's not vaxxed, by the way, had COVID last spring, vows not to get vaxxed and conveyed a story of one of his gynecological colleagues who is against vaxxing pregnant women (strongly advises her pregnant patients against it and she informed him of some very frightening data she is seeing regarding those pregnant women who have had the vaccines), and the refusal to treat sick COVID patients with basically harmless drugs that have shown far more positive results than negative … but, his words, "They have me by the balls short-hairs and have formally informed me that if I ever prescribed any of these would-be therapeutics they will revoke my board certification, kick me off the medical board, and take my license." So, we pretty much totally agreed with each other. He concluded by saying this was not a natural bat virus, but a deliberate lab-designed virus that's showing more and more to be along the scientific lines of a bio-weapon. I then ran my latest "thoughts" regarding the vaccines, and the fascistic push not only for forcing people to get the jabs, by any means necessary, but the growing hushed plans to deal with the unvaxxed by yanking them out of society and cloistering/locking them away from everyone else. What is it, you ask, that I said about it that got my doctor momentarily silent but contemplating? Well, it came to me the other day (and I doubt I'm the only one) that the vaccines are part of this bio-weapon 'study' on the world population. I told my doctor that I believe not everyone that got the jab(s) and boosters were actually given mRNA vaccines, and that some were given placeboes. AND the unvaxxed are making the study of the population and the data-gathering difficult and must now be dealt with before the whole last 2+ years of this experiment becomes even bigger junk. He said he hadn't thought of that but pondered it a possibility, given the crap "science" that has been going on these last two years. And echoed the fact that there are a Hell of a lot of people in this country 'in-bed' with China.
And here we are. My doctor is right, we've gone full-Soviet…
Stephen Green: Insanity Wrap: Ivermectin Doctor Suspended, Forced to See Shrink
Good god. What have we done

— Dr Aseem Malhotra (@DrAseemMalhotra) January 21, 2022
"A New York Times reporter told her they are under great pressure not to make the vaccines look bad"https://t.co/QCvpvgCTCD

— Dr. Joseph Mercola (@mercola) January 20, 2022
Several UK journalists have privately informed me that newspapers are censoring anything negative about the current mRNA 'drug'. This is disgraceful and anti-democratic https://t.co/Nr27OOJw8S

— Dr Aseem Malhotra (@DrAseemMalhotra) January 21, 2022
From PRAVDA to COVDA. Never go full-Soviet.
Arielle Mitropoulos: Judge blocks hospital from turning off ventilator of severely ill COVID-19 patient: The order prohibited Mercy Hospital from turning off ventilation support.
Over the weekend, Scott Quiner was moved to a facility in Texas for treatment, Marjorie J. Holsten, the Quiner family's attorney, told ABC News in a statement on Monday.

"A doctor evaluated him and determined that he was severely undernourished. Scott has been receiving much-needed nourishment and hydration and medications that were not given by Mercy," Holsten said. "He is being weaned off of the sedating drugs and has already been able to follow with his eyes movements the doctor made with his hands. He is making progress in the right direction, though he has a long road ahead of him and continued prayers are appreciated."

Quiner remains on a ventilator but the oxygen level has been lowered, the family's lawyer said…
Read the whole thing. My husband's Aunt is going through something very similar right now, and at a Mercy Hospital in our area. It's as my personal doctor said (above), doctors and facilities are being pressured, and worse, into not treating these COVID patients, and worse, not allowing families to have a say in their lives one's care. And this too is the beginning of the state government removing parental control and say over their minor children…
Chris Pandolfo: California bill would let children age 12 get vaccinated without parents knowing
Insanity. And if a child has a reaction, or worse, to a vaccine then the parent has the responsibility to pay for that child's medical expenses and care. And will the parents have the right to sue all involved in this bullshit insanity?? Parents had better nip this crap in the bud very soon and very quick. This crap and all the Marxist crap aimed at our kids and our parental rights…
Matt Leach: Michiganders say children are 'not the government's' after viral Dem Party Facebook post backlash: Michigan parents tell Fox News they should have say in what children learn
FLASHBACK:
One year ago: CDC Director Dr. Rochelle Walensky is recommending the general public not to wear N95's. "They're very hard to breathe in when you wear them properly".https://t.co/uVpYHYT2dZ

— Dr. Joseph Mercola (@mercola) January 20, 2022
ABC14 (1/28/21): CDC does not recommend general public wear N95's, here's why
Eleanor Bartow: Fauci Helped Loosen Weak Rules For Risky Virus Research
Emily Crane: Fauci's home office features photos of himself, his own bobblehead
It has been 680 days since the start of the COVID-19 "15 days to flatten the curve."

— 🇺🇸 Lesko Brandon – Minister of Truth 🇺🇸 (@Nay_Anon) January 20, 2022
DM: Up to 60 PER CENT of all Covid 'patients' in London's hospitals are not primarily being treated for the virus – as data shows NHS staffing absences have plunged 40% since Omicron wave began receding
Just 1,200 of London's nearly 3,000 Covid patients were primarily being treated for the virus (40.7 per cent)

And around 7,000 of the 14,600 Covid patients in England are so-called incidental admissions, data shows

Statistics from health service also show NHS staff absences due to Covid have fallen 40 per cent in a week
The Chinese Plague is a major pain-in-the-pecker…
And they laughed at her then.
Battleswarm Blog: "Agonizing Penis Pain": Hey folks, there's an exciting new Manchu Flu side effect
DM: A veterinarian, a dentist and a podcast host? Majority of '270 doctors' who signed letter demanding Spotify take action against Joe Rogan are not medical doctors … I'm amazed "Dr." Jill Biden isn't among the list of 270.
Rassmussen Reports: COVID-19: Democratic Voters Support Harsh Measures Against Unvaccinated
Dan Gelernter: The Nazi Next Door: Your Democratic neighbors won't be ordered to vote for laws that ostracize you from society, steal your property, or send you away to a concentration camp. They will do it burning with pride.
Twitchy: Umm … you know that ring was EVIL AF, right?! Bloomberg's attempt to push 'one COVID shot to rule them all' BACKFIRES hilariously
Reality bites:
Stephen L. Miller: Joe Biden will never change: Pundits fantasized that he was a competent politician. Reality bites
Elle Reynolds: A Scandal For Every Month: The Biggest Botches, Failures, And Mess-Ups Of Joe Biden's First 12 Months In Office: It's not hard to remember a Biden disaster for every month of his first year at the stern … or in the basement, as the case may be.
VIDEO: Joe Concha: The public sees Biden as incompetent
Twitchy: ARGLE BARGLE RAR! Nate Cohn PAINFULLY honest about why Biden sucks (and why Clinton and Obama did too) in BRUTAL thread and Lefties CAN'T DEAL
Matt Margolis: Here's Proof We Don't Need The Democrats' Election Reform
William Estrada: Parents Are Winning. That's Why Far Left Is Turning Us Into Bogeymen.
Mollie Hemingway: Why The Media's Attempt To Split DeSantis And Trump Isn't Working: A con doesn't work when the marks are on to it.
MORE:
The #WOKE is melting away…
The Hill: M&Ms characters to become more inclusive … For cripesakes!
Make the "&" trans. https://t.co/b0cuzEuMb5

— Stephen L. Miller (@redsteeze) January 20, 2022
Peter Aitken: Recent Cuban immigrant and college student shocked by peers' perception of socialism, seeks to dismantle it: Justo Antonia Triana has lived in America since 2019 after his family reunited
Cameron Arcand: My New Suede Boots Are the Latest Victim of Democrat-Run Cities
BONUS:
Victor Davis Hanson: Is America Heading for a Systems Collapse? … I have been saying, everything, from the COVID overreach to the shortages in the supply chain to the inflation to 'the great resignation' are all parts of the master plan…
~~~
~~Many thanks to Maggie and The Universal Spectator for reprint permission.
Posted by Maggie on January 21, 2022 in From the editors Yesterday, when I saw the news video had the above pink jacket blurred out, with police and others feet far away from it, I thought, "My God! Why is nobody around that baby and tending to her wounds? Why is she lying on the cold hard ground??!!!??" Made no sense to me…
Posted by Maggie on January 21, 2022 in From the editors Yesterday, when I saw the news video had the above pink jacket blurred out, with police and others feet far away from it, I thought, "My God! Why is nobody around that baby and tending to her wounds? Why is she lying on the cold hard ground??!!!??" Made no sense to me…