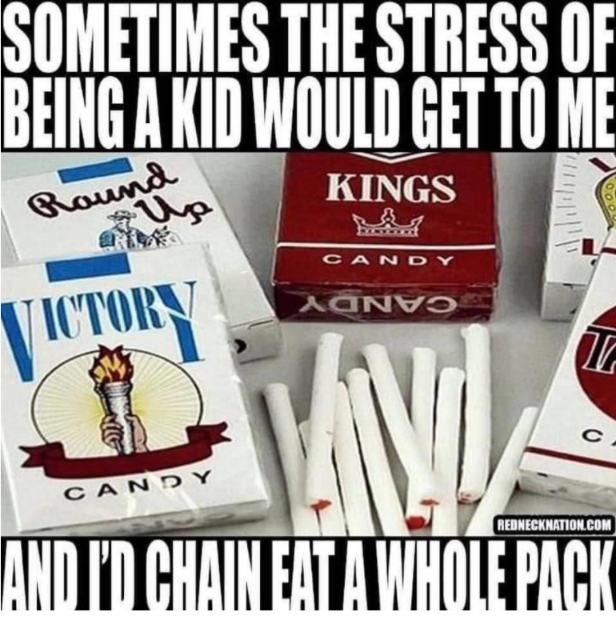 Wednesday Hump Day Newsfeed: I May Have to Return to This Dirty Habit…
Posted by Maggie on January 19, 2022 in From the editors
The heck with making school kids wear masks in school. Start handing out the candy cigs and let them chew-off some of that political "science" stress inflicted on them these last two years.
"Anyone care for a smoke?"
Only devout "Band of Brothers" fans will get that.
The dirty dozen: When our government on the local level operates for the criminals at the expense of their victims, and future victims…
This is just one criminal's collage of mug shots in the picture book history of his lengthy career rap sheet. The news is saying now that those mug shots were just from his time living in South Carolina, so, assume more. If he is captured, he will add another. This is not an outlier with our justice systems across the nation. Every time one of these horrific stories hits or newsfeeds it is a safe assumption, they too have a mugshot photo album of remembrance. He was out on a $1000 bond. Just a reminder that the bastard that mass murdered and badly injured participants and spectators in the Waukesha Christmas parade too was out on $1000 bail. And these are just ridiculously low-bail examples. If you commit crime in New York city there is a growing series of stories of their failed 'no bail' policies.
This is just one criminal of many who pop up in the news these days. This is systemic lawlessness and societal anarchy created by and rewarded by a systemic failure of a politicized justice system around the nation's cities, and it now has contributed to ending this hardworking law-abiding young citizen's life…
(Photo HT: FNC)
Michael Ruiz, Rebecca Rosenberg: Los Angeles police ID Shawn Laval Smith as suspected killer of Brianna KupferShawn Laval Smith, 31, should be considered armed and dangerous, according to the LAPD
And the SOB felt so empowered from the broken system that he was seen shortly after killing the innocent woman, who actually texted a friend to express concern with the man when he came into the store, that he went to a quick-stop to feed one of his other needs.
(The suspected killer of 24-year-old UCLA grad student Brianna Kupfer appeared on surveillance video at a nearby 7-Eleven store buying a vape pen just 30 minutes after her murder. (LAPD))
Side note here: These are career criminals with a huge stack of repeat offenses — many violent — and they're out on either low or no bail. And this is also practiced in Washington D.C. … you know, where a Hell of a lot of Americans who dared be among the January 6 protest at the Capitol have been jailed without bail, no formal charges, no hearings, no communication with their families for going on a year now. And Julie Kelly of American Greatness on Glenn Beck's radio program yesterday reports that most of the J6 people incarcerated in DC and in other jails in the country have NO previous crime records. They weren't armed. They didn't kill anyone. Most were simply walking around amid the crowd, outside and inside the building. Let that sink-in, folks.
Meanwhile…
Michael Ruiz: Progressive prosecutors blasted as homicide numbers climb in Los Angeles, other left-wing cities: LA women Brianna Kupfer and Sandra Shells were killed in separate attacks attributed to homeless men in the city last week
VIDEO: NYC mayor backtracks, admits subways are not safe
VIDEO: Jim Trusty: Progressive prosecutor method is a disaster
Matthew Loh: The suspect of the Waukesha Christmas parade attack was slapped with 71 new charges on top of the original 6
VIDEO: Liberal Philly DA Krasner faces calls for impeachment – Pennsylvania Senate President Pro Tempore Jake Corman on Philadelphia District Attorney Larry Krasner denying there is a crime spike in the city.
Danielle Wallace: Texas synagogue hostage suspect timeline: Malik Faisal Akram's criminal record and when he entered US: Malik Faisal Akram's criminal record dates back several decades
Twitchy: Donald Trump Jr. calls on NY AG Letitia James to be disbarred for the 'political targeting' of the Trump family
VIDEO: Tucker Carlson: Politicians are allowing an attack on civilization; leaders are rewarding criminal behavior in cities across the country.
Joe Hoft: LAWRENCE SELLIN: While the FBI hunts patriotic Americans, China's "Scientific Double Agents" Operate Freely in U.S. Universities
MORE:
Jim Crow 2.0 is about two insidious things: voter suppression and election subversion. It's about making it harder to vote, who gets to count the vote, and whether your vote counts at all.

We have to pass the Freedom to Vote Act and John Lewis Voting Rights Advancement Act.

— President Biden (@POTUS) January 18, 2022
How to make your 33% approval rating nose dive further … Keep calling everyone a racist.

— Catturd ™ (@catturd2) January 18, 2022
Just so everyone understands, these are NOT Biden's words. They're straight from the American hating mind of Barack Obama.
He's pulling the strings, and if you don't realize this yet, you need to wake up!

— @PatrioticResistance (@realAnthonyZan1) January 19, 2022
Salena Zito: The Moment Joe Biden Finally Lost His Credibility: If President Joe Biden's disorderly and lethal Afghanistan withdrawal was the moment that fractured voters' regard for him, then his vicious Atlanta speech last week may be the moment that defines his presidency…
Jeff Mordock: Biden's fiery, angry speeches set tone for 2022 midterms
Ken Masugi: The Sorry Remnant of Joseph Biden: Until we find political leaders who appreciate the vitality of the political heritage they have repudiated or ignored, the politics of "systematic organization of hatreds" is all we will see.
Conrad Black: Who Will Follow Biden Into No Man's Land? The media cheerleaders are taking to the boats as Biden's approval numbers sink.
James Mullin: Watch for War
What do tyrants do when their ship is sinking or, more accurately, when they realize that their house of cards will not hold up? They divert their populace by starting a war — or at least allowing one to happen. War isn't simply a way of diverting attention, either. The very fact of a war emergency makes it far easier to erode or negate whatever civil liberties still exist. Think: PATRIOT Act…
Perhaps hand-in-hand with this?…
Paul Joseph Watson: US Army Guerrilla Warfare Exercise to Target "Freedom Fighters" – Troops to battle against fictional 'Pineland resistance movement'.
The US Army is set to conduct a "guerrilla warfare exercise" later this month in North Carolina where troops will battle against "freedom fighters."

Yes, really.

The two week "unconventional warfare exercise" will take from from Jan. 22-Feb. 4 on privately owned land in a remote location which remains unknown…
Victor Davis Hanson: Conspiracies as Realities, Realities as Conspiracies: Conspiracy projection has split apart the country. The Left has fought efforts to learn the full truth, as they project conspiracies to disguise conspirators.
Liz Peek: Here are 6 common sense ways Republicans can win in 2022: Joe Biden and other Democrats have given the GOP a dramatic opening
Daniel Greenfield: Soros General Demands Purge of Military: While Democrats go after dead Confederate generals, we ought to look at living Soros generals.
WE Ed Staff: The FBI's war on soccer moms
Victoria Taft: Portland Police Training Manual Calls Antifa 'Dirty Hippies.' The Dirty Hippies Aren't Happy.
Breitbart: Report: Black Americans Fleeing Democrat-Controlled New York, California: Many black Americans are leaving New York and California to seek decent wages and affordable housing in southern states, according to a Washington Post article that ignores the federal policy of importing foreign people to fill jobs and homes in New York and California.
VIDEO: Business owner flees California as state mulls proposal that could double taxes
Fay Voshell: The Trans Sect Is a State-Sponsored Religious Cult
Sarah Taylor: WHO leading scientist says there is 'no evidence at all' that healthy children and adolescents need a COVID-19 booster
Jim Hoft: New West Charter School LA Caught Abusing Young Unvaccinated Girls – Denied Chairs, Forced to Sit Outside on Pavement, Not Allowed to Use Restrooms
VIDEO: Legal expert: Legal Philosopher Eva Vlaardingerbroek: European vaccine mandates are the beginning of a 'social credit system'
BONUS:
Ya know how the left in this country keep demanding that everything should be "free" (actually, paid for by our working/taxpaying population then stolen by the government to distribute as they deem necessary to the masses)? Yeah, this is what that looks like, y'all. Now imagine your 'slice of the pie' with everything else provided by the government. Oh, and you'll NOT be allowed to self-strive for more. Ask anyone in Cuba and other socialist/communist utopias…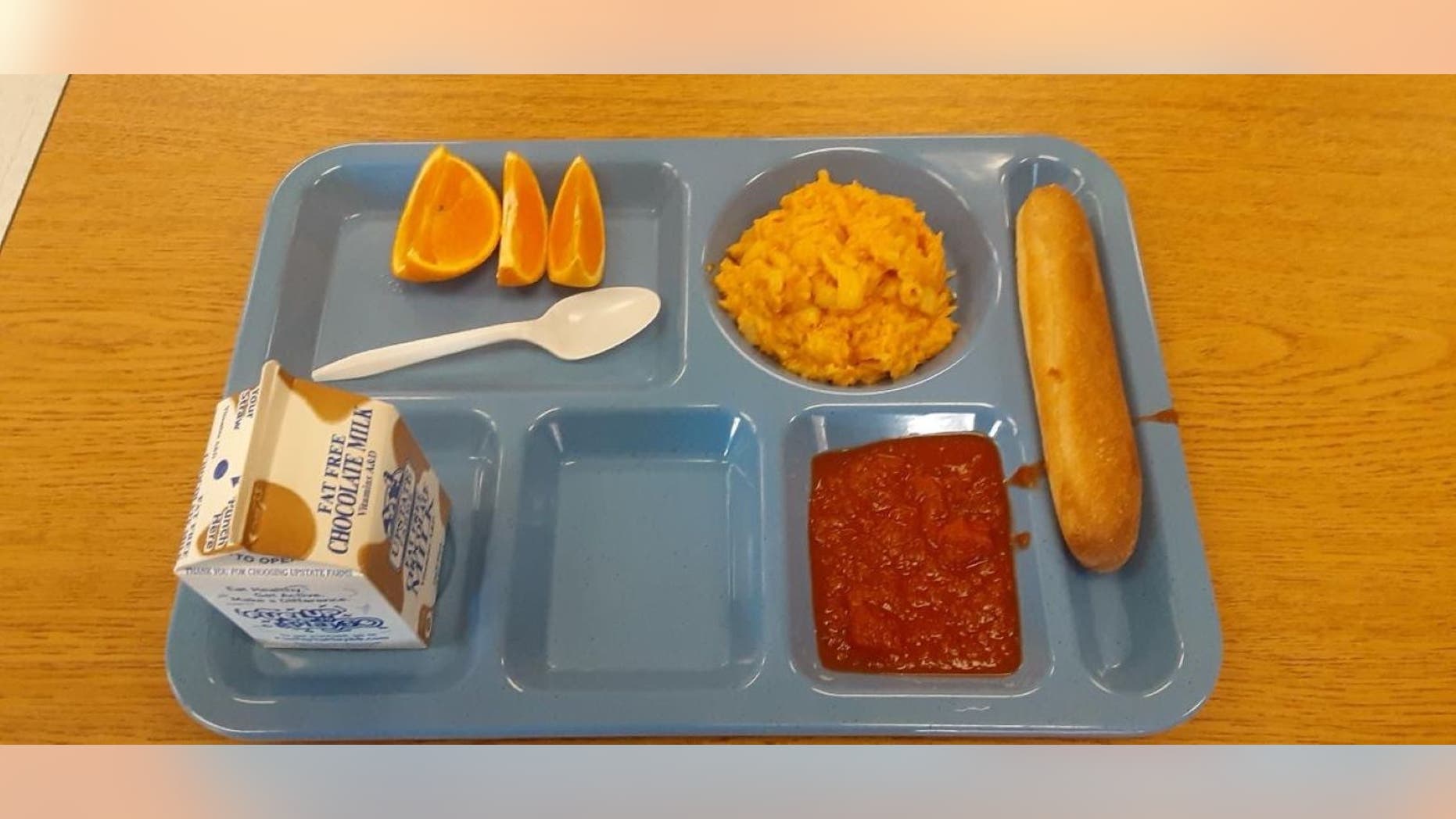 Nicole Pelletiere: High school lunch photo shared by NY dad has parents concerned: One Facebook user commented that the serving looked like 'toddler portions' while another, who works at a school, said 'portions are regulated'
Chris Vangellow, a dad of four, spoke with Fox News about the post, which is garnering attention from parents in his upstate New York community.

Vangellow said all of his children attend Parishville-Hopkinton Central School District and his 16-year-old son has been sending him pictures of the lunches he has been served at school in recent months.

"He started complaining that lunch was 'not enough,'" Vangellow told Fox News, adding, "one of my other kids also sent me the same picture, and I knew they had a game coming up. I was thinking, 'If there's kids playing basketball, this is not enough for him. I know we don't live in a very rich area…some kids rely on the school [for lunch].'"

On Jan. 12, Vangellow posted an image to Facebook of the food his son was served for lunch: four chicken nuggets, a side of carrots, a side of rice and a carton of fat-free chocolate milk. He wrote that one of his other children didn't have any "dry tasteless carrots" because none were apparently available when he arrived to his lunch period.

"They have been complaining that since the lunches are now free for everyone, the portions have dropped," Vangellow wrote on Facebook. "I got this photo today. It really is ridiculous. Don't come at me with the "'You get what you pay for' or 'just send them with food' crap either."

"Yeah we can do that and sometimes the kids do choose to bring something from home or will buy extra lunch to get more in them to get them through a day," he continued in the post. "The problem is that not all families can do that."…
~~~
~~Many thanks to Maggie and The Universal Spectator for reprint permission.
Posted by Maggie on January 19, 2022 in From the editors The heck with making school kids wear masks in school. Start handing out the candy cigs and let them chew-off some of that political "science" stress inflicted on them these last two years. "Anyone care for a smoke?" Only devout "Band of Brothers" fans will get that. The dirty dozen: When our…
Posted by Maggie on January 19, 2022 in From the editors The heck with making school kids wear masks in school. Start handing out the candy cigs and let them chew-off some of that political "science" stress inflicted on them these last two years. "Anyone care for a smoke?" Only devout "Band of Brothers" fans will get that. The dirty dozen: When our…