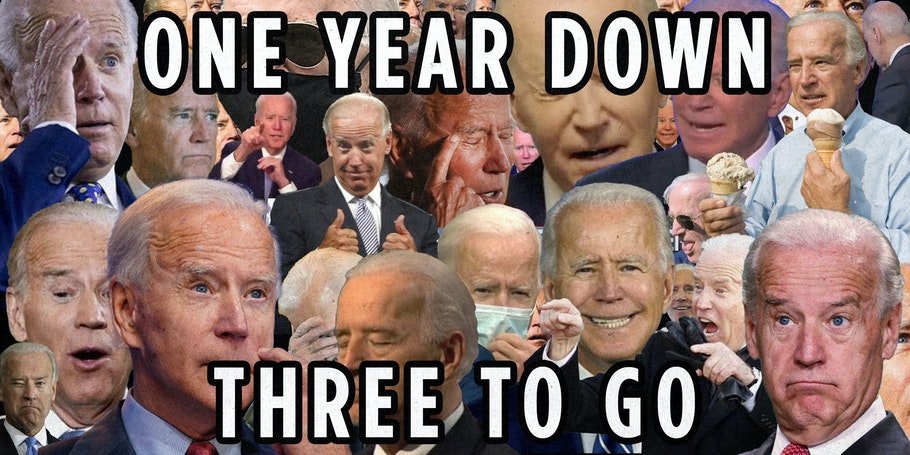 President Brandon Congratulates Himself on First Year
By NATE JACKSON January 20, 2022 in Politics
Joe Biden's press conference was a disaster reflecting on a year of multiple disasters.
To hear Joe Biden tell yet another autobiographical lie, his first year as president has been a spectacular success. He "outperformed" expectations and brought "enormous progress" to our nation. Any minor bumps along the road are the fault of Republicans, the media, or you dumb voters who just don't understand what he's trying to do. The good news is that the first year is over. The bad news is we have three more to go.
That's the big takeaway from Biden's two-hour press conference yesterday marking the last day of his first year in office. It was a rare presser, and for good reason. From his mumbling and bumbling words to his crazy grandpa whisper-yelling to his totally fictitious recounting of events, putting Biden out there to field questions doesn't help his pathetic approval ratings, and his staff inevitably has to follow up with a clean-up on aisles three, five, six, and nine.
As Mark Alexander put it: "Regarding Biden's glowing assessment of his first-year accomplishments, somebody forgot to tell America. Reflecting his basement voter approval rating (currently at 41% and the lowest of any president at the end of his first year in 50 years) comes a reputable quarterly political party identity poll. According to Gallup, the number of people who self-identify as Democrats has plunged since Biden took office — from 49% to 42%. Meanwhile, the number of voters who identify themselves as Republican grew from 40% to 47%. In one year, that is a net 14-point swing."
Cue the "Let's Go Brandon" chants.
Time and space won't permit an exhaustive recap of Biden's remarks, but we'll rebut a few of the worst lies and lowlights, starting with his legislative agenda.
"Can you think of any other president that has done as much in one year?" Biden thundered. "Name one for me."
He was indignantly responding to a reporter's assertion that his agenda in Congress is at a "stalemate" and being "stymied." Build Back Better ran off the rails in December, and his filibuster-busting attempt at forcing through voter fraud legislation met its demise (for now) at the hands of Joe Manchin and Krysten Sinema just hours after his press conference ended and only a week after his ugly race-baiting and grossly false speech about "voting rights."
Both legislative failures are a huge blessing for Americans, while also reminding voters that Biden's 36 years in the Senate and eight more as vice president didn't actually prepare him to lead.
In fact, he closed his remarks with a 180 from his "any other president" boast by offering a "confession" of sorts to that end: If he has a failing, it's that he sometimes forgets he's president and not a senator, and despite his being "relatively successful" as a senator, being president "is a different role." You don't say.
On the other hand, we would be hard-pressed to think of another president who did more in his first year … to damage America. Barack Obama would certainly be up there, as would Bill Clinton. But Biden would give them both a run for their money.
Biden's American Rescue Plan is the biggest reason for rampant inflation, for example. That $1.9 trillion on top of other massive government spending last year upended the jobs market and the supply chain. Yet Biden falsely insisted that inflation was already a big problem long before he took office and then dishonestly asserted again that Build Back Better — which is exponentially more of the same inflationary spending — would somehow "actually lower" inflation, create jobs, and fix the supply chain. As for its progress, he said, "We can break the package up, get as much as we can now, and come back and fight for the rest later."
As for "voting rights," he not only repeated the twisted lie that Republicans make it harder for minorities to vote, he said the next election "could easily be illegitimate" if Democrats lose.
"Speaking of voting rights legislation," a reporter began, using the Democrats' fake moniker for their election-commandeering voter-fraud legislation, "if this isn't passed, do you still believe the upcoming election will be fairly conducted and its results will be legitimate?"
Biden replied, "It all depends depends on whether or not we're able to make the case to the American people that some of this is being set up to alter the outcome of the election." Indeed, altering outcomes is exactly the Democrat goal, though Biden has also insisted that questioning elections was the worst assault on "democracy" since the Civil War.
How about the coronavirus? Biden declared "independence" from the pandemic back in July, so that's a big achievement, right? Of course not. The sad thing is that, according to Biden, COVID is just distracting you from all of his amazing success. "For all this progress," he said, "I know there's a lot of frustration and fatigue in this country. We know why — COVID-19."
The reality: We've endured two major variant strains that have handicapped the economy and killed hundreds of thousands of Americans, all while Biden refuses to put energy and money into treatments because he's too busy haranguing and vilifying the unvaccinated while mandating the vaccines and spending six months in legal battles over those same mandates that he once said he had no power to enact.
But is Biden happy with his administration's plan and response? "Yeah, I am satisfied," he declared. "I think we've done remarkably well."
Anyone else agree?
Not a chance. Irony abounds, as well. As one of our readers put it: "Biden now insists, after his massive failure to 'shut down the virus,' that the deadly pandemic needs to be handled at the state level. But apparently, at the same time, Biden believes that our voting system needs to be unconstitutionally yanked from the states and federalized."
Okay, so how about foreign policy? Surely, a man who brags at every opportunity of his international prowess has seen some success on this front. Nope.
Arguably, Biden's biggest failure last year was surrendering Afghanistan to the Taliban. No introspection was forthcoming, of course. "I make no apologies for what I did," Biden said, because "there was no way" to leave easily after 20 years. That last bit is correct because we shouldn't have left.
Biden's horribly weak stance on Russia is another major problem, and yesterday's remarks made it immeasurably worse.
Given the eight-hour time change, as Tony Blinken and Wendy Sherman were concluding their day of "negotiations" with their Russian counterparts in Europe, Biden was busy empowering Vladimir Putin by arguing that the Russian strongman actually had little choice but to take an aggressive posture.
Astoundingly, regarding Putin's pending invasion of Ukraine, Biden declared: "It's one thing if it's a minor incursion and we have to fight about what to do and not to do. But if they actually do what they're capable of doing with the force amassed on the border, it is going to be a disaster for Russia."
Senator Ben Sasse (R-NE) summed up that equivocation: "Biden basically gave Putin a green light to invade Ukraine by yammering about the supposed insignificance of a 'minor incursion.' He projected weakness, not strength."
Indeed, Biden implied a "minor incursion" will result in a collective shoulder shrug, but a total invasion will be a "disaster," which he defined as "sanctions [that will] have a negative impact on the United States as well as a negative impact on the economies of Europe as well, [and] a devastating impact on Russia." Well, good luck holding that together.
Fortunately for Putin, Biden already undermined that leverage when he green-lighted Russia's vital Nord Stream NG pipeline, lifting sanctions on that cash cow imposed by Donald Trump, who was tougher on Russia than any post-Cold War president.
As Russia now has 140,000 troops on the border and another 60,000 incoming, Deputy Foreign Minister Sergey Ryabkov said, "I do believe that there is no risk for a large-scale war to start to unfold in Europe or elsewhere." Well, of course there is "no risk for a large-scale war" because Biden just assured him of that.
Shortly after Biden's disastrous remarks, Jen Psaki attempted that aforementioned clean up, but the "minor incursion" damage was done.
As for China, a far more significant adversary, Biden barely mentioned it, other than to say he told the Chinese they "had an obligation to be more forthcoming on exactly what the source of the virus was and where it came from." Well, thank goodness for such a steel spine.
In short, the truth about Biden's first year is that there's at least one scandal for each of his first 12 months. His poll numbers are in the toilet not because he's failing to communicate his awesomeness but because he's been all too successful as a one-man wrecking ball for our country. Far from bringing the "unity" he promised in his Inaugural, Biden has governed as a divisive tool of the radical Left who seems to think he has supermajorities in Congress. On top of that, he's clearly suffering from severely diminishing mental faculties.
Can the nation handle three more years of President Brandon?
~~~
~~Reprinted with permission. See the original article here and leave some comments! 
By NATE JACKSON January 20, 2022 in Politics Joe Biden's press conference was a disaster reflecting on a year of multiple disasters. To hear Joe Biden tell yet another autobiographical lie, his first year as president has been a spectacular success. He "outperformed" expectations and brought "enormous progress" to our nation. Any minor bumps along…
By NATE JACKSON January 20, 2022 in Politics Joe Biden's press conference was a disaster reflecting on a year of multiple disasters. To hear Joe Biden tell yet another autobiographical lie, his first year as president has been a spectacular success. He "outperformed" expectations and brought "enormous progress" to our nation. Any minor bumps along…