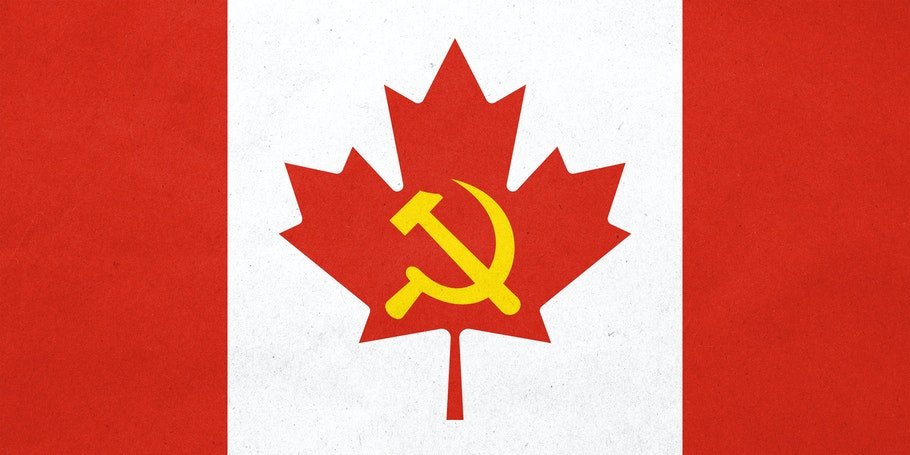 O, Canada! What to Do With You?
By MICHAEL SWARTZ January 19, 2022 in Faith
If Canadians really wish to maintain their friendly relations with America, they should reconsider what they have done to the family structure.
Those of you living along the longest undefended border in the world already know this, and most of the rest of you can guess: While Canadians have a maple leaf on their flag and love hockey and their Tim Hortons, they're not all that different from their friends inhabiting the United States.
But there seems to be a funny vibe coming from Canada these days, and it's not because they adopted loonies as their currency a few years back. No, we would consider one of their pundits and all of their federal elected officials loony for what they have written and put into law over the last few months.
On the publishing side, a recent editorial by The Globe and Mail scribe John Ibbitson called our longstanding relationship into question. He seriously asked, "If the next presidential election reveals the U.S. hurtling toward possible violence and autocracy, should Canada try to intervene?" (Canada is still a capitalist nation, so the article is behind a paywall.) The folks at Twitchy got a laugh out of it, though, and gave us this excerpt from Ibbitson's rant:
Supporters of former president Donald Trump are ascendant within the Republican Party, and appear determined to secure victory in the next election by hook or by crook.

If Mr. Trump, or one of his Republican acolytes, wins the 2024 presidential election — either legitimately or by manipulating the results at the state level — what will be left of the judiciary, the public service and a constitutionally constrained military after four more years? And how will their most fervent supporters react if the Republicans lose?

Typically, when asked about American presidential elections, Canadian prime ministers say they look forward to working with whoever wins. But that may not cut it this time. The 2024 American president election could greatly influence this country's future. Do we just stand by and watch?
No, you stand up and cheer like a good ally should, as hopefully we have restored our election system by then from excessive mail-in voting and ballot harvesting.
Spectator columnist Matt Purple opined: "At their best, Canada and the United States are like New Zealand and Australia, Uruguay and Argentina, a smaller and more progressive country in the shadow of a larger and more right-wing power. There's some irritation, usually running left to right, and some indifference, usually running right to left, but the two nations have enough in common to get on well. … Still, there does exist, especially on the Canadian left, a darker view of America, a sense that Canada is great precisely because it isn't the continent-spanning gun emporium to the south."
That "darker view" doesn't just extend to their relationship with these United States, but also to their relationship with an even higher power. Canadian pastor Artur Pawlowski, as the name might indicate, is a native of pre-communist Poland. "I grew up in Poland behind the Iron Curtain," Pawlowski explains. "I grew up under communism, socialism, under the boots of the Soviets in a country where you had absolutely no freedoms. No freedom of speech, no freedom of religion, no freedom of association, no freedom of the press."
Pawlowski, who has constantly run afoul of his provincial government and lost his church's tax exemption because of his unabashed advocacy for Jesus Christ, is now perhaps most famous for ejecting law enforcement from his church in the early stages of the pandemic. The police were called because the gathering of believers was deemed too large, but eventually Pawlowski was arrested by what he termed the "gestapo" in the middle of a highway after a subsequent service. Incredibly, he faces a sentence of four years in prison for having a church service.
Other pastors may soon be joining Pawlowski in jail thanks to a new law that was unanimously passed in Canada back in December and became law this month. C-4, as the bill was known, is a measure that outlaws conversion therapy, wherein people who question their sexuality or have declared themselves attracted to the same sex are guided back toward opposite-sex relationships. In the case of someone who has gender dysphoria, the therapy is intended to restore them to believing they are the gender they were born as, rather than go through hormone treatments and invasive surgery to change their body to their perception.
"Critics say C-4's language is so broad it also effectively bans preaching and teaching based on Biblical sexual ethics," says Megan Basham at The Daily Wire. "For instance, it could prevent counseling that references the many Old and New Testament passages that demonstrate God reserves sex for one man and one woman within the bond of marriage. It could also criminalize any instruction that confirms human beings are created as indelibly male or female from birth… Even further, the bill makes it a crime for parents to provide Christian therapy to their children suffering from gender dysphoria and prevents pastors and other religious leaders from offering biblical counseling or advice to same-sex attracted individuals who desire to obey God's commands to repent from the sin of homosexual practices. Violations carry a penalty of up to five years in prison."
If your pastor preached this past Sunday on biblical sexual morality, then he was part of a crusade urged on by Pastor John MacArthur of Grace Community Church in Sun Valley, California. MacArthur, a well-known teacher, author, and media presence in the Christian world, stated in an open letter to fellow pastors: "Our united stand will put the Canadian and the U.S. governments on notice that they have attacked the Word of God. We are all well-aware of the evil power and destructive influence of the homosexual and transgender ideology. Our government is bent on not only normalizing this perversion, but also legalizing it, and furthermore criminalizing opposition to it."
While the apostle Paul did some of his best work from prison, it's worth pointing out that he was there because of persecution from the Romans, not for anything overtly criminal that he did. In that respect, the gauntlet has been thrown down by our neighbors to the north, as it appears their persecution is being raised to a new level. If Canadians really wish to maintain their friendly relations with America, they should stop to reconsider what they have done to the family structure.
We liked it a lot better when they taught us all about curling.
~~~
~~Reprinted with permission. See the original article here and leave some comments! 
By MICHAEL SWARTZ January 19, 2022 in Faith If Canadians really wish to maintain their friendly relations with America, they should reconsider what they have done to the family structure. Those of you living along the longest undefended border in the world already know this, and most of the rest of you can guess: While…
By MICHAEL SWARTZ January 19, 2022 in Faith If Canadians really wish to maintain their friendly relations with America, they should reconsider what they have done to the family structure. Those of you living along the longest undefended border in the world already know this, and most of the rest of you can guess: While…