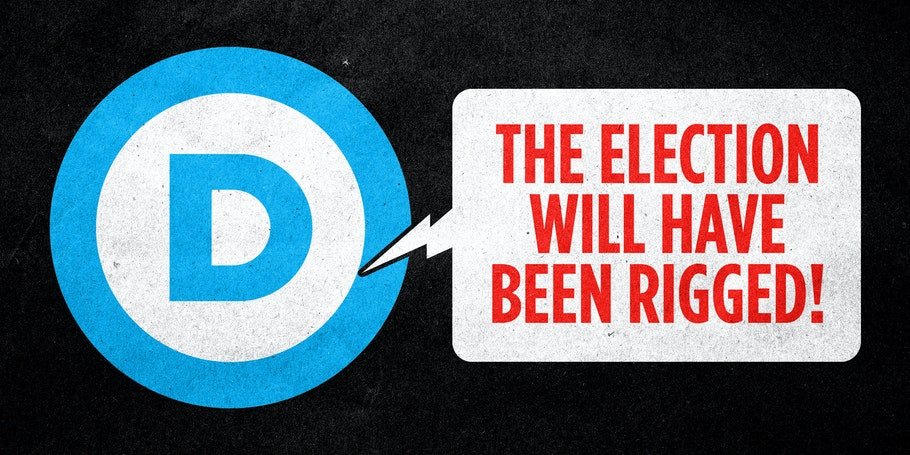 Despondent Dems Brace for 'Rigged' Election
By DOUGLAS ANDREWS January 19, 2022 in Politics
Their voting fraud scheme stymied by the Senate's filibuster, Democrats will now try to delegitimize the coming midterm shellacking.
"It is a fight for the soul and the future of America," said Senate Majority Leader Chuck Schumer, and indeed it is.
Do we want to live in a country where only those who are eligible to vote can do so, or a country where anyone can vote, living or dead, free or imprisoned, with or without citizenship, with or without proper ID, and where party hacks can collect bundles of ballots from homeless shelters and retirement homes and dump them into the nearest unmanned ballot drop box?
What could go wrong, right?
Make no mistake: The Democrats aren't fighting for the right to vote. They're fighting for the right to cheat. And why wouldn't they? They're much better at it than Republicans.
Every U.S. citizen already has the right to vote, and that right includes additional protections afforded by the landmark Voting Rights Act of 1965, which expressly banned racially discriminatory voting practices like those of the old Jim Crow South. What we're hearing today about "Jim Crow 2.0" is demagoguery of the worst kind, pure and simple.
If the Democrats get their way, if they're somehow able to turn West Virginia Senator Joe Manchin and Arizona Senator Kyrsten Sinema away from their support of the legislative filibuster, Democrats will be able to set electoral law at the federal level rather than, as the Founders intended, at the state level. Or, to put it in Schumeresque terms, they'll be able to corrupt the electoral soul of America.
Right now, the future doesn't look good for the Democrats' twin voter fraud bills: the sweet-sounding legislation known as the Freedom to Vote Act and the John Lewis Voting Rights Advancement Act. As the Associated Press ominously reports:
Voting legislation that Democrats and civil rights leaders say is vital for protecting democracy appeared headed for defeat as the Senate churned into debate Tuesday, a devastating setback enabled by President Joe Biden's own party as two holdout senators refuse to support rule changes to overcome a Republican filibuster. The Democratic senators, [Manchin and Sinema], faced strong criticism from Black leaders and civil rights organizations for failing to take on what critics [and AP journalists] call the "Jim Crow filibuster."
If the race-baiting undertones of that piece of reporting weren't clear enough, the AP scribes invoked "echoes of an earlier era when the Senate filibuster was deployed in lengthy speeches by opponents of civil rights legislation."
Fact-check: A significantly higher percentage of Republicans voted for the historic Civil Rights Act of 1964 than did Democrats. If this seems unlikely, you could look it up.
Democrats have for years been resistant to voter ID laws — which is one of the voting integrity standards that Republicans have been fighting for. Here, the Democrats' resistance gives up the game. After all, Americans must present proper ID to buy booze or cigarettes or firearms, to get on a plane, to drive or rent a car, to open a bank account, to apply for unemployment or food stamps or other welfare, to apply for a job, to apply for a mortgage, to apply for a hunting or fishing license, to pick up a prescription, or to donate blood. Heck, if you want to attend an NAACP conference, you'll need a photo ID and a second piece of identification. Try dining out while black in DC without one.
Given all this, why shouldn't Americans have to prove their identity when they vote? After all, aren't we talking about the most sacred right of the citizenry? Aren't we talking about "the soul of America" here?
The two Senate Democrat holdouts have been smeared and savaged by their colleagues, including California Congresswoman Maxine Waters, who disgracefully said: "They have sent the signal. They have been clear about it. They don't care about minorities. They don't care about blacks. … They have decided that they are going to stick with support of the filibuster, and they don't care whether or not they undermine the rights of minorities and blacks in this country."
But while his colleagues defamed Manchin and Sinema, Schumer vowed to get them on record. "Make no mistake," he said, "the United States Senate will — for the first time this Congress — debate voting rights legislation beginning on Tuesday. Members of this chamber were elected to debate and to vote, particularly on an issue as vital to the beating heart of our democracy [sic] as this one."
Ah, the beating heart.
As for the Democrats, their electoral chances in the upcoming midterms are already on life support. The Republican online fundraising conduit called WinRed reports that it processed $559 million in donations in 2021, giving the GOP an already sizable war chest. (If you can find a pundit who thinks Democrats have a chance of keeping control of the House on November 8, quick, sell that man a bridge in Brooklyn.)
But even here, amid those dismal electoral prospects, Schumer was busy framing a loser's narrative, whining that Republicans want to "rig the game and rig the count."
When Republicans Senators Ted Cruz and Josh Hawley objected to the Electoral College certification of certain states in the wake of the problematic 2020 election, Joe Biden said, "Goebbels and the great lie, you keep repeating the law, repeating the lie," invoking Adolf Hitler's chief propagandist.
May Scranton Joe live to eat those words in November.
---
Updated to include information on the Voting Rights Act of 1965.
~~~
~~Reprinted with permission. See the original article here and leave some comments! 
By DOUGLAS ANDREWS January 19, 2022 in Politics Their voting fraud scheme stymied by the Senate's filibuster, Democrats will now try to delegitimize the coming midterm shellacking. "It is a fight for the soul and the future of America," said Senate Majority Leader Chuck Schumer, and indeed it is. Do we want to live in a country…
By DOUGLAS ANDREWS January 19, 2022 in Politics Their voting fraud scheme stymied by the Senate's filibuster, Democrats will now try to delegitimize the coming midterm shellacking. "It is a fight for the soul and the future of America," said Senate Majority Leader Chuck Schumer, and indeed it is. Do we want to live in a country…