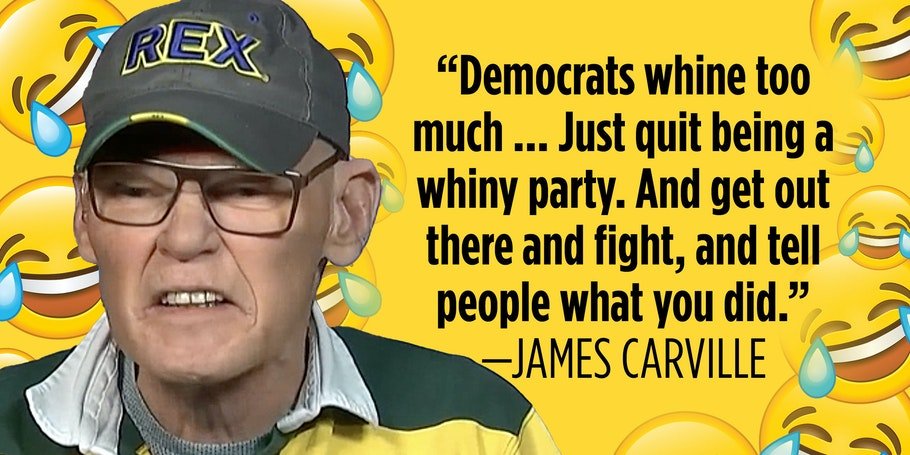 Corporal Cueball Comes Up Short
By DOUGLAS ANDREWS January 18, 2022 in Politics
Not even longtime Demo strategist James Carville has a way out of the mess his party has created.
"Democrats whine too much," said longtime Democrat strategist James Carville Sunday morning on NBC's "Meet the Press." "Just quit being a whiny party, and get out there and fight and tell people what you did, and tell people the exact truth."
Okay, we'll bite. We agree with Carville that Democrats whine too much, but if that advice about telling people "the exact truth" ever made it from the Ragin' Cajun's lips to Scranton Joe's ears, our 46th president's State of the Union address might sound something like this: "In just over a year's time, my administration was able to open our southern border to millions of illegal immigrants, wreck the world's mightiest military through mandatory wokeness, lose Afghanistan and abandon a strategic airbase and billions in weaponry, embolden our geopolitical foes, wreck the economy and turbocharge inflation, gum up the supply chain, shut down the Keystone XL pipeline, squander our nation's energy independence, cause gas prices to soar, enact unconstitutional vaccine mandates, make permanent the pandemic, demagogue the nation's voting laws as Jim Crow 2.0, heighten tensions between and among the races, allow criminals to control our streets and terrorize our citizens, set a record for fentanyl overdoses, sic the Department of Justice on parents who didn't want their children to be racially indoctrinated, and bitterly divide the American people after having promised to unite them."
Did we forget anything? How's that for telling people "the exact truth"?
Carville, who rose to prominence during the '90s by doling out sage, commonsensical advice to Bill Clinton, ain't what he used to be. Or, more accurately, his party ain't what it used to be. Back in the Bubba days, Carville was dispensing centrist wisdom like, "It's the economy, stupid," and brawling bare-knuckled with Zippergate special counsel Kenneth Starr, and defending his indefensible boss with sleazy barbs about dragging hundred dollar bills through trailer parks. These days, though, Carville's party has lurched so far to the left, and its standard-bearer has become such a national embarrassment, that even Corporal Cueball is clueless.
"You gloat and you promote," he told host Chuck Todd before rattling off historically low child poverty rates and improved economic leverage among hourly workers as Democrat accomplishments. (They weren't; they were byproducts of the Trump economy.) "What you do … is you run on what you've got," he told host Chuck Todd. "You don't run on what you didn't get. And the stuff you've got is pretty good. If they don't pass voting rights, if they don't pass Build Back Better, run on that in 2022. All they're gonna run on is the 2020 election returns."
Well, no, James. The Republicans are gonna run on undoing the entire laundry list of failures listed above.
Carville said his party must "soldier on," but to where? And how? "Every president goes through this," he said. But that's simply not true. There's never been an American president like this, nor a party that's on the wrong side of so many issues.
Soldier on? Carville's lukewarm gruel shows just how desperate the Democrats are.
~~~
~~Reprinted with permission. See the original article here and leave some comments! 
By DOUGLAS ANDREWS January 18, 2022 in Politics Not even longtime Demo strategist James Carville has a way out of the mess his party has created. "Democrats whine too much," said longtime Democrat strategist James Carville Sunday morning on NBC's "Meet the Press." "Just quit being a whiny party, and get out there and fight and…
By DOUGLAS ANDREWS January 18, 2022 in Politics Not even longtime Demo strategist James Carville has a way out of the mess his party has created. "Democrats whine too much," said longtime Democrat strategist James Carville Sunday morning on NBC's "Meet the Press." "Just quit being a whiny party, and get out there and fight and…