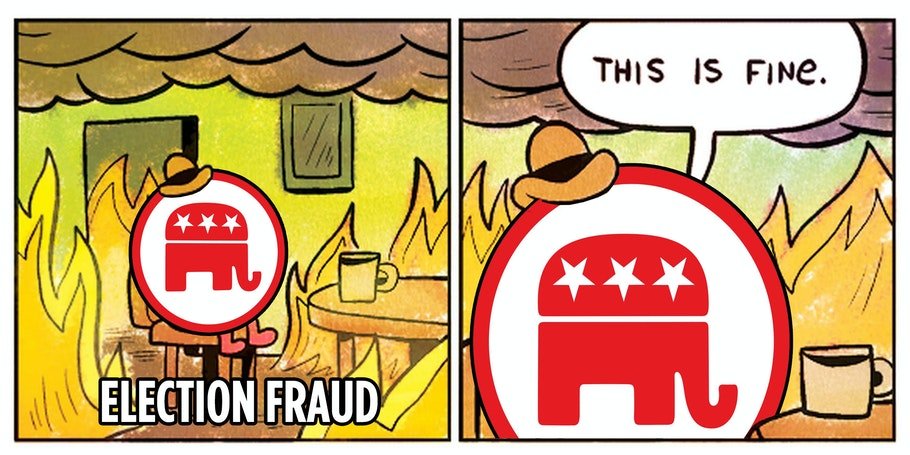 The GOP Had Better Wake Up
By DOUGLAS ANDREWS  January 17, 2022 in Elections
The 2020 election wasn't fair, and Beltway Republicans shouldn't be afraid to say so.
If you're a Republican in Washington and you want to be liked, get a dog. Because kowtowing to the Democrats' narrative that the 2020 presidential election was free, fair, and utterly uncontroversial isn't going to earn you any lasting friendships. It will, however, make you a useful idiot of the Left.
Take South Dakota Senator Mike Rounds, for example. As The Federalist's Mollie Hemingway notes, Rounds was being interviewed recently by ABC's George Stephanopoulos, who asked him about "all those Republicans … who believe the election was stolen."
Rounds hemmed and hawed a bit, then ultimately settled on the following idiocy: "The election was fair, as fair as we have seen."
Huh? Senate Minority Leader Mitch McConnell didn't help matters either when he told CNN: "I think Senator Rounds told the truth about what happened in the 2020 election. And I agree with him."
Such statements are not only unhelpful, they're also untrue. They're unhelpful because they make the Democrats' case that their bulk-mail balloting scheme should become the new normal, and that Republicans needn't pursue additional voting integrity safeguards between now and the November midterms. And they're untrue because no sentient being can explain how, in an election that's "as fair as we have seen," Donald Trump could earn 12 million more votes than any Republican candidate in history and handily carry an astounding 18 of 19 "bellwether" counties across the nation, and yet still get seven million fewer votes than gaffe-prone, basement-bound, cognitively challenged Joe Biden — a guy whose candidacy was so awful, so utterly uninspiring, that he finished a dismal fourth in the Iowa caucuses and fifth in the New Hampshire primary before getting his clock cleaned by 26 points in Nevada by Bernie Sanders. But somehow, Biden went from being a dead man walking to hauling in 81 million votes in the general election. For comparison, that's more population-adjusted votes than Barack Obama got in 2008.
No way. No. Way.
As Hemingway writes:
The 2020 election was riddled with problems. Voters know this. Republican voters know this very well. … The rigging of the election included changes to hundreds of laws and processes in the months prior to election day, flooding the system with tens of millions of mail-in ballots even as scrutiny of those ballots was decreased. [Facebook CEO] Mark Zuckerberg spent $419 million to finance the private takeover of government election offices — primarily focused on the blue areas of swing states — to enable Democrats to run their Get Out The Vote operations from government offices. The funding was significant enough to affect the outcome of races, independent analysts have concluded. And that's to say nothing of Big Tech's election meddling in the form of censorship and algorithmic persuasion nor of corporate media's move into straight-up propaganda.
We covered Zuckerberg's dirty work a few months back, but what he did bears repeating because he'll do it again if Republicans don't wake the hell up. Zuckerberg provided the essential financial backing to what Time magazine called "a well-funded cabal of powerful people, ranging across industries and ideologies, working together behind the scenes to influence perceptions, change rules and laws, steer media coverage, and control the flow of information." This cabal took a stunning $419 million Zuck Bucks and used it to get out the vote in critical Democrat areas of key battleground states. How? As researcher William Doyle reports, "It had to do with financing the infiltration of election offices at the city and county level by left-wing activists, and using those offices as a platform to implement preferred administrative practices, voting methods, and data-sharing agreements, as well as to launch intensive outreach campaigns in areas heavy with Democratic voters."
Remember: Joe Biden didn't beat Donald Trump by seven million votes. He beat him by 43,000 votes spread across just three key states: Arizona, Georgia, and Wisconsin. Zuckerberg, with his $419 million, could've spent nearly $10,000 to get out each one of those 43,000 votes.
Does that sound like an election that was "as fair as we have seen"? Hardly.
How might Rounds, McConnell, and their fellow Beltway Republicans explain the credible and highly specific allegations of a massive, systematized, and wholly illegal ballot harvesting operation now being investigated in Georgia? There, according to a complaint filed by voter-integrity watchdog True the Vote, 242 people engaged in a total of 5,662 ballot drops, an average of 23 runs per participant, and more than 40% of them occurred between midnight and 5 a.m. In many instances, people were captured on video "stuffing large numbers of ballots into the boxes, some with so many ballots in hand that some of the envelopes dropped to the ground." Additionally, "Some people were allegedly observed taking pictures of themselves at the boxes after delivering ballots, an action the group said may have been required to receive payments."
If Beltway Republicans are going to get serious about election security, they need to begin speaking forcefully about a system that's clearly broken. They need to start talking about, as Hemingway put it, "fighting the federal takeover of elections, fighting the private takeover of government election offices, fighting the unconstitutional changes of voting laws, and fighting the second-class treatment of Republican voters by the media and Big Tech."
And they need to stop saying "the election was fair." It wasn't. And Republicans shouldn't be afraid to say so.
~~~
~~Reprinted with permission. See the original article here and leave some comments! 
By DOUGLAS ANDREWS  January 17, 2022 in Elections The 2020 election wasn't fair, and Beltway Republicans shouldn't be afraid to say so. If you're a Republican in Washington and you want to be liked, get a dog. Because kowtowing to the Democrats' narrative that the 2020 presidential election was free, fair, and utterly uncontroversial isn't…
By DOUGLAS ANDREWS  January 17, 2022 in Elections The 2020 election wasn't fair, and Beltway Republicans shouldn't be afraid to say so. If you're a Republican in Washington and you want to be liked, get a dog. Because kowtowing to the Democrats' narrative that the 2020 presidential election was free, fair, and utterly uncontroversial isn't…