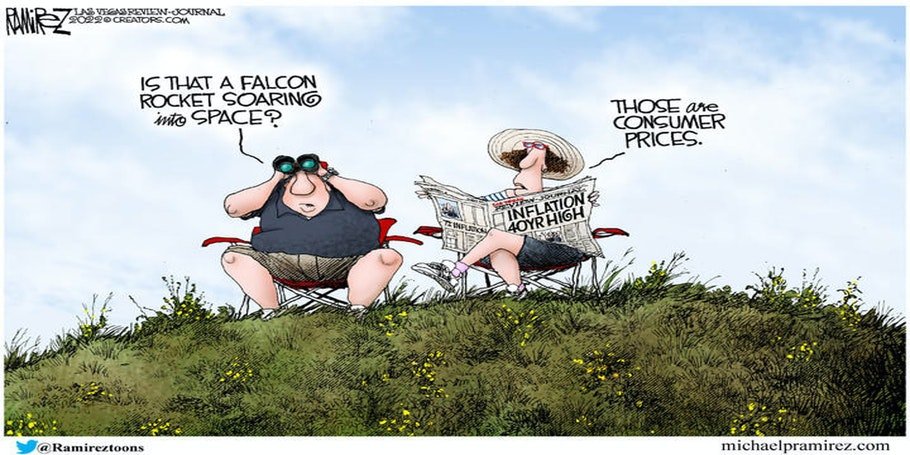 Inflation Hasn't Been This High in 40 Years
By BRIAN MARK WEBER January 14, 2022 in Economy
Most of us fail to realize the very real consequences of debasing our national currency.
For most Americans, the cost of just about everything keeps going up.
Of course, Joe Biden doesn't take the blame for any of it. Recently, the president stated, "There's nobody suggesting there's unchecked inflation on the way — no serious economist." And some on the Left, including the president, are blaming businesses or even (if you can believe it) the economy itself.
Just when we think the numbers couldn't get any worse, they do.
The Wall Street Journal's Gwynn Guilford writes: "U.S. inflation hit its fastest pace in nearly four decades last year as pandemic related supply and demand imbalances, along with stimulus intended to shore up the economy, pushed prices up at a 7% annual rate. The Labor Department said Wednesday the consumer-price index — which measures what consumers pay for goods and services — rose 7% in December from the same month a year earlier, up from 6.8% in November. That was the fastest since 1982 and marked the third straight month in which inflation exceeded 6%."
That's right. Inflation hasn't been this high in 40 years.
The evidence? Fox News reports: "Although energy prices fell 1.1% in December from the previous month, they're still up 29.3% from last year. Gasoline, on average, costs 49.6% than it did last year. Food prices have also climbed 6.3% higher over the year, while used car and truck prices — a major component of the inflation increase — are up 37.3%. Shelter costs, which make up nearly one-third of the total increase, jumped 0.4% for the month and 4.1% year-over-year, the fastest pace since February 2007."
No one seems to take notice when politicians add trillions to the national debt. We've been hearing about it for decades, after all, but most of us fail to realize the very real consequences of debasing our national currency. One of the consequences is the rising costs of goods.
Another is what amounts to a pay cut. Sure, some companies are raising wages in order to hold on to workers, but soaring inflation has outpaced the growth in larger paychecks. In other words, some of us are making more, but we're unable to buy more.
Yet the Fed keeps the printing presses turned on, churning out stimulus after stimulus. When members of Congress need a trillion (or four trillion), the Fed has their back.
But those stimulus dollars devalue our currency and result in an overall net loss when it comes to the purchasing power of consumers. Meanwhile, the Federal Reserve is considering raising interest rates, which might "cool off" the economy but could negatively impact the job market.
Instead of real solutions, all we have from the Biden administration is a daily blame game. The Democrats' latest pre-packaged commentary delivered to media outlets is that greedy corporations, from oil and gas producers to meat processing plants, are gouging American consumers just for the hell of it.
Rich Lowry writes that "all the hokum about the causes of inflation is basically a confession of impotence. If the Biden administration had a good story to tell about how it's fixing inflation, it wouldn't need to create cartoon villains."
One billionaire supermarket CEO suggests we could curtail inflation almost overnight by simply producing more oil at home, thereby lowering transportation costs and filling shelves with goods.
In terms of real political solutions, nothing's going to change before the 2022 midterms. Until this point, Republicans haven't done anything other than support Biden's trillion-dollar stimulus packages. Now they're laser-focused on winning back the House and Senate. Meanwhile, Democrats are deflecting responsibility onto everyone else.
Only in Washington, DC, can you get a lot of hot air in the middle of January.
~~~
~~Reprinted with permission. See the original article here and leave some comments! 
By BRIAN MARK WEBER January 14, 2022 in Economy Most of us fail to realize the very real consequences of debasing our national currency. For most Americans, the cost of just about everything keeps going up. Of course, Joe Biden doesn't take the blame for any of it. Recently, the president stated, "There's nobody suggesting…
By BRIAN MARK WEBER January 14, 2022 in Economy Most of us fail to realize the very real consequences of debasing our national currency. For most Americans, the cost of just about everything keeps going up. Of course, Joe Biden doesn't take the blame for any of it. Recently, the president stated, "There's nobody suggesting…