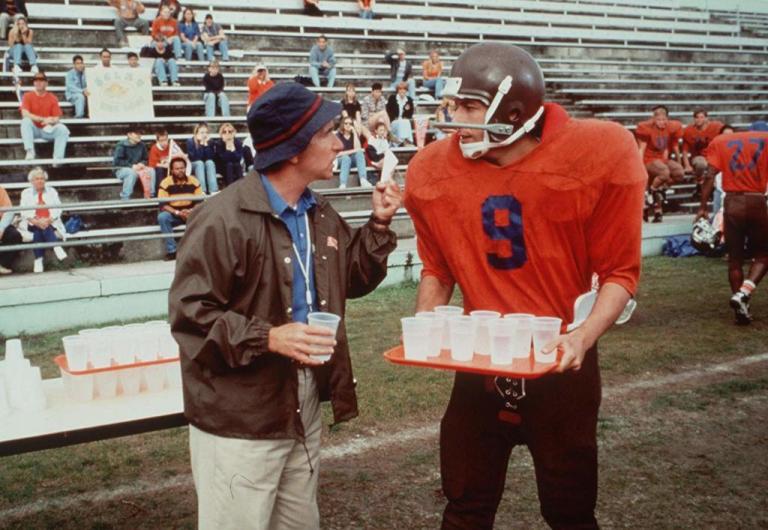 Friday Newsfeed: Hit `em … Hit `em Hard … And Then Hit `em Again
Posted by Maggie on January 14, 2022 in From the editors
The Biden administration running this country has moved beyond an Adam Sandler movie of the ridiculous. Hell, I'm not even sure Sandler, a moderate-conservative libertarian (at last check), would write this story and gamble it would not only make money but that his fanbase audience would accept it … as funny.
And so, should we be kicking the Biden administration when they're down? You bet your taxpaying ass, we should.
Twitchy: You new here?! LOL! People POINT AND LAUGH at The Daily Beast for acting SURPRISED that Biden is 'just as divisive as Trump'
Biden and his administration minions are nowhere anywhere near 'above reproach'. They are completely and totally accountable to the rest of the country on everything. THAT has not changed just because this senior citizen jackass finally got the last chapter goal of his adult lifelong career political biography. And will people please just drop the "he's a nice guy" bullshit they preface their criticisms with. The guy is a self-serving farce that appears to be nice simply for the good press. All that said, I have one key to Joe trying to salvage his approval, but they would never go against big pharma to do it. What is it, you ask? Go on TV and read a statement off the teleprompter stating he is encouraging doctors and hospitals to begin using the old school low risk therapeutics that were demonized and banned … and that were used by some doctors on COVID patients with better results (said doctors compiled studies while using) than the vaccines … But he/they won't.
Old Joe's and Cackling Kammy's Terrible No Good Horrible Week(s) as We Approach the End of Their First Year:
Andrew Mark Miller: Biden White House reeling after week of defeats, setbacks, and policy flops: The president's week was mired by a court defeat, cratering poll numbers, inflation woes, and other setbacks
Anders Hangstrom: Biden Ends First Year In Office With His Worst Week Yet
VIDEO: Laura Ingraham: Biden's worst week ever: "How embarrassing for Biden…" … Feh! He earned it.
VIDEO: David Webb on vaccine mandate decision: 'Supreme Court stood on the Constitution'
VIDEO: Harmeet Dhillon: Supreme Court ruling a reprieve for millions of American employees
Jon Brown: Psaki gets sarcastic on bitter day: White House could just do 'bunny rabbits and ice cream': Confronted with setbacks, press secretary says the White House is not a place to try easy things … Umm, Jen, the irony just buzzes your redhead. How dare the MSM reporters at the White House press room ask tough questions of the administration outside of their typical Biden ice cream purchases and puppy updates.
Twitchy: 'Pathetic blame shift' in progress! Jen Psaki slams party with zero control in DC for doing nothing to halt inflation
So the long-awaited GOP plan to fight inflation is…to do nothing?

Meanwhile @POTUS is using every tool at his disposal to bring down prices. Unclogging supply chains. Addressing corporate monopolies that hurt consumers. Advancing BBB to lower household costs AND inflation. https://t.co/BjXHeRLZmW

— Jen Psaki (@PressSec) January 13, 2022
"So the long-awaited GOP plan to fight inflation is…to do nothing?"

Your party controls the White House and Congress, Jen. And your only plan to fight inflation is to print another $2-4 trillion.

— AdamInHTownTX (LGBFJB+ Supporter) (@AdamInHTownTX) January 14, 2022
What, exactly, are they in position to do?

There's a saying – when the opposition is actively stepping on their own dicks, don't tell them to stop

Biden and the Dems stepped on their dicks with 'Build Back Broker'. They did it with the filibuster.

Why stop them now?

— Shay Patrick Cormac (@ShayCormac_1) January 14, 2022
Matt Margolis: WATCH: Kamala's Disastrous Response to a Question About 2024
Brian Flood: Kamala Harris crushed for non-answer about changing up COVID strategy, draws comparisons to fictional buffoons: 'It's time for us to do what we have been doing and that time is every day,' Harris said
Lindsay Kornick: Kamala Harris struggles through question on inflation during CBS interview: Stumble comes follows rumors that Harris refuses to read staff briefings … DERP! And DOUBLE DERP, Kammy!!
Ariel Zilber: Wholesale prices rose nearly 10% in 2021, biggest increase since 2010
The Hill: Biden calls on employers to mandate vaccines despite Supreme Court ruling … This won't bode well either, on many levels, not the least of which is the current low-numbers workforce and businesses and companies (and hospitals) short-staff problems. It will continue to allow supply shortages and inflation to grow and thrive.
Jim Geraghty: Empty Shelves Disprove Biden's Supply-Chain Boasts
Tim Smart: Jobless Claims Rose Last Week, Wholesale Inflation Hit a Record in December
Stephanie Giang-Paunon: Inflation is driving 'Great Resignation,' former Walmart CEO says: The Conference Board survey shows 55% of U.S. CEOs expect inflation to continue until at least mid-2023
Fly the Friendly Sky of Bidenville Air:
Charles Creitz: Pennsylvania Republicans to draft bill to relocate migrants on Biden DHS flights to Delaware: 'If it is good enough for Pennsylvania, then why not redirect the relocation to Delaware?' a state senator asks
Live w/ @TuckerCarlson last night discussing:
– 2 murderers, 1 sex offender, 2 MS-13 gang members arrested in 30 hours by RGV Border Patrol.
– US citizen from Houston caught smuggling 28 illegal immigrants.
– Migrants apprehended from Uzbekistan, Tajikistan, Syria, & Mauritania. pic.twitter.com/djrYZv40z2

— Bill Melugin (@BillFOXLA) January 13, 2022
FOX News covering, investigating, and reporting the important details of the illegal alien invasion on Boden's open borders is pissing-off the left, and this bloke whose Twitter profile states he's "Policy Counsel at @immcouncil. Formerly immigration lawyer at @LegalAidNYC through @IJCorps." … Well, goodie-goodie-CBD gumdrops for him. The law is the law, and failing to enforce it and this nation's and Americans' sovereignty and security/safety is diabolical. He can go pound sand…
This is not national news. This is a local crime beat, the kind of thing on page 13 in the police blotter.

So why is this being covered on Tucker Carlson? Because they want viewers to believe Trump's "They're bringing drugs, they're bringing crime, they're rapists" speech. https://t.co/CvAJr1YkAO

— Aaron Reichlin-Melnick (@ReichlinMelnick) January 13, 2022
NOT 'national news'?? THAT is the U.S. border they are crossing. The only reason why it has local news issue(s) is because the federal government, who is indeed directly responsible for the nation's border, has abandoned that responsibility. These people, and the criminals in these numbers, are being dispersed throughout the nation by the Biden administration. THAT absolutely makes it a 'national news' story, idiot.
.
The fact that they came across the border ILLEGALLY is front page worthy. Amount of drugs that kill Americans in record numbers being brought across the border is frontpage worthy. But I thank him for admitting to burying the facts about the illegal alien invasion of 2021.

— Maggie (@drillanwr) January 13, 2022
It's not a local crime beat item when Biden's administration is flying them after midnight to swing or red states, Aaron.

Americans are not stupid when they see hospital times are tripled, classroom capacity doubles, and soup kitchen lines are exhausted in their towns.

— Sandy 〽️ (@RightGlockMom) January 13, 2022
Ever have a loved one die from a fentanyl overdose? 100,000 of them in 2021. Border agents confiscated enough fentanyl last year to kill 200 million Americans. Not a national crisis? Tell that directly in person to parents who lost a child instead of mouthing off behind a screen.

— Avila Beach🇺🇸 (@AvilaBeach) January 13, 2022
Now do George Floyd

— Buckminster Breaker, PhD (@dappergentleman) January 13, 2022
Ooooooo! Nice hit, Buckminster!
Townhall.com writer Julio Rosas hits back hard too…
"This is not national news." Says who? You? How is it not national news these types of people are being caught at the border considering most, if not all, don't plan on staying in border towns? https://t.co/GhRtzAFQG0

— Julio Rosas (@Julio_Rosas11) January 13, 2022
Also love the confidence of people, who don't chew the dirt, trying to discredit the hard work of actual reporters who are on the ground and seeing the issue firsthand.

— Julio Rosas (@Julio_Rosas11) January 13, 2022
Idiotic Irony, Thy Name is Pelosi:
Houston Keene , Jacqui Heinrich: KN95 masks distributed to House members stamped with 'MADE IN CHINA': Lawmakers were reportedly not happy with the distribution of masks … Oh, and just a note here, if your area is handing out this limited free COVID home test kits, like my area has since before Christmas, have a look on the box. Some are made in China. Worth reminding folks that I'm the early days of the China plague a lot of PPE/test kits/medical equipment coming from that country were not only discovered to be junk but were found to already be contaminated with the Coronavirus on it.
The Daily Zuby:
You can directly trace the regression of humanity to when Apple started removing the headphone jack from their iPhones and people said it was a 'good idea'. 🤣

— ZUBY: (@ZubyMusic) January 14, 2022
And, as if "spellcheck" wasn't asinine enough, now comes Microsoft's #WOKE Checker on your devices…
Hank Berrien: Microsoft Pushing Woke Culture, Includes Word Checker To Help You Use Woke Terms: "Grammar & Refinements" checks age bias, cultural bias, ethnic slurs, gender bias, gender-neutral pronouns, gender-specific language, racial bias, sexual orientation bias and socioeconomic bias
In an apparent attempt to inculcate "woke" language into the verbiage of hundreds of millions of people, Microsoft has developed an "inclusiveness" checker in its Word software that would highlight phrases that might offend others.

Some of the issues reportedly targeted by Microsoft in its latest version of Office 365, a subscription service that 250 million people use, include age, ethnicity, gender, sexual orientation, or "socioeconomic status"…
Yeah, sure, whatever, Bill. But this will get probelmatic, and will hopefully be taken to court to nail that control freak tech overlord…
Legendary astronaut Neil Armstrong's famed words upon landing on the moon in which he lauded "one giant leap for mankind" could be altered to "humankind" or "humanity." Pop singer Barry Manilow's hit "Copacabana," in which Manilow sang of Lola the "showgirl" could be altered to "dancer," "performer," or "performing artist."

Referring to the former Prime Minister of Great Britain, Margaret Thatcher, as "Mrs. Thatcher" could be replaced by "Ms. Thatcher."…
How the Hell dare Microsoft! First, Microsoft will be changing direct quotes, especially historic quotes like Neil Armstrong's, and that is not right on several levels. Second, Margaret Thatcher was PM of Great Britain during the woman's lib movement. I believe if the strong, independent, esteemed and accomplished woman had wanted to be addressed as "Ms." instead of "Mrs." she herself would have made the distinction, but she did not. She was conservative, married, loved her husband, and not only carried his surname but the marital distinction of heading her name with "Mrs." to dignify that. It is not big tech's business to change anything to suit its snowflake followers.
Isobel Asher Hamilton: Microsoft hires external lawyers to review its sexual harassment policies, including the handling of allegations against Bill Gates
And Bill needs to get his filthy anti-human-population nose out of the COVID vaccine business…
Paul Best: Bill Gates says COVID-19 vaccines are 'missing two key things'
Who the heck are those 43% that need to really wake TF up and get a real life? Oh, wait, there they are…
Rasmussen Reports: COVID-19: Democratic Voters Support Harsh Measures Against Unvaccinated
Fifty-nine percent (59%) of Democratic voters would favor a government policy requiring that citizens remain confined to their homes at all times, except for emergencies, if they refuse to get a COVID-19 vaccine. Such a proposal is opposed by 61% of all likely voters,

— ThunderB (@Pimpernell13) January 14, 2022
Nearly half (48%) of Democratic voters think federal and state governments should be able to fine or imprison individuals who publicly question the efficacy of the existing COVID-19 vaccines on social media, television, radio, or in online or digital publications.

— ThunderB (@Pimpernell13) January 14, 2022
so to sum up, half of Democrats want

-unvax confined to camps
-unvax confined to their homes at all times
-unvax to lose parental rights
-imprison vax skeptics
-fine the unvax

— ThunderB (@Pimpernell13) January 14, 2022
Better they should move to Australia. Better yet, move to CCP China…
AP: Anti-coronavirus measures tightened across China: China further tightened its anti-pandemic measures in Beijing and across the country on Friday as scattered outbreaks continued ahead of the opening of the Winter Olympics in a little over two weeks. The actions appear to reflect nervousness about a possible surge in cases ahead of the Beijing Games… … A reminder that old Joe Biden loves him some Xi CCP China policies.
Newsweek: China Testing Entire City of 14 Million for COVID a Second Time, Suspends Trains, Buses
MORE:
Leslie Eastman: FAA Briefly Paused U.S. West Coast Flights Around Time of North Korea Launch: Biden administration imposes first sanctions over North Korea weapons program.
AP @ FNC: US Embassy in Baghdad targeted by 4 rockets: Iraqi officials: Pro-Iran Shiite factions in Iraq have vowed revenge for a U.S. strike in 2020 that killed Iranian Gen. Qassim Soleimani … This was just a 'warning shot'.
Robert Spencer: Taliban Defense Minister Threatens to Put 2,000 Jihad Suicide Bombers at Afghan Embassy in DC
Robert Spencer: Iran's Supreme Leader Releases Video Depicting Assassination of Trump
Reuters @ NYP: Massive cyberattack hits Ukrainian government websites as West warns on Russia conflict
The College Fix: Is the Viking next to go? WWU eyes ditching Viking mascot due to colonialism … OFFS! Enough w/the backdoor BS already. Just have the balls to directly go for abolishing any/all (competitive) sports at all levels that you're actually doing here, you intellectually dishonest mental-midget slobs.
STRIPPED BARE: The Prince has no clothes…
Lee Brown, Sara Nathan and Natalie O'Neill: Queen Elizabeth strips Prince Andrew of royal and military titles … Blimey!
~~~
~~Many thanks to Maggie and The Universal Spectator for reprint permission.
Posted by Maggie on January 14, 2022 in From the editors The Biden administration running this country has moved beyond an Adam Sandler movie of the ridiculous. Hell, I'm not even sure Sandler, a moderate-conservative libertarian (at last check), would write this story and gamble it would not only make money but that his fanbase audience would accept it … as…
Posted by Maggie on January 14, 2022 in From the editors The Biden administration running this country has moved beyond an Adam Sandler movie of the ridiculous. Hell, I'm not even sure Sandler, a moderate-conservative libertarian (at last check), would write this story and gamble it would not only make money but that his fanbase audience would accept it … as…