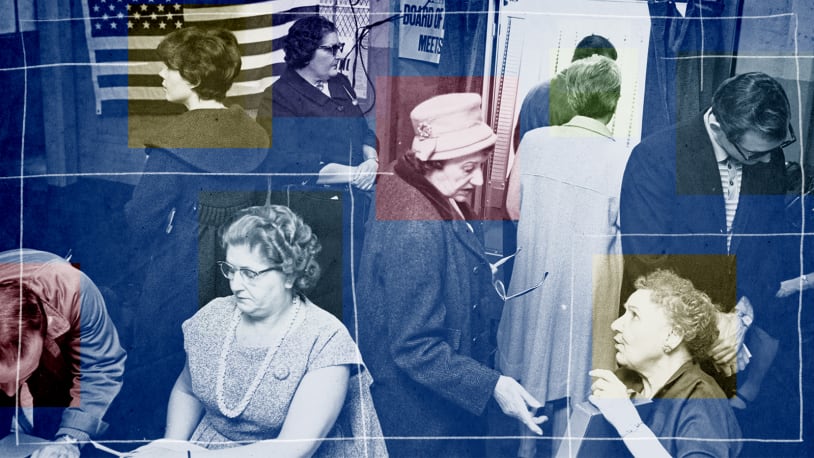 The most compelling case against mail-in voting has nothing to do with fraud
A showdown is coming. Stymied in their efforts to pass Build Back Better, House Democrats are moving forward with a pair of bills designed to standardize voting practices while increasing participation. Previously a skeptic about the possibility of eliminating or limiting the filibuster to pass voting legislation — and, realistically, perhaps still doomed to frustration on that point — President Biden embraced the tactic in his speech in Atlanta on Tuesday. According to Biden, nothing less than the future of democracy depends on the proposed reforms.
The package is pared down from Democrats' hopes, though. For example, the Freedom to Vote bill drops earlier proposals to establish public financing for congressional elections and includes a voter ID provision (albeit more flexible than many state requirements). Its core, though, represents an unprecedented nationalization and expansion of voting procedures, including federal mandates for at least 15 days of early voting and no-excuse mail ballots (which some states have long offered and others adopted during the pandemic).
Beyond federalism concerns, which tend to fluctuate according to partisan interests, most Republican objections revolve around suspicions of fraud. Although these fears have been supercharged by former President Donald Trump's insistence that the 2020 election was rigged, prominent Republicans have been making versions of the claim for years. In 2008, the late John McCain, who has since been canonized as a kind of moderate saint, argued that activist groups supporting then-candidate Barack Obama were on "the verge of maybe perpetrating one of the greatest frauds in voter history in this country, maybe destroying the fabric of democracy." 
But such charges are almost certainly false. Contrary to assertions that it's made up, voter fraud does happen — but as far as anyone can demonstrate, it's disorganized and small-scale. While it cautions that fraud is likely more widespread than the number of successful prosecutions, a database from the conservative Heritage Foundation records just 1,340 proven cases nationwide. With close to 160 million votes in the most recent presidential election, that's simply not enough to justify panic about "election integrity."
The small chance of organized, outcome-determining fraud doesn't mean Democrats' proposals are costless, though. In the name of expanded access, they're promoting a historic change in the meaning of an American election. If measures included in the Freedom to Vote bill pass, the vision of citizens casting ballots in the same way at the same time — up and down a continent, regardless of race, gender, or class — will be fatally undermined. The replacement will be a kind of ongoing poll, in which individuals register their unaccountable preferences in a variety of ways over an extended period. 
Why does that matter, provided an equal or greater number of citizens actually participate in the process? To see the problem, you need to consider the function of elections in a modern democracy.
One of those purposes is, of course, to collect and aggregate preferences. In other words, they tell us which candidates or parties the majority (or at least the plurality) of voters prefer. Due to institutions like the Electoral College that weigh votes by geography, majority preferences don't translate directly into electoral outcomes for all offices. But they do provide a kind of numerical legitimacy — which is why we still talk about the popular vote for president, even though it has no legal weight.
Numerical legitimacy is not the only form of legitimacy, though. To sustain itself, democracy can't just be about a larger group imposing its will on a smaller one. It has to appeal to some sense of shared obligation, such that minorities voluntarily defer to majorities. 
That's where the traditional conception of voting comes in. Election Day is a ritual that adds civic legitimacy to the numerical kind. Requiring the vast majority of voters to cast ballots in person, on the same day, and in more or less the same way promotes the sense that we're all in it together, despite our partisan or ideological differences. That belief, rather than the numbers alone, helps transforms millions of individual preferences into a "mandate" that losers can accept.
To be clear, this association between electoral procedures and institutional deference is based on a kind of myth. There is nothing magical about the legally fixed Election Day or familiar voting booth that confers a special authority that dropping a ballot in the mailbox two weeks earlier lacks. In fact, the secrecy that Americans now regard as synonymous with democratic elections is itself a relatively recent innovation. Adopted in the late 19th century, the so-called "Australian ballot" replaced earlier voting practices, which were far more public and communal. 
And it's not crazy to worry that theoretically neutral, shared procedures can be used in exclusive, partisan ways. Advocates of more expansive voting practices are right when they point out that many Jim Crow-era restrictions included no explicit racial element. It's less often recognized that the secret ballot itself was part of a wave of reforms intended to fight corruption by diverting ostensibly uninformed or easily influenced voters away from the polls. For urban patricians who supported the movement, that very much included white immigrants as well as African Americans.   
But rituals matter, even though they're not altogether rational and are open to misuse. In an increasingly low-trust society where the experience of daily life varies considerably among places and milieux, voting can be among few truly shared experiences. The methodical, spatial, and temporal disaggregation of the elections, by contrast, inevitably encourages doubt about the legitimacy of the results. However satisfying it may be, lecturing people about the rarity of fraud or accusing them of being neo-Confederates is very unlikely to persuade them otherwise.
There are non-delusional, non-cynical reasons to be skeptical that efforts to extend voting periods and encourage absentee voting will do much to heal American democracy. With overall turnout at a historic high and racial disparities in participation shrinking (as Yuval Levin noted in a recent column), it's also not clear they're necessary.
But there's at least one element of the Democrats' package that I enthusiastically support. Let's make Election Day a national holiday and give as many Americans as possible a special time to vote, reflect, and celebrate — together.  
A showdown is coming. Stymied in their efforts to pass Build Back Better, House Democrats are moving forward with a pair of bills designed to standardize voting practices while increasing participation. Previously a skeptic about the possibility of eliminating or limiting the filibuster to pass voting legislation — and, realistically, perhaps still doomed to frustration on…
A showdown is coming. Stymied in their efforts to pass Build Back Better, House Democrats are moving forward with a pair of bills designed to standardize voting practices while increasing participation. Previously a skeptic about the possibility of eliminating or limiting the filibuster to pass voting legislation — and, realistically, perhaps still doomed to frustration on…