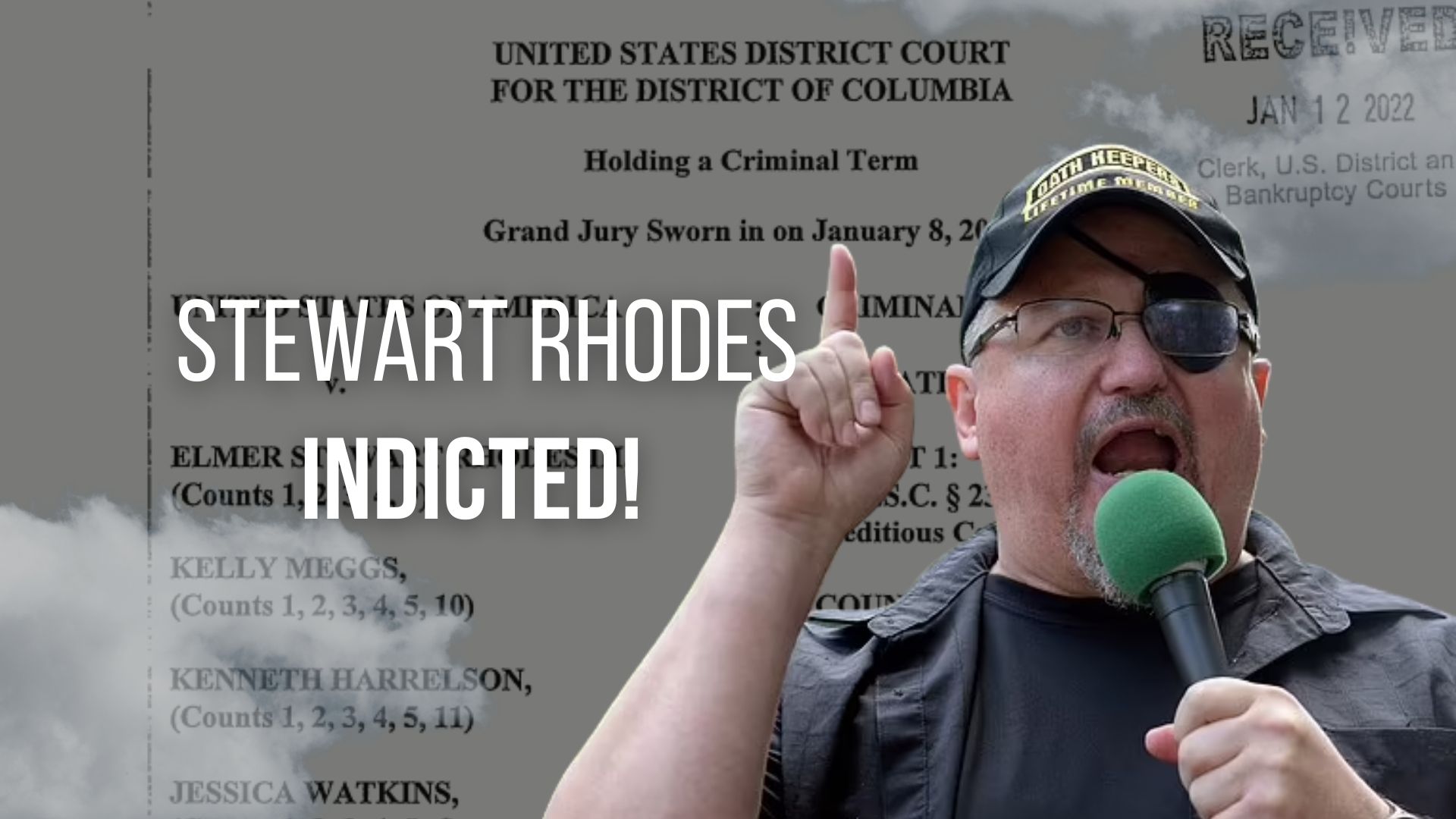 Oath Keepers Leader Stewart Rhodes Indicted, Charged with Seditious Conspiracy Regarding January 6
January 13, 2022 — WASGHINGTON, D.C. – Stewart Rhodes, the founder and leader of the militia group the Oath Keepers, has just been arrested and indicted in relation to the riot that occurred on January 6, 2021 at the U.S. Capitol. The Department of Justice had already charged several lower level members of the Oath Keepers in the USA vs Caldwell, et al conspiracy case. This is the first case out of some 700 related to January 6 to use a "sedition" charge. Rhodes, who is 56 and a former Army paratrooper and Yale Law graduate has claimed he did not enter the Capitol on January 6, 2021. Federal agents raided Rhodes' home earlier today and he was arrested in the Dallas, Texas area. This comes just days after a public hearing by the U.S. Senate January 6 Committee that was fraught with questions about the use of federal informants in fomenting and carrying out the melee that occurred on the that day.
According to MSN, Rhodes claims he was in communication with other members of the Oath Keepers to "keep them out of trouble," not to do anything illegal:
He said he was communicating with members of his group in an effort to "keep them out of trouble," and emphasized that Oath Keepers associates who did go in "went totally off mission."

An earlier indictment charged 19 of the extremist group's alleged adherents with conspiracy and aiding and abetting the obstruction of Congress. Two of those individuals have pleaded guilty and agreed to cooperate with investigators. The rest have pleaded not guilty and are preparing for trials later this year.

In cases in which people have pleaded guilty, defendants acknowledged they were among a group that forced entry through the Capitol's East Rotunda doors after marching single-file in tight formation up the steps wearing camouflage vests, helmets, goggles and Oath Keepers insignia.

Some defendants also admitted to stashing guns in a nearby Arlington, Va., hotel for possible use by what they called a "Quick Reaction Force."

The attack on the Capitol occurred as lawmakers were gathered there to formally confirm Joe Biden's 2020 election victory, amid repeated and unfounded allegations of widespread election fraud and as then-President Donald Trump was urging his supporters to "Stop the Steal."

The certification of the election results was disrupted by the pro-Trump rioters, who injured scores of police officers and ransacked Capitol offices as lawmakers were evacuated from the House floor.

In court filings related to the original conspiracy case, prosecutors alleged that the group came to Washington at Rhodes' urging. Rhodes began discussing plans to keep Trump in the White House by force as early as Nov. 9, the filings state. – MSN
Several other low level Oath Keepers have been charged in relation to January 6, but not as part of the broader Oath Keepers "conspiracy" case.
Sedition charges are actually extremely rare, and it will be interesting to see if they will stick. Rhodes was allegedly on the phone with his attorney when he was arrested by the FBI. The U.S. government has successfully convicted fewer than 12 Americans for treason in the nation's history, so this latest development is intriguing. The last time the federal government attempted to pursue such charges was in 2010 against the members of the Hutaree Militia, but ultimately a judge rejected the case on protected speech grounds.
The Justice Department says a grand jury has indicted Oath Keepers leader Stewart Rhodes and 10 others on a charge of seditious conspiracy related to the Jan. 6 siege. pic.twitter.com/Z0n7LAIDpV

— Brad Heath (@bradheath) January 13, 2022
The Indictment has not yet made it to PACER but the DOJ has posted it to their website.
Notable events leading up to today's unsealing of the Oath Keepers seditious conspiracy case:
– 12/17/21: Govt says four who pleaded guilty in the original OKs conspiracy case are still cooperating
– 1/5/22: AG Garland discusses breadth of investigation https://t.co/FTFELKAUS8

— Zoe Tillman (@ZoeTillman) January 13, 2022
Buzzfeed has just published an article regarding the recent developments in the Oath Keepers saga. Zoe Tillman and Ken Bensinger report:
Federal prosecutors have charged Oath Keepers founder Stewart Rhodes and 10 others associated with the extremist group with seditious conspiracy, the first such charge to come out of the investigation into the Capitol insurrection that began just over a year ago.

Rhodes, 56, was arrested Thursday morning in Little Elm, Texas, about 35 miles north of Dallas. A second man, Edward Vallejo, 63, was arrested in Phoenix, according to the Department of Justice. The other nine defendants have all previously been charged in the Oath Keepers conspiracy case pending in Washington, DC, federal court.

Kellye SoRelle, the Oath Keepers' general counsel, confirmed that Rhodes had been arrested and said she is working to find a criminal defense attorney to represent him. She called the arrest "all part of the show" and said he did not have enough funds to hire representation.

In the immediate aftermath of the assault on the US Capitol, the acting US attorney in Washington, DC, at the time, Michael Sherwin, announced that a task force had been formed to explore more serious charges in connection with Jan. 6, including seditious conspiracy.

But although more than 725 people have since been charged with a variety of misdemeanors and felonies for their involvement in the events of Jan. 6, a number of whom are facing conspiracy charges related to obstructing Congress's attempts to certify the Electoral College, none has previously been charged with crimes related to sedition — which amounts to inciting a rebellion against the government.

The charge carries a maximum penalty of 20 years in prison. It's a rarely charged offense. Federal prosecutors last tried to pursue it in a 2010 indictment involving members of a militant group, and a judge ended up acquitting the defendants of the sedition count two years later.

Rhodes, whose first name is Elmer but who goes by his middle name, founded the Oath Keepers in 2009. Known for the distinctive eyepatch he wears, he is a former Army paratrooper and graduate of Yale Law School who was later disbarred from practicing law. He worked briefly for Ron Paul, a former member of Congress, and rose to prominence as a frequent guest on Alex Jones' Infowars program, as well as for leading his Oath Keepers membership into a series of charged political events including the 2014 confrontation between cattle ranchers and federal law enforcement in southern Nevada known as the Bundy standoff.

A longtime libertarian, Rhodes became more closely aligned with former president Donald Trump in the lead-up to and wake of the 2020 election. He cast doubt on the results of the election and called on members of the Oath Keepers to attend protests and gather in Washington on Jan. 6.

The original conspiracy case filed against members of the Oath Keepers in late January 2021 has grown to nearly two dozen defendants, and in the process has danced around Rhodes' involvement in their activities, referring to him as "Person One" in court filings. Nine of the 17 defendants in that case were also charged with seditious conspiracy in the new indictment, handed up by a grand jury on Wednesday and unsealed today.

Four other individuals have pleaded guilty. Just last month, prosecutors alerted a judge that the cooperators were continuing to work with the government. Shortly before the holidays, a judge rejected efforts by the defendants to get charges tossed out. The first of two trials in that case is slated to begin in April.

Unlike many of the charges brought against alleged Capitol rioters so far, which have focused on the physical criminal acts committed that day — such as assaulting police, disrupting Congress's certification of the election results, and simply illegally being in the Capitol — sedition deals with a person's intent to go against the US government. – Buzzfeed News
For the first time in nearly a decade the government will attempt to try a case like this again. The last time, they lost.
This is my uncut video of the moment the Oath Keepers stack breached the Capitol East side.

(Footage available to license)https://t.co/YlBYqeSRJm

— Ford Fischer (@FordFischer) January 13, 2022
Ford Fischer has documented some of the events on the 6th that pertain to the case.
This is the one video clip I captured of Rhodes on that day (just before taking the photo in the previous tweet).

He is visible wearing black cowboy hat. pic.twitter.com/Rw2K6xWgsy

— Ford Fischer (@FordFischer) January 13, 2022
Rhodes may have been in a restricted area of the Capitol grounds at the time of the video. However, barriers had been pulled down by this point, and he may not have been aware of that fact.
Criminal complaint released. Still going through it, but something that quickly catches my eye: Oath Keepers leader Stewart Rhodes swiftly shot down claims that antifa was storming the Capitol.

"Nope. I'm right here. These are Patriots." pic.twitter.com/9wK3HC0Th3

— Ford Fischer (@FordFischer) January 13, 2022
It is interesting that authorities waited so long to arrest Rhodes, even as they were building the case against him.
The government also includes post-January 6 planning in their charges of "Seditious Conspiracy," particularly focusing on Stewart Rhodes and Jessica Watkins. pic.twitter.com/mKZZV3VxfN

— Ford Fischer (@FordFischer) January 13, 2022
Watkins is a transgender woman who has been locked up for nearly a year now.
Indictment: Early on Jan 7, as DC reeled from Capitol riot, Oath Keeper proposed returning to Capitol to "probe their defense line"; leader Stewart Rhodes — who'd spent $10k on AR-15 + gun equipment en route to D.C. — spent another $17k on equipment during following week pic.twitter.com/DYksemu78C

— Jon Swaine (@jonswaine) January 13, 2022
They could have arrested him for this alone and yet they waited a year before doing so, which is a luxury the other Oath Keepers did not receive.
Rhodes also wrote in a group message in December that if Biden assumed the presidency, "It will be a bloody and desperate fight. We are going to have a fight. That can't be avoided." pic.twitter.com/Vpb1WCGecU

— Kaitlan Collins (@kaitlancollins) January 13, 2022
It will be hard to claim this is proof of a seditious conspiracy, as it appears to be constitutionally protected speech.
Liberal pundits are focusing on this statement, but again there is a fine line here regarding legally protected speech versus an actual conspiratorial plan.
Nothing happens with Ray Epps and Steward Rhodes for over a year in regards to Jan 6th

Then within 48 hours, Ray testifies he's not a fed because the media agrees he's not

Then Rhodes is arrested. They think we don't see how much of a sham this ishttps://t.co/EaIvVMzkRh

— ELIJAH SCHAFFER 🇺🇸🇦🇺 (@ElijahSchaffer) January 13, 2022
Mr. Schaffer sees this as a way to re-direct the narrative on January 6, which had been unraveling faster than a hooker's skirt.
Prosecutors say days after the 2020 election, Oath Keepers president Stewart Rhodes held a members-only call outlining a plan to stop the lawful transfer of power. Shortly thereafter, Kelly Meggs and others organized training for "unconventional warfare." https://t.co/5vQYOcvJps

— Jordan Fischer (@JordanOnRecord) January 13, 2022
Once again, even what the DOJ is calling a "step by step plan" to "overthrow the government" just sounds like legal speech.
December 19: "Oath Keepers president is pretty disheartened. He feels like it's go time, the time for peaceful protest is over in his eyes."

December 22: "We will have to do a bloody, massively blood revolution against them. That's what's going to have to happen." pic.twitter.com/6l1FdbIvGj

— Jordan Fischer (@JordanOnRecord) January 13, 2022
This is so stupid, because this sounds like a bunch of trash talking and larping, as opposed to any sort of concrete plans and actions.
Investigators say the week before January 6, Oath Keepers leader Stewart Rhodes spent more than $22k on firearms/equipment:

– $7k on 12/30 for night vision & sight
– $5k on 1/1 for a shotgun, scope, magazines
– $6k on 1/3 for rifle/equipment
– $4.5k on 1/4 in MS en route to DC

— Jordan Fischer (@JordanOnRecord) January 13, 2022
It is perfectly legal to purchase equipment. This proves nothing.
In addition to the $22,500 he spent on firearms and equipment before the riot, prosecutors say Oath Keepers president Stewart Rhodes dropped another $17,500 on additional guns and equipment after January 6. Up to $40k at this point. pic.twitter.com/7MnYYuDe0z

— Jordan Fischer (@JordanOnRecord) January 13, 2022
This is an interesting tidbit, and again it serves to beg the question why the feds waited so long to pursue Rhodes. He wasn't stuck in pre-trial detention for an entire year like most of his underlings.
Julie Kelly of American Greatness has a really good take on this and I think it's the most important aspect of all this, the 40k-foot view, so the speak:
•keep White House in the dark about potential threat

•deploy govt/political agents the night before at rallies, hotels, etc

•deploy hundreds of FBI "shadowy commandos" into the city that morning

•station DC DHS bomb squad right near the exact location of alleged pipe bombs

— Julie Kelly 🇺🇸 (@julie_kelly2) January 12, 2022
We still haven't had the so-called "bomb suspect" identified, another curious part of this entire debacle.
•use the violence to halt proceedings (as I've often said, it was Democrats not Republicans who wanted to stop objections to EC certification via audit)

•succeed in stopping plans to audit results in contested states

•use "insurrection" to launch domestic war on terror

— Julie Kelly 🇺🇸 (@julie_kelly2) January 12, 2022
The government appears to be the one who had a "plan" to launch a "domestic war" on their own people. That is the main takeaway from this entire event.
Here is the full indictment:
This story is still developing and just getting started. Please check back for updates.
January 13, 2022 — WASGHINGTON, D.C. – Stewart Rhodes, the founder and leader of the militia group the Oath Keepers, has just been arrested and indicted in relation to the riot that occurred on January 6, 2021 at the U.S. Capitol. The Department of Justice had already charged several lower level members of the Oath…
January 13, 2022 — WASGHINGTON, D.C. – Stewart Rhodes, the founder and leader of the militia group the Oath Keepers, has just been arrested and indicted in relation to the riot that occurred on January 6, 2021 at the U.S. Capitol. The Department of Justice had already charged several lower level members of the Oath…