Hump Day: Hear Ye! Hear Ye!
Posted by Maggie on January 12, 2022 in From the editors
"Let's Go Brandon" … Somehow it feels like we are beyond that almost innocuous missive now. It is evident we need a new stronger well-earned insult to the dolt and his administration, in DC and elsewhere, that have very nearly destroyed our republic and our nation.
The Daily Zuby:
Being safe and feeling safe are very different things.

— ZUBY: (@ZubyMusic) January 11, 2022
JUST IN – Germany enacts new Covid restrictions: Double vaccinated no longer allowed to enter cafes/restaurants without taking tests. Tests not required for the "boosted."

— Disclose.tv (@disclosetv) January 7, 2022
MORE – "The new restriction is intended as an incentive to get boosted," says Franziska Giffey, the Mayor of Berlin, at the federal press conference.

— Disclose.tv (@disclosetv) January 7, 2022
I warned you that you were signing up to a subscription model… 🤣

You can get off this train whenever you want, or you can do this for the rest of your life. https://t.co/63TWhmkUQz

— ZUBY: (@ZubyMusic) January 12, 2022
Canada following Australia down the Hell hole…
1/3 BREAKING: Ronald McDonald House in Vancouver British Columbia has served an eviction notice on unvaccinated children with serious illness including cancer and parents. Have we lost our collective conscience? @McDonaldsCanada @RMHBC #McDonalds pic.twitter.com/6l5cOLsmNX

— Rowan (@canmericanized) January 12, 2022
2/3 BREAKING: Ronald McDonald House in Vancouver British Columbia has served an eviction notice on unvaccinated children with serious illness including cancer and parents. Have we lost our collective conscience? @McDonaldsCanada @RMHBC #McDonalds pic.twitter.com/m5DQzU4B7b

— Rowan (@canmericanized) January 12, 2022
3/3 BREAKING: Ronald McDonald House in Vancouver British Columbia has served an eviction notice on unvaccinated children with serious illness including cancer and parents. Have we lost our collective conscience? @McDonaldsCanada @RMHBC #McDonalds pic.twitter.com/8WS4T6L1i2

— Rowan (@canmericanized) January 12, 2022
Alex Nitzberg: Quebec plans to require people to pay a 'health contribution' if they won't get vaccinated against COVID-19
DO NOT think it is not happening here???
Very Valid Intentionally Unanswered Concerns:
John Daniel Davidson: I'm Never Getting A Covid Vaccine, And I'm Not Alone: As more vaccinated people become infected with the omicron variant, we're going to have to learn to live with Covid — and with each other… … And as the failure of the vaccines becomes more and more evident, and the fact remains the big pharmaceutical industry churning out the jabs remain exempt from lawsuits, it's damn time for the big pharma bunch answer some very serious questions, not the least of which are the unmentionable deaths and serious side-effects numbers of people who've taken the jabs. Especially when we now face endless "boosters" AND now we're being told variants will be getting their own vaccines?? WTAF??!!?? And don't get me started on how much money they've made off COVID and how much of it was our tax dollars.
Jordan Boyd: Biden Admin Quietly Creates Creepy Database Storing Information About Unvaxxed People Who Request Religious Exemptions: A federal agency debuted a new system on Tuesday designed to record and store the information of federal employees who requested religious exemptions from the Biden administration's federal jab mandate. … Wouldn't, I dunno, mandating a simple color coded patch be worn by these pesky holy-rolling anti-vaxxers be easier?
Lloyd Billingsley: Comparing COVID Restrictions to Nazism Is OK: Because in 2022, there's something happening here.
Dan Gelernter: Is Comparing COVID Restrictions to Nazism Ever OK? Those comparing lockdowns, vaccination mandates, and passports to the beginning of the Holocaust take the Holocaust very seriously indeed. … INDEED! And far more need to recognize it and loudly speak out against it.
Joy Pullmann: No, Those Who Pushed Lockdowns Can't Hide From The Consequences Now: Did any of these people tell the truth back when it could have saved the generation that comprises the world's future? Nope.
Delano Squires: COVID-19 has created American god-kings – but we don't have to serve them
Matt Leach: DISTRIBUTION DISCRIMINATION – What voters think about Biden's decision to prioritize race, ethnicity for COVID-19 treatments
VIDEO: Americans criticize Biden's performance and question admin for prioritizing race for COVID drugs
Also, COVID did this…
Sarah Taylor: American Red Cross for the first time in history declares national blood-shortage emergency
I have been a LONG TIME blood doner. I am O neg and since I mever had chicken pox I am a mega ultra universal donor. Babies to Grandparents. Everyone can use my blood. Gallons donated.

Stopped as soon as my wife was forced out of her healthcare job for not being vaccinated. pic.twitter.com/jEwAAygWwj

— WheelmanForHire (@WheelmanForHire) January 12, 2022
Biden's Building Back Nuke and Fallout:
Megan Henney: 40-YEAR HIGH – Inflation surges 7% in December, highest rate in 40 years: Economists expected inflation to rise by 7% in December
Twitchy: The last time inflation hit 7% was 40 years ago and Olivia Newton-John had the No. 1 song in America ('Physical,' 1982)
Price increases over last year (CPI report)…
Gasoline: +49.6%
Used Cars: +37.3%
Gas Utilities: +24.1%
Meats/Fish/Eggs: +12.5%
New Cars: +11.8%
Overall CPI: +7%
Food at home: +6.5%
Electricity: +6.3%
Food away from home: +6.0%
Apparel: +5.8%
Transportation: +4.2%
Shelter: +4.1%

— Charlie Bilello (@charliebilello) January 12, 2022
How f*cking completely stupid are the people trying to still hold up this scarecrow in the Oval Office and the minions writing his policies?
Now take out cars and what percent of our income goes to gas. There is price pressure but it is pretty modest.

— Stoic Mason 🥋🔥 (@MasonRMcClellan) January 12, 2022
Every damn thing you buy, eat, use has fuel increases embedded in it, from start to store.
Brian Flood: Former Lincoln Project advisor Tom Nichols mocks Americans concerned about inflation, high gas prices: The often-criticized Nichols dismissed significant problems for average people … Elitist SOB. And Jen Rubin is beyond certifiable.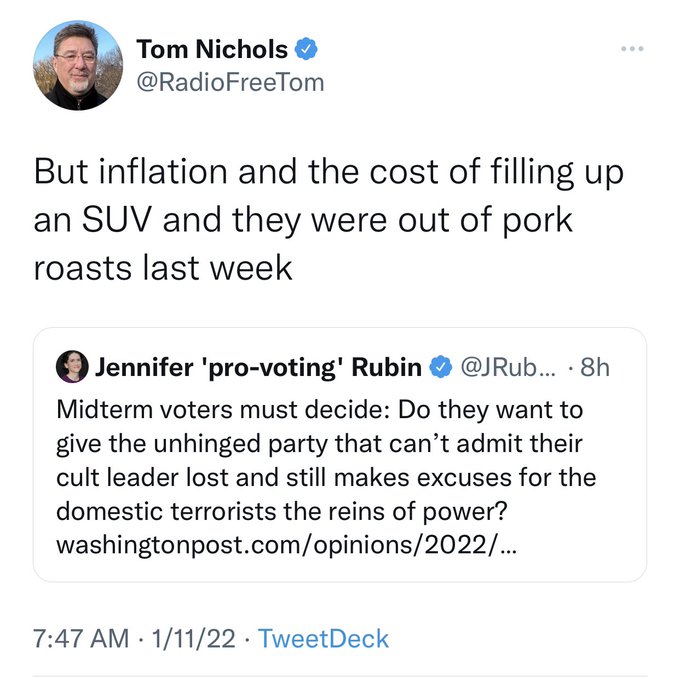 Human Events Staff: Federal Reserve Chair Powell Says Inflation Severely Threatens Job Market
Eric Lendrum: Poll Shows More Americans Worry About Inflation than COVID … And empty shelves.
Breitbart: Pete Buttigieg Does Supply Chain Crisis Victory Lap as Grocery Shelves Go Empty: Transportation Secretary Pete Buttigieg was hailed as the man who "saved Christmas" on Tuesday over his handling of the supply chain crisis as Americans around the country shared photos of empty grocery shelves on social media. … OFFS!
Remember when prominent Democrats would shower Hugo Chavez and Venezuela with love, they meant it. pic.twitter.com/KvwGT1UyVT

— 🌎 Shawn Taylor (@staylormusic) January 11, 2022
And guess what, you may already be seeing this inflation and supply chain shortages effecting over-the-counter drugs/health/beauty products. But just wait until it hits the prescription drugs supplies … and those used in hospitals, as a Hell of a lot of our meds are made in China.
And the other shoe waiting to fall…
I'm hearing business experts warning the fed will begin raising interest rates come March.
When the annual rate of inflation begins with a 7, there is immense pressure on the Fed to get it under control, supply chain issues notwithstanding. Both interest rate hikes & shrinking their balance sheet are in the cards, and are likely to begin as soon as March

— Greg McBride, CFA (@BankrateGreg) January 12, 2022
Ken Martin: FIXED-RATE INCREASE: Mortgage refinancing window is closing, interest rates to rise in 2022: Mortgage refinancing window is closing, interest rates to rise in 2022. In the past week as the 30-year fixed-rate mortgages increased to 3.52% from 3.33%
Again, this is all part of the bigger master plan, and much of it is, as I repeat again, laid out in the Green New Deal. All personal income, jobs, personal wealth and property (including your home), medical care, food and supplies will be diminished to the point of total chaos and even anarchy. That will open the door for the "socialist" (Marxist) left to charge in as saviors and people will be so panicked and flustered they will submit. Everything … food, jobs, etc., will be provided by a centralized government, and will depend on a person's need (as decided by said government) and according to their worth to the collective … and that includes medical care. There will be no individual choice.
Everyone has a photographic memory. Some just don't have film…
Twitchy: Gov. Ralph Northam is 99 percent sure he knows who the guy in blackface on his yearbook page is
So he was in the hood then. https://t.co/y9ZujsPZPc pic.twitter.com/ZiWAcz7kaC

— Stephen L. Miller (@redsteeze) January 11, 2022
Lindsay Kornick: Ted Cruz slams podium over reporter's mask questions: 'Just once' I'd like you to ask Biden, Psaki about that: Sen. Cruz said, 'The questions are only directed at one side' … On that and a whole Hell of a lot of other more important issues where the MSM is far from evenhanded.
Greg Gutfeld: The out-of-touch media should be glad Americans haven't caught on to them: It's good no one pays attention to CNN, because if they did, imagine what they'd find … It's obvious nobody in airports watches the airport TVs.
Brian Flood: Fox News tops ESPN as most-watched cable network while CNN sheds nearly 90% of 2021 audience: Fox News has outdrawn CNN and MSNBC combined for 21 straight weeks
Other nukes waiting to detonate:
Tyler Olson: 'PERSONALLY GUARANTEE' – Mitch says Senate will go 'post-nuclear' if Dems blow up filibuster: McConnell threatens Senate shutdown if Democrats nuke filibuster. Schumer says Democrats 'aren't afraid' of GOP retaliation, including tough votes
Twitchy: Kamala Harris gets schooled in math (AND self-awareness) after tweet about Senate minority blocking legislation
Kamala's excuse is plain stupidity and ignorance. Joe's is just plain old "can't teach an old dog new tricks" or something…
Twitchy: Joe Biden fully supports '[protecting] our democracy' by '[silencing] half the country' (or more)
I'll be clear: to protect our democracy, I support changing the Senate rules to prevent a minority of senators from blocking action on voting rights.

— Joe Biden (@JoeBiden) January 12, 2022
Will any journalist stand up to Biden and explain 50% and more is not a minority, or nah?

Do they hate Republicans so much they need to abet Biden's lies? https://t.co/q2YNb8kzOv

— Nathan Wurtzel (@NathanWurtzel) January 12, 2022
"As recently as 2005, he praised the filibuster as being about "compromise and moderation" and denounced GOP efforts to force an "exception" as a "power grab by the majority party."" —@nypost @ComfortablySmug https://t.co/A03iP0H0P3

— I Might Be Donna (@Crypsis12) January 12, 2022
Well, he doesn't recall that.
Cameron Arcand: Arizona College Students Mull a Second Hunger Strike to Push 'Voting Rights' Bill … Well, that should help them with that whole, what is it now, freshman/coed 10-20 lbs. Hey, go for it. But just know you're not serious if you do it in shifts, AND all fluids/liquids count including coffee and beer. So—- go for it.
VIDEO: Sen. Rubio on Democrats' election reform push: They want 'election chaos' to ensure victory at the polls
VIDEO: THE INGRAHAM ANGLE: Democrat message to America: Do as you're told
VIDEO: Sean Hannity: Biden bemoans Georgia, ignores stricter Delaware in divisive voting rights speech
VIDEO: Tucker Carlson: Biden's speeches reveal what he thinks of Americans: He is deeply disappointed in the country and annoyed with those who live here
Stephen Kruiser: Dems Know They're Finished Without Illegal Immigrant Votes
The Great "Re-write" is happening:
Every communist Marxist/Maoist revolution has rewritten history, laws, documents, everything…
Ah, yes. Here we go with the liberal media celebrating and trying to normalize pedophilia.

That's right, folks. @USAToday, trying to destigmatize…grown adults having sex with little kids pic.twitter.com/uvAmjvcSZq

— Curtis Houck (@CurtisHouck) January 11, 2022
Lindsay Kornick: USA Today torched for promoting 'complicated' study on pedophilia: Shortly after publishing the article, USA Today changed the headline. … And also deleted their twitter threat.
Joe Mannix @ AoSHQ: Colonialism for me, but not for thee: Doublespeak. It's what's for breakfast. And lunch. And dinner. Unless your culture doesn't value three meals a day, of course. We wouldn't want to be colonial about it.
Julie Kelly: FBI Refuses to Explain FBI Role in January 6 … There are photos and videos the FBI and the Congress absolutely refuse to release.
Robert VerBruggen: How Much Leniency with Criminals Can We Afford? Progressive prosecutors claim that a soft-on-crime approach will make us safer, but the evidence tells a different story.
Lincoln Brown: The First Church of Zuckerberg Is Here for Your Body and Soul
Ben Shapiro: The Great Re-Sorting Is Here: Americans have been fleeing the most liberal states in mass numbers. Those numbers are about to increase even more…
~~~
~~Many thanks to Maggie and The Universal Spectator for reprint permission.
Posted by Maggie on January 12, 2022 in From the editors "Let's Go Brandon" … Somehow it feels like we are beyond that almost innocuous missive now. It is evident we need a new stronger well-earned insult to the dolt and his administration, in DC and elsewhere, that have very nearly destroyed our republic and our nation. The Daily Zuby: Being safe and…
Posted by Maggie on January 12, 2022 in From the editors "Let's Go Brandon" … Somehow it feels like we are beyond that almost innocuous missive now. It is evident we need a new stronger well-earned insult to the dolt and his administration, in DC and elsewhere, that have very nearly destroyed our republic and our nation. The Daily Zuby: Being safe and…