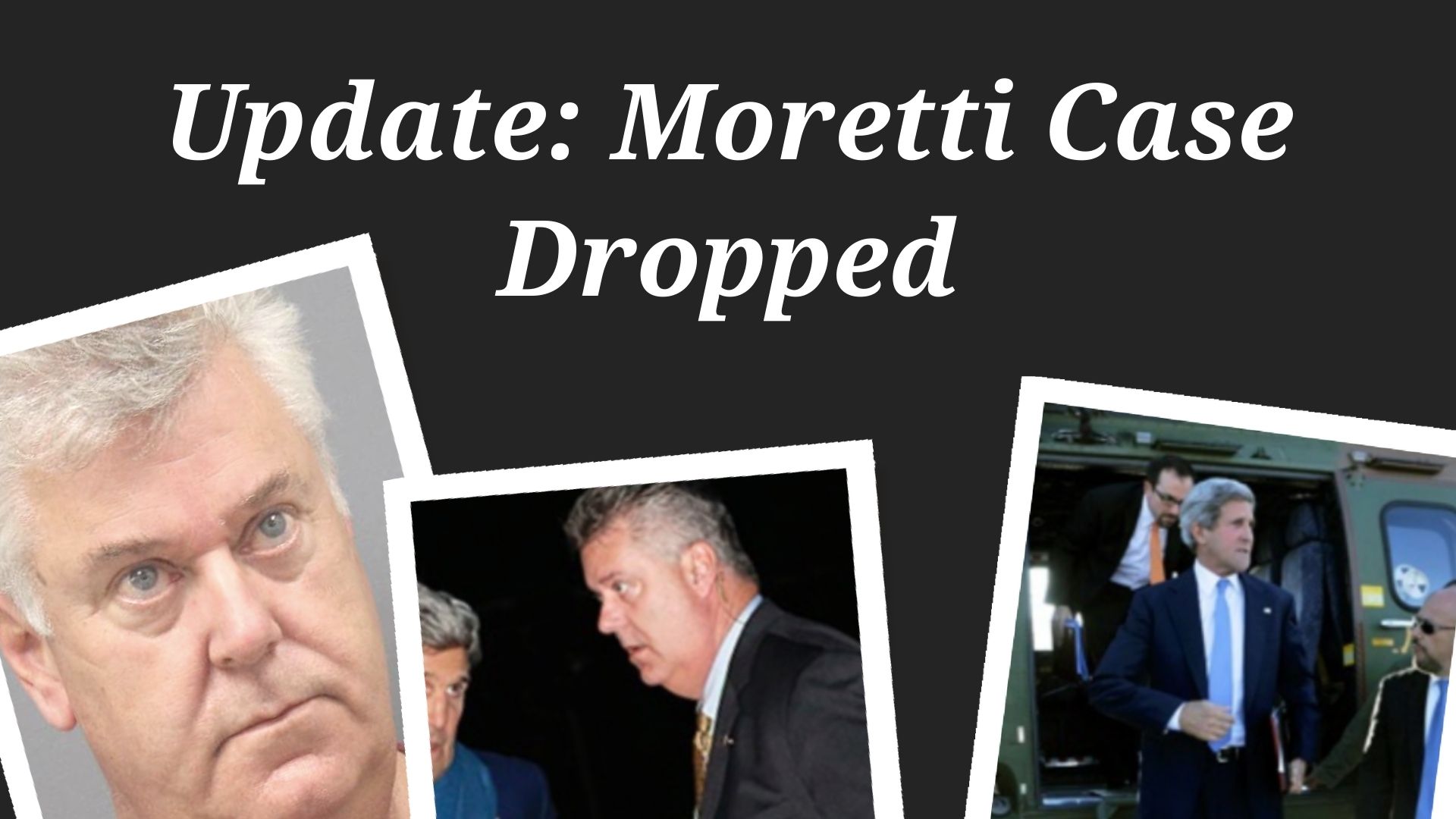 Update: John Scott Moretti Child Sexual Assault Case DROPPED
January 11, 2022 — The latest development in the child rape case of one John Scott Moretti was the stunning dropping of the case. For those of you who are unfamiliar with this case, I have written about it previously here, here and here. For some background, in May of 2020 Moretti was arrested. I wrote on May 12th the following:
The recent arrest of John Scott Moretti, also known as J. Scott Moretti, Scott Moretti and John Moretti have brought to light some incredible and unsettling connections. From the Chicago Mafia crime family, to the founding of the "SIGNA Society," the CIA secret society, to the State Department, Diplomatic Security, to the Vatican and allegations of sexual abuse within the Catholic Church. We end up getting a picture of a well-connected CIA family, with not only J. Scott Moretti, who was arrested for forcible sodomy of a child. His brother Mark Moretti who, after years in the Diplomatic Service seemingly had a "change of heart" to become a priest in the Catholic Church. Then there is the father who may have been involved in the assassination of John F. Kennedy — it's a story that will take several articles to tell, but here is what we have been able to piece together so far… – Radix Verum
Moretti was said to be held without bond since his arrest.
Here is his resume:
At the time, the Washington Post reported on the initial arrest, but since then this case has been mostly ignored by the mainstream and even alternative and independent media:
Inside Nova, a local Virginia outlet, reported the following:
The former special agent in charge of U.S. Secretary of State John Kerry's protective detail is jailed without bond on charges of sexually assaulting a girl in Prince William County between 2011 and 2013.

John Scott Moretti, 58, was arrested Tuesday after special victims detectives concluded an investigation into the sexual assault of a girl between the ages of 10 and 11 at a home in the Manassas area between November 2011 and November 2013, said Prince William County police spokeswoman Renee Carr.

The victim knows Moretti and reported the incidents to police in September 2019. Moretti is charged with indecent liberties and forcible sodomy, Carr said.

Until 2018, Moretti was the state department's Deputy Assistant Secretary and Assistant Director for Training for the Bureau of Diplomatic Security. He took the post in July 2015 and directed antiterrorism assistance training and delivery of related equipment to security and law-enforcement personnel in partner nations, the state department website says.

Prior to that assignment, Moretti was the special agent in charge of Diplomatic Security's Washington Field Office. From January 2013 to April 2015, he served as the special agent in charge of U.S. Secretary of State John Kerry's protective detail. 

Moretti was arrested by state police in Prince William County on Tuesday and is being held at the Prince William-Manassas regional jail without bond. – Inside Nova
This story should be making headlines, but of course it cannot be found. The case was slated to go to trial this month and I looked forward to reporting on the ongoing developments but just yesterday the case was dropped. There is no stated reason for why this happened. We have contacted the lead detectives in the case as well as the Clerk of the Court to obtain the full record of the pleadings and filings in the case and we will be publishing the full record when we obtain it.
Moretti is pictured here with John Kerry.
As you can see, these were nine charges related to the case, all of which now have mysteriously been dropped.
It just states that the prosecution has been "withdrawn."
We will continue to provide updates on this case as we obtain more information. We are not just dropping this. We are conducting our own investigation and we will be providing full transparency because we take allegations of child sexual abuse seriously.
January 11, 2022 — The latest development in the child rape case of one John Scott Moretti was the stunning dropping of the case. For those of you who are unfamiliar with this case, I have written about it previously here, here and here. For some background, in May of 2020 Moretti was arrested. I…
January 11, 2022 — The latest development in the child rape case of one John Scott Moretti was the stunning dropping of the case. For those of you who are unfamiliar with this case, I have written about it previously here, here and here. For some background, in May of 2020 Moretti was arrested. I…