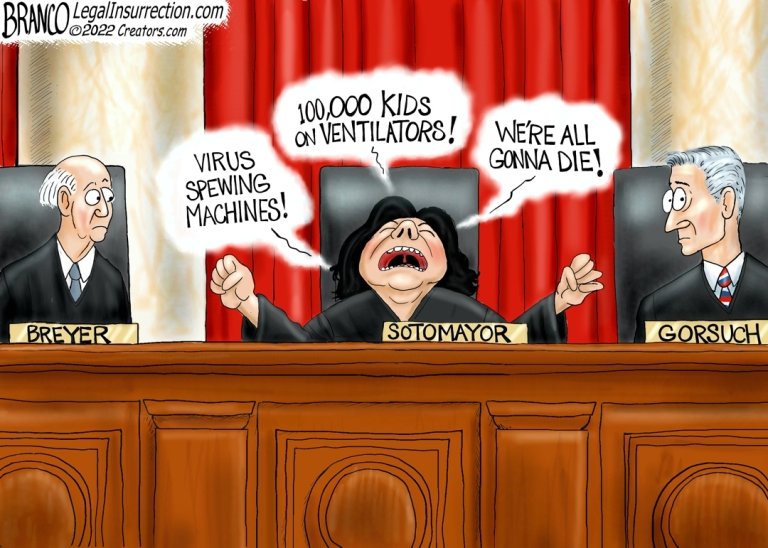 Tuesday Newsfeed: When the COVID Saturation Point Hits…
Posted by Maggie on January 11, 2022 in From the editors
And I don't mean the virus itself, but the parasites that are clinging to it.
Fauci set to testify before the Senate Health Committee in less than an hour #ExposeFauci

— Eric Spracklen🇺🇸 (@EricSpracklen) January 11, 2022
I may just have to sit down and watch this one, and not wait for the videos.
Follow the Money:
We hear everything from "You'll be protected" to "You'll stop the spread" to "You'll get a more mild case of COVID" to "You won't end up in the hospital… you won't get on a ventilator" to "You might get sick but you won't die" … all to continue to push and force compliance of the masses for the (continued) vax-jabs. And now they're openly saying a fourth jab (second booster) is coming, in addition to one of the big pharm companies telegraphing a coming Omicron vax. Those open spaces on the vax cards are filling up. But when will we fully wake up? When we're issued a second card? A chip? Scoff all you want and call it another right wing conspiracy theory but it's already being worked-on. And in the last several days much of what's been called a conspiracy theory or COVID "misinformation" has finally been admitted, even by the CDC director, and has vindicated those of us readers/thinkers and not the least of which scientists/virologists/doctors/vaccine-developers who were silenced and "canceled" by the COVID elitists in government and the MSM/social-media…
Jim Hoft: Dr. Scott Atlas: TWO-THIRDS of COVID Deaths Had At Least SIX Co-Morbidities (VIDEO)
The CDC director just said over 75% of "covid deaths" occurred in people with at least four comorbidities. Since Biden can't shut down covid, suddenly all this data is getting shared publicly. pic.twitter.com/NKvproy3lx

— Clay Travis (@ClayTravis) January 10, 2022
Asher Notheis (1-10-22): CDC director says study of vaccinated people show 75% of COVID-19 deaths 'had four or more comorbidities'
They won't tell us how many people have died of COVID without any comorbidities

— Jack Posobiec 🍊 (@JackPosobiec) January 11, 2022
The powers that be have been completely and diabolically deceptive, dismissive, and condemning of any science outside their own bubble for nearly two years when it comes to COVID. Actually, it is very in-line with how the climate change science alarmists have been operating for these last couple of decades on that warped and manipulated "science", and how any scientists that have an opposing view based in intense studies and real science have been silenced, and demonized. It is happening again with COVID.
Twitchy: Jake Tapper says it's 'kind of misleading' to count people who test positive for COVID after going to the hospital for other reasons … Sure, Jake, where the Hell've you been the last two years of people pointing this out being called dumb-assed conspiracy theorists, huh?
My gawd! Tapper/industrial MSM complex are spit! NOT 'late' but buried it. MSM should've been ALL OVER THIS in March 2020: WHO advised CDC to just list C19 no matter what. .. https://t.co/tX1jtHtfY2

— Maggie (@drillanwr) January 11, 2022
Salena Zito: COVID-19 Allowed Too Many to Pervert Their Power: The questioning of power isn't the equivalent of treason or terrorism. The questioning of power is what we have always done throughout our history.
Even CNN and Left media are turning on the CDC.

The only people still protecting the CDC are Big Pharma and Big Tech.

— Catturd ™ (@catturd2) January 11, 2022
Just setting us up for the next phase of the great reset. This actually makes me concerned that they are now on the next page.

— Sammie Says (@SammieSays8) January 11, 2022
Yep, they have us to pounded-down to believe we are stupid fools for using the common sense that God gave us, and logic and reasoning in putting together the puzzle and connecting the dots, and all with their pieces and dots, that they demand we just STFD and STFU and take it, whatever it is they're shoving at us or stabbing us with.
CERN ripped a hole through the fabric of reality and none of us realized it.

— Ian Miles Cheong @ stillgray.substack.com (@stillgray) January 11, 2022
Luc Montagnier and Jed Rubenfeld @ WSJ: Biden's Vaccine Mandates Obsolete: There is no evidence so far that vaccines are reducing infections from the fast-spreading variant.
Federal courts considering the Biden administration's vaccination mandates—including the Supreme Court at Friday's oral argument—have focused on administrative-law issues. The decrees raise constitutional issues as well. But there's a simpler reason the justices should stay these mandates: the rise of the Omicron variant.

It would be irrational, legally indefensible and contrary to the public interest for government to mandate vaccines absent any evidence that the vaccines are effective in stopping the spread of the pathogen they target. Yet that's exactly what's happening here…

Meantime, it has long been known that vaccinated people with breakthrough infections are highly contagious, and preliminary data from all over the world indicate that this is true of Omicron as well. As CDC Director Rochelle Walensky put it last summer, the viral load in the noses and throats of vaccinated people infected with Delta is "indistinguishable" from that of unvaccinated people, and "what [the vaccines] can't do anymore is prevent transmission."

There is some early evidence that boosters may reduce Omicron infections, but the effect appears to wane quickly, and we don't know if repeated boosters would be an effective response to the surge of Omicron. That depends among other things on the severity of disease Omicron causes, another great unknown. According to the CDC, the overwhelming majority of symptomatic U.S. Omicron cases have been mild. The best policy might be to let Omicron run its course while protecting the most vulnerable, naturally immunizing the vast majority against Covid through infection by a relatively benign strain…
Well, duh-h-h-h! Read the whole thing.
Margot Cleveland: Biden's Vaccine Mandate Is Outrageously Unconstitutional. Why Couldn't Lawyers Make That Argument To The Supreme Court? Truly, was it too much to ask for a defense of limited government, separation of powers, and federalism?
We have a choice between two possibilities/probabilities to conclude here from these last two years of China plague bullshit … 1.) Either those "scientists" and medical professionals involved in dealing with this virus pandemic are complete "Idiocracy" idiots or 2.) they're evil mad scientists fully involved in carrying out whatever phases of this CCP lab-created bio-weapon, that may or may not include the repetitive vax jabs and by doing so directly instigate policy in our country and around the world. Go ahead. Pick one.
Jeff M. Lewis: More Simple, Honest Questions About COVID-19
Mark Ellis: Herd Immunity Now!
Yeah, I'm done, as are my husband and special needs daughter. All three of us are double-vaxxed and have had the alleged lower dose 'booster'. Done. No more jabs.
Meanwhile…
Cristina Laila: Project Veritas: Never Before Seen Military Documents About Gain-of-Function Research Contradict Dr. Fauci Testimony Under Oath (VIDEO)
Julian Conradson: New FOIA by US Right to Know Reveals Fauci-Funded EcoHealth Alliance Attempted to Hide Their Role In Developing The Virus
Natalie Winters: EXC: Wuhan Lab Job Applications Open Only To Candidates 'Supporting' Communist Party, 'Willing To Serve Socialist' Goals.
AP: Fed vice chair is latest official to quit in trading scandal
Federal Reserve Vice Chair Richard Clarida said Monday that he will step down on Friday, the third Fed official to resign after a trading scandal at the central bank that involved potential conflicts of interest.

The announcement followed new revelations around Clarida's trading in a stock fund in February 2020, when the coronavirus threatened to upend the global economy and the Fed was discussing extraordinary rescue measures…
The anything but Ivermectin and Hydroxychloroquine continues…
VIDEO: Tucker and Dr. Siegel report on a potential treatment to COVID: Viagra … You know what's even more bizarre about this latest COVID crap-shoot? It's said the vaccines could interfere, long-term, with both male/female sexual/reproduction systems. And here we have the medical community suggesting a male erectile disfunction drug as a COVID therapeutic? I'm not sure if Vonnegut were still alive and writing this if it would sell … that's if it got off his publisher's desk without being laughed into the deskside shredder.
Just think about everything involved in building the COVID pandemic program in this country over these last two years. Now, think about the cost of everything from the vaccines to the needles to the alcohol swabs to the test swab kits to everything, especially the stimulus checks and the funding to schools and hospitals. Where is all that money coming from? And who is getting filthy rich?
VIDEO: Laura Ingraham: Democrat's COVID lies are unraveling: Biden and the Democrats are finally being exposed as following the path to control not science
Jim Hoft: Here We Go Again… Connecticut Asks Nursing Homes to Accept COVID-Infected Patients from Hospitals Due to Staff Shortages
The leftist MSM is spit…
Twitchy: Los Angeles Times columnist writes that mocking anti-vaxxers' deaths is 'ghoulish' – yet necessary
From @hiltzikm:

Column: Mocking anti-vaxxers' deaths is ghoulish, yes — but necessary

Sign up to get an email alert each time Michael Hiltzik publishes a column: https://t.co/JECxMw1Tbihttps://t.co/nLn0UrsqoE

— Los Angeles Times (@latimes) January 10, 2022
Hmm, imagine if this ugly propaganda passing as a news column said the same thing abt AIDS & the gay community's poss refusal to take an untested experimental 'vax' in 1980s. Rmbr many refused to even practice safe sex guidelines. Did you 'necessarily' mock/grave-dance back then?

— Maggie (@drillanwr) January 11, 2022
But checkout the original title of the piece before the title was edited and tamped down…
Yo,@latimes what the fuck is this? pic.twitter.com/CA0Ii7Fak5

— Sheen (@Sheen6031) January 10, 2022
Twitchy: 'You are high AF': Krystal Ball claiming it's 'right-wingers' who mock anti-vaxxer COVID deaths goes OH so very, very wrong
I want people to get vaccinated but will never accept that those who fail to do so deserve a death sentence. This is a disgraceful (and typically right wing!) viewpoint. Should smokers deaths of lung cancer be celebrated? Addicts who overdose? Sick stuff https://t.co/XodYcqgIqN

— Krystal Ball (@krystalball) January 10, 2022
"and typically right wing!" Um, no. But we're told it's the 'right wing' that are the 'anti-vaxxers'. MOF, the bulk of those called anti-vax aren't, but are anti-mandate. I know it's really hard for some folks to understand that basic fact. But here you are tangled up in idiocy.

— Maggie (@drillanwr) January 11, 2022
~~~
~~Many thanks to Maggie and The Universal Spectator for reprint permission.
Posted by Maggie on January 11, 2022 in From the editors And I don't mean the virus itself, but the parasites that are clinging to it. Fauci set to testify before the Senate Health Committee in less than an hour #ExposeFauci — Eric Spracklen🇺🇸 (@EricSpracklen) January 11, 2022 I may just have to sit down and watch this one, and not wait for the…
Posted by Maggie on January 11, 2022 in From the editors And I don't mean the virus itself, but the parasites that are clinging to it. Fauci set to testify before the Senate Health Committee in less than an hour #ExposeFauci — Eric Spracklen🇺🇸 (@EricSpracklen) January 11, 2022 I may just have to sit down and watch this one, and not wait for the…