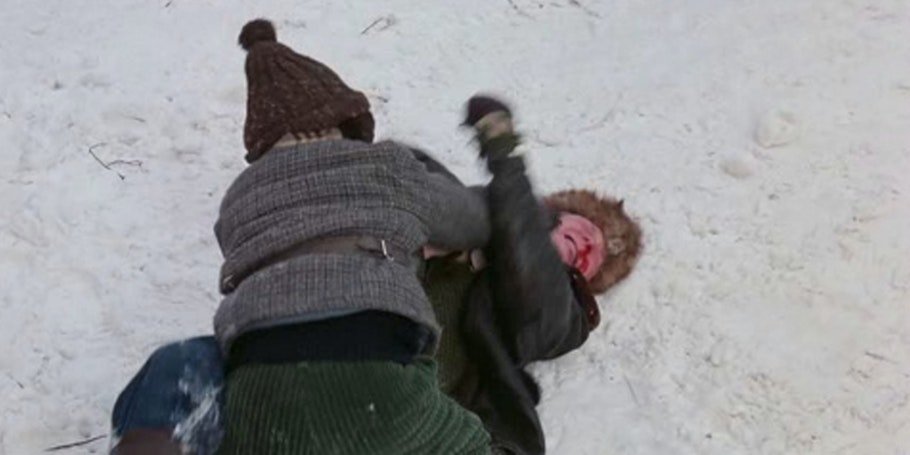 Republican Ralphies Have Had Enough
By HAROLD HUTCHISON January 11, 2022 in Politics
Drawing political lessons from a movie protagonist's response to a classic bully.
These days, it's hard not to miss the rhetoric coming from the Left, especially surrounding January 6. Your Patriot Post team condemned — more than once — the violent actions of a very small proportion of the massive crowd who came to protest that day.
That being said, there is a fundamental miscalculation taking place. This is largely on the Left, but also in corners of the Right (usually found in the world of Never-Trump, but even those not inimically hostile to Trump are missing the obvious). They think they can keep up a pattern of abuse — and making excuses for the abuse. It's much like the situation in "A Christmas Story," when neighborhood bully Scut Farkus kept tormenting Ralphie Parker. Farkus kept it up … and there came a point when Ralphie had enough.
Are we there yet? That question is one that could have many answers, depending on one's perspective. In one sense, the Republican Ralphies have already signaled to the establishment their dissatisfaction in the 2016 primaries, when Donald Trump won the Republican nomination over a number of other Republicans with more experience in elective office and more conservative history and bona fides. (That includes Ted Cruz, who really stepped in it last week by calling the Capitol riot a "violent terrorist attack." Turns out even Cruz can be reckless with his words.)
The thing is, there is only so long that people can be expected to take the type of abuse that the Left has dished out. It was old hat long before Trump rode down the escalator to announce his 2016 bid. Imagine, loyal Patriot Post readers, that you heard a friend being talked about by a person they were in a relationship with the way the Left has talked about conservatives and Republicans for decades. What would you tell that person? Would you advise they put up with verbal, mental, and emotional abuse?
But it hasn't just been leftist words that are the problem. There have been numerous abuses of power over a long period of time, and the list keeps growing. Worse, given Joe Biden's J6 speech, when he proclaimed that the stakes are nothing less than America's soul, the Left now has its justification. This only becomes more and more apparent from the actions of Attorney General Merrick Garland.
Here, the Left has also been caught trying to play one of the most toxic games out there: Rules for thee, but not for me. It's led many to note (again) that double standards are the only ones the Left have — aside from obtaining and maintaining power by any means necessary. Double standards only add to the deepening anger and resentment.
Eventually, Ralphie had enough and stood up to Scut, who sat there stunned, wondering what just happened, and realizing that things would no longer be the same. The same could very well happen to the Left, only it won't just be a fistfight with the unleashing of a series of four-letter words that would warrant the use of Lifebouy to wash out some mouths. If anything, the consequences of the Left pushing too hard could be very serious for the country.
~~~
~~Reprinted with permission. See the original article here and leave some comments! 
By HAROLD HUTCHISON January 11, 2022 in Politics Drawing political lessons from a movie protagonist's response to a classic bully. These days, it's hard not to miss the rhetoric coming from the Left, especially surrounding January 6. Your Patriot Post team condemned — more than once — the violent actions of a very small proportion of the massive crowd who came…
By HAROLD HUTCHISON January 11, 2022 in Politics Drawing political lessons from a movie protagonist's response to a classic bully. These days, it's hard not to miss the rhetoric coming from the Left, especially surrounding January 6. Your Patriot Post team condemned — more than once — the violent actions of a very small proportion of the massive crowd who came…