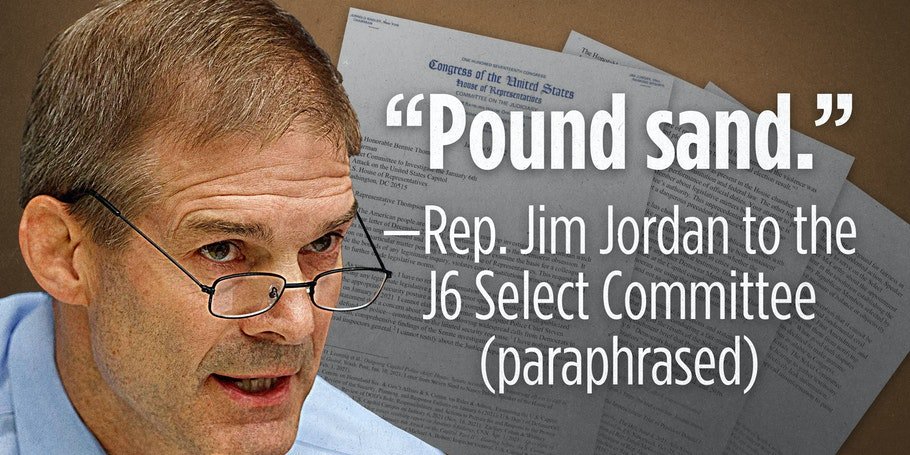 GOP's Jordan Won't Play Dems' J6 Games
In a decision that surprised no one, Ohio Republican Congressman Jim Jordan has declined an invitation to appear before Nancy Pelosi's truth-averse January 6 Committee.
The sham committee, also known as "The Select Committee to Investigate the January 6th Attack on the United States Capitol," has long since become a bad joke. Jordan, the ranking member on the House Judiciary Committee and an investigative pit bull, was selected by House Minority Leader Kevin McCarthy to be a member of this committee, but Pelosi, in an unprecedented act of raw political power cowardice, denied McCarthy's picks of Jordan and Indiana's Jim Banks, which prompted McCarthy to pull his three other picks, leaving the committee with only Pelosi-approved Democrat lapdogs and two Trump-deranged soon-to-be former Republicans, Wyoming's Liz Cheney and Illinois's Adam Kinzinger. So much for objective oversight and dispassionate fact-finding.
Did we mention it was a sham committee?
Pelosi's partisans seem unwilling to issue subpoenas to anyone except Republicans, despite the fact that Pelosi and her fellow Democrats were in charge of Capitol security on January 6. What did Nancy know and when did she know it? This caricature of a committee has no interest in finding out why then-President Donald Trump approved deployment of the National Guard to protect the Capitol, but his request was blocked by DC Mayor Muriel Bowser and Pelosi herself.
In a four-page blistering letter to Committee Chairman Bennie Thompson, Jordan called out Pelosi and her fellow Democrats. It began:
The American people are tired of Democrats' nonstop investigations and partisan witch hunts. Your letter of December 22, 2021, unfortunately continues this Democrat obsession. … This request is far outside the bounds of any legitimate inquiry, violates core Constitutional principles, and would serve to further erode legislative norms.

As you well know, I have no relevant information that would assist the Select Committee in advancing any legitimate legislative purpose. I cannot speak to Speaker Pelosi's failure to ensure the appropriate security posture at the Capitol complex in advance of well-publicized protests on January 6, 2021. I cannot elaborate on former U.S. Capitol Police Chief Steven Sund's statement that a concern about "optics" — following widespread calls from Democrats in 2020 to defund the police — contributed to the limited security response. I have nothing to add to the bipartisan, comprehensive findings of the Senate investigative committees or to those issued by federal inspectors general. I cannot testify about the Justice Department's ongoing law enforcement efforts, although I am aware of reports that the FBI has determined the violence was not coordinated or part of any "organized plot to overturn the presidential election result."
In other words: Pound sand.
Nor would it seem that Jordan has anything to add to the Democrats' failure to investigate the real insurrection, which took place over a period of weeks in the late spring and early summer of 2020, when Black Lives Matter thugs and antifa goons perpetrated 574 riots in the wake of the wrongful death of career criminal George Floyd. That prolonged insurrection, it should be noted, cost dozens of Americans their lives, wounded more than 2,000 cops, and did an estimated $2 billion in damage. It also prompted Jordan to note in his letter, "Unlike many senior Democrats, I have been consistent in denouncing political violence and supporting law enforcement personnel — whether the violence occurred on January 6 at the Capitol or in the summer of 2020 in cities across the country."
Jordan has still another reason to be distrustful of this kangaroo committee: It is manifestly corrupt. The committee proved as much when it got caught altering and misattributing the content of text messages between Jordan and then-Trump Chief of Staff Mark Meadows. Not surprisingly, California Democrat Adam "Shifty" Schiff was right in the middle of the plot to deceive. But, yeah, we can have confidence in the committee's findings.
"The American people deserve better than the Democrats' incessant focus on partisan investigations," writes Jordan in conclusion. "Rampant inflation is hurting American families, an unmitigated crisis at the southern border threatens American communities, the Biden Administration is weaponizing counterterrorism tools against American parents, and President Biden's weak leadership endangers American service members overseas. These real challenges affecting our constituents today are the issues on which Congress should properly be focused."
Sham investigations or kitchen-table issues? Clearly, Jordan has a better sense of what's on the minds of the American people than do congressional Democrats. Voters will likely remember this come November.
~~~
~~Reprinted with permission. See the original article here and leave some comments! 
In a decision that surprised no one, Ohio Republican Congressman Jim Jordan has declined an invitation to appear before Nancy Pelosi's truth-averse January 6 Committee. The sham committee, also known as "The Select Committee to Investigate the January 6th Attack on the United States Capitol," has long since become a bad joke. Jordan, the ranking member on the…
In a decision that surprised no one, Ohio Republican Congressman Jim Jordan has declined an invitation to appear before Nancy Pelosi's truth-averse January 6 Committee. The sham committee, also known as "The Select Committee to Investigate the January 6th Attack on the United States Capitol," has long since become a bad joke. Jordan, the ranking member on the…