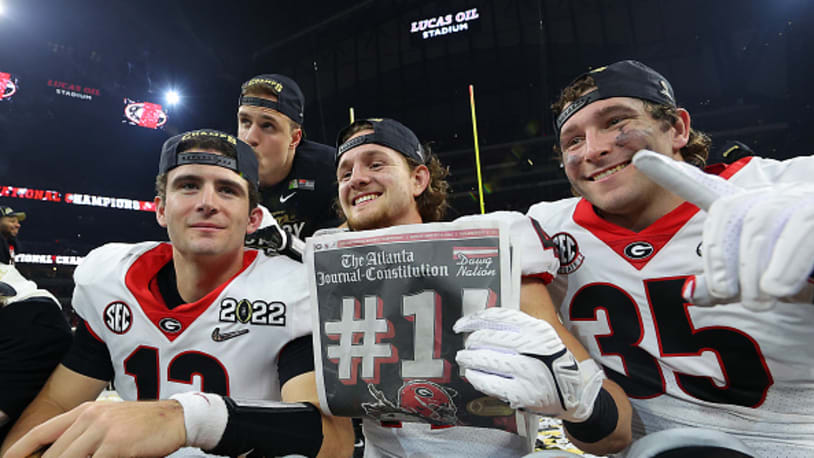 Georgia beats Alabama to win first national college football title in 41 years
Georgia beat rival Alabama in Monday night's College Football Playoff championship game, winning its first national title in 41 years in a come-from-behind 33-18 romp of the higher-ranked Crimson Tide. The Bulldogs also snapped a seven-game losing streak against Alabama, including in last month's SEC championship game. 
Georgia's path to victory started in the fourth quarter when quarterback Stetson Bennett threw a 40-yard touchdown to Adonai Mitchell with just over 8 minutes left in the game. That put the Bulldogs up 19-18, and tight end Brock Bowers caught a 15-yard touchdown pass with 3:33 left, padding Georgia's lead. Then Kelee Ringo intercepted a throw from Alabama's Heisman Trophy–winning quarterback Bryce Young, and ran it 79 yards for a final touchdown. 
The last time the Bulldogs won a national title was in 1980, led by freshman running back Herschel Walker.
Georgia beat rival Alabama in Monday night's College Football Playoff championship game, winning its first national title in 41 years in a come-from-behind 33-18 romp of the higher-ranked Crimson Tide. The Bulldogs also snapped a seven-game losing streak against Alabama, including in last month's SEC championship game.  Georgia's path to victory started in the fourth…
Georgia beat rival Alabama in Monday night's College Football Playoff championship game, winning its first national title in 41 years in a come-from-behind 33-18 romp of the higher-ranked Crimson Tide. The Bulldogs also snapped a seven-game losing streak against Alabama, including in last month's SEC championship game.  Georgia's path to victory started in the fourth…