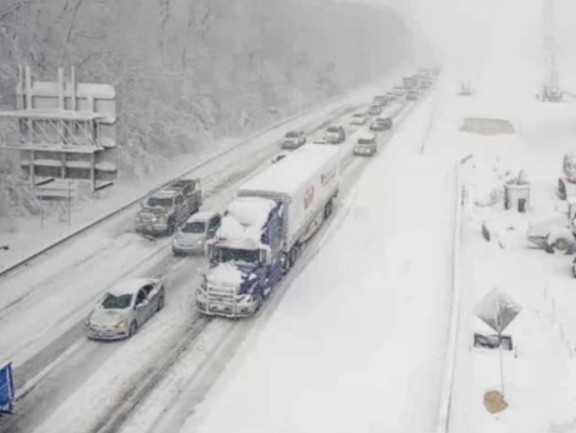 Weekend Reads: Fact Sheets – Patriots' Soapbox 24/7 News Network
Posted by Maggie on January 8, 2022 in From the editors
Timothy H.J. Nerozzi: Almost half of reported NY COVID-19 hospitalizations are not due to COVID-19: Over half of COVID-19 hospitalizations in NYC were not due to COVID-19
Twitchy: New data shows 51% of patients in NYC hospitalized *with* Covid not *for* Covid
This is not just going on in New York. My daughter tells me they have ER patients coming in for other reasons but everyone routinely gets tested for COVID and if they test positive, even if not sick or symptomatic, it's on their chart. And in a lot of the nation's hospitals it is being counted as a COVID patient and COVID hospitalizations. Who's to blame? The hospital administrations? The news media? Both? After two years of this massive misrepresenting and misinformation you would think this aspect of the situation would be the more accurate. But it is still not. Why? Well, I'm to understand that hospitals get federal (and state?) money for the numbers of COVID patients. And don't forget at the onset of the pandemic nearly two the WHO advised the US CDC, who then advised the nation's hospitals to put 'cause of death' down as Corona virus, without coroner testing, for anyone dying.
Matt Margolis: 5 Ways Joe Biden Made the COVID Pandemic Worse
Kevin Downey, Jr: Crib Notes for the OTHER Joe Rogan Podcast Everyone Is Talking About, With Dr. Malone
Rogan's interview with Dr. Malone has caused more of an uproar than his interview with Dr. McCollough. They discuss how the use of ivermectin and hydroxychloroquine could have saved hundreds of millions of lives, but shockingly, people in power fought against using them as an early treatment for COVID-19…
Megan Henry: US hiring cools in December as economy adds just 199,000 new jobs: Economists expected employers to hire 400,000 new workers last month
Brie Stimson: White House bragging about Biden job gains draws social-media backlash: The US added just 199,000 jobs in December, far below expectations
EVEN A FLATWORM IS SMART ENOUGH TO TURN AWAY FROM PAIN: Zogby: US overwhelmingly wants less federal meddling.

And the federal meddling lately has been especially obvious in its ineptitude, corruption, and partisanship.
Veronique de Rugy: Americans Aren't Buying Biden's Agenda: According to a recent poll, only 22 percent of people believe that the current state of the economy is "good" or "excellent." … This is usually where somebody chimes, "I want what they're (the 22%) smoking/drinking" but I don't like Kool Aid, especially grape.
J.B. Shurk: The Four Horsemen of the Left's Artificial Apocalypse: Let me state firmly my belief that we are on the precipice of a dramatic shift in human relations…
Jonathan S. Tobin: Democrats' Top Priority Before Fall Elections Is Rigging U.S. Voting Rules … And a YUGE chunk of the dems' panic is because their base has had enough of the trash-talking and the division of the party, and their socialist policies that have dragged this country and our economy down pretty damn far in just under a year. And the fact that a growing percentage of their base, voters of color, from black to Hispanic democrats are turning away from them. Not to mention "white" democrats are sick of being called racist and evil because of the color of their skin, and must endlessly apologize or place their necks on the guillotine…
Liz Peek: Voters fed up with Democrats' obsession with race: Democrats have overplayed the race card while failing to deliver solutions
Joel Kotkin: Is this the end of progressive America? Multiple fronts of resistance are taking shape
John Sexton: Why is the left suddenly talking about a second Civil War?
Megan Fox: Savage Dad Berates 'Beta' School Board With Perfect Comedic Timing
MORE:
Via Ed Driscoll @ Instapundit:

Exactly!
Ethan Reese: Why GETTR's Moment Could Last: As you've probably heard by now, thanks to Joe Rogan's endorsement a few days ago, GETTR is having a moment. But does the platform have real staying power? Will it last? Here are two macro reasons the answer could be "yes."…
Salena Zito: Mike Pompeo tells The Post how he lost 90 pounds in six months … Just do it.
~~~
~~Many thanks to Maggie and The Universal Spectator for reprint permission.
Posted by Maggie on January 8, 2022 in From the editors Timothy H.J. Nerozzi: Almost half of reported NY COVID-19 hospitalizations are not due to COVID-19: Over half of COVID-19 hospitalizations in NYC were not due to COVID-19 Twitchy: New data shows 51% of patients in NYC hospitalized *with* Covid not *for* Covid This is not just going on in New York. My…
Posted by Maggie on January 8, 2022 in From the editors Timothy H.J. Nerozzi: Almost half of reported NY COVID-19 hospitalizations are not due to COVID-19: Over half of COVID-19 hospitalizations in NYC were not due to COVID-19 Twitchy: New data shows 51% of patients in NYC hospitalized *with* Covid not *for* Covid This is not just going on in New York. My…