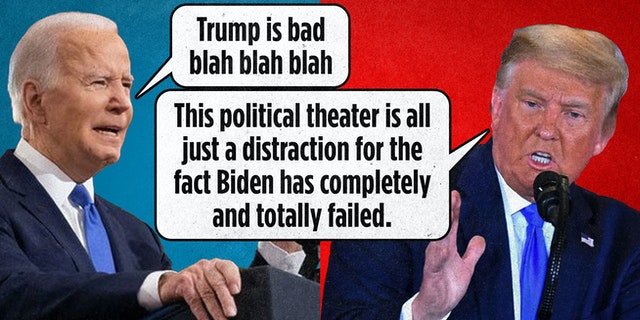 Biden Takes the Low Road on J6
Never missing an opportunity to miss an opportunity, Joe Biden eschewed "unity" and instead attacked Donald Trump.
Were Joe Biden a statesman rather than a cognitively addled political hack, he'd have taken the high road. He'd have used yesterday's somber occasion to try to bring the American people together; to begin the hard work of healing the country. Remember all that talk of "unity" in his inaugural address? It seems so long ago. Instead, yesterday, he chose to attack his White House predecessor and, by extension, the 75 million Americans who voted for him.
It won't end well for Biden.
Vice President Kamala Harris was the warm-up act for Biden yesterday as they strolled out together into the Capitol's Statuary Hall. It was a see-through show of faux unity. Harris talked of how the January 6 protesters "targeted the lives" of our elected representatives, all of whom somehow managed to survive the unarmed non-insurrection. She then pivoted to the real purpose of yesterday's events (other than bashing Donald Trump), which was to push for the voting rights bills that the Democrats are desperately trying to ram through Congress — a scheme that will federalize our elections rather than keeping them in control of the 50 states, as the Founders had intended.
Harris began by comparing January 6 to December 7 and September 11. To anyone to understands and appreciates American history, it was an odious comparison. She then decried the violence of the January 6 riot, which was rich indeed coming from someone who encouraged violence in the summer of 2020, and who raised money to bail out those Black Lives Matter rioters. She finished by butchering the Preamble to our Constitution, mumbling something about "ourselves and our prosperity" rather than ourselves and our posterity. It was altogether fitting. Then it was Biden's turn.
Maybe Biden's handlers think throwing cheap shots at Trump and constantly, childishly, breathlessly invoking the man's name as some sort of existential "threat to our democracy [sic]" plays well with the base. And it probably does. But Biden's base isn't big enough to save his presidency. Not even close. Nearing the one-year mark of a term we think he's even-money to finish, Biden has Lynyrd Skynyrd's smell of death around him. Not literal death, of course, but political death. When folks are more inclined to feel sorry for you than fear you, or even respect you, your time as an effective leader of the American people and the Free World is up.
Somewhere inside themselves, Joe Biden and his fellow Democrats — including Nancy Pelosi, Chuck Schumer, and Liz Cheney — must know this. They must surely see the manifold failures of their president and his policies, and they must see the midterm freight train off in the distance, building up speed as it steadily speeds toward them. J6 is all they've got.
Rather than reunifying the country, Biden kept gloating about how he won the 2020 election. He felt it necessary to remind the American people — including the 75 million of them who voted for his opponent — that Donald Trump is "not just a former president; he's a defeated former president, defeated by a margin of over seven million of your votes in a full and free and fair election."
"A full and free and fair election"? We wish Biden hadn't gone here, but since he did: What about the allegations of a massive, systematized, and wholly illegal ballot harvesting operation now finally being investigated in Georgia? And if massive bulk-mail ballot fraud took place in one urban center within one crucial battleground state, what are the chances that it happened in others — say, in Milwaukee and Detroit and Philly and Phoenix? If it did, it would begin to explain how Trump earned 12 million more votes than any Republican candidate in history and handily carried an astounding 18 of 19 "bellwether" counties across the nation, and yet still lost the election. And not by seven million votes, either — five million of which were in California alone — but by 43,000 votes spread across just three key states: Arizona, Georgia, and Wisconsin.
There's something rotten in Denmark when one candidate, Trump, is barnstorming the country, drawing enthusiastic crowds in the tens of thousands in state after state after state during the last few days of the campaign, while the other guy is hunkered down in his basement, venturing out only on rare occasions to draw crowds in the dozens. Sometimes it seemed that only paid staff and immediate family were in attendance at Biden's events, and that the nearby crowds of hecklers were larger than the ones suffering through yet another painfully bad Biden stump speech. Remind us again: Which guy won?
Biden said it was "the God's honest truth" that "over 150 million Americans went to the polls and voted that day." And that is a lie from the pits of hell. Fewer than 60 million Americans actually went to the polls on Election Day 2020. The rest of the votes — more than 100 million of them — came through the mail. Hey, what could go wrong?
Biden said Trump "rallied the mob to attack" that day. And it was yet another lie. Everyone knows Trump encouraged his supporters to "peacefully and patriotically" make their voices heard. It's right there on video for anyone who cares to know the truth. (Interestingly, Biden, the guy who famously said, "I'll always tell you the truth," somehow failed to tell us about the hundreds of Democrat rioters who burned cars and smashed storefronts in the nation's capital during President Trump's inauguration — rioters who somehow managed to have all charges against them dropped by the Department of Justice).
In the same breath in which Biden talked about "fear over hope," he then said, "Make no mistake about it, we're living at an inflection point in history … engaged anew in a struggle between democracy and autocracy, between the aspirations of the many and the greed of the few … we are in a battle for the soul of America." So much for hope over fear.
He talked about America becoming more like "them," more like China and Russia, "more like the autocrats and the dictators and the strongmen." And we are, frankly, because of the unholy alliance between the Left, which Joe Biden represents, and Big Tech, which suppresses ever more of our speech on the Left's behalf.
"I will allow no one to place a dagger at the throat of democracy," Biden said in a show of phony toughness toward the end of his speech. "I believe the power of the presidency and the purpose is to unite this nation, not divide it." But that's all he did yesterday: Divide us.
Of yesterday's spectacle, Trump said Biden had used his name "to try to further divide America." In this, it seems to us, the former president was spot-on.
Trump went on: "This political theater is all just a distraction for the fact Biden has completely and totally failed." In this, too, we think he has it exactly right.
~~~
~~Reprinted with permission. See the original article here and leave some comments! 
Never missing an opportunity to miss an opportunity, Joe Biden eschewed "unity" and instead attacked Donald Trump. Were Joe Biden a statesman rather than a cognitively addled political hack, he'd have taken the high road. He'd have used yesterday's somber occasion to try to bring the American people together; to begin the hard work of healing the…
Never missing an opportunity to miss an opportunity, Joe Biden eschewed "unity" and instead attacked Donald Trump. Were Joe Biden a statesman rather than a cognitively addled political hack, he'd have taken the high road. He'd have used yesterday's somber occasion to try to bring the American people together; to begin the hard work of healing the…