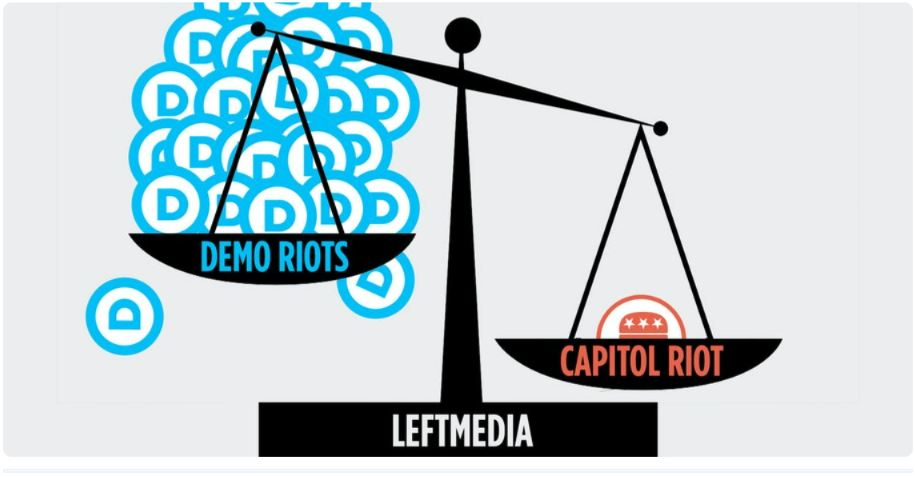 The J6 Capitol Protest: A Retrospective
By  MARK ALEXANDER January 5, 2022 in Leftist Biden/Harris Regime
Despite Trump's considerable domestic and foreign policy successes, the stain of that fateful day is indelible.
As a diversion from almost a full year of Joe Biden's abject failures, resulting in his record-low approval ratings and record-high disapproval ratings, the usual cadres of the Democrat Party's inept "leaders," Biden, Kamala Harris, Chuck Schumer, and Nancy Pelosi, have been anxiously awaiting this day. It's the one-year anniversary of the January 6 (J6) riot, a dog-whistle distraction to relive in detail the day when a gaggle of jackasses conducted their brief but ugly occupation of the Capitol building.
That unfortunate event provided Pelosi's "insurrection inquisition," her theater of the absurd, plenty of fodder for the Biden regime's effort to paint all conservatives as "insurrectionists." The Demos are hoping their Leftmedia propagandists' coverage of the J6 anniversary will be a booster shot for Biden, who commemorated the occasion as the "darkest day in our democracy [sic]." Reality check: Based on the events this past year, it was much less dark than his inauguration two weeks later.
Ironically, there was an actual and infinitely more insidious and dangerous insurrectionist coup attempt preceding J6 — the Democrat deep-state conspiracies collaboration to take down the presidency of Donald Trump using a fictitious "Russian collusion" narrative created by Hillary Clinton's campaign.
Given the civil and lawful tenor of ALL previous Trump rallies during his tenure, there was no reason to expect that some of those in attendance that day would resort to the riotous thuggery previously associated with "peaceful protests" by key Demo constituencies — their Black Lives Matter gangsters and antifa goons. Accordingly, we have condemned the J6 rioters from the moment a split fraction of those attending Trump's "stolen election" rally staged their destructive, self-aggrandizing riot.
We have also chastised Trump for not immediately condemning their actions — despite urgent calls from key advisers, including Don Trump Jr.'s text to his dad's then-Chief of Staff Mark Meadows: "He's got to condemn this s—t ASAP. … We need an Oval Office address. He has to lead now. It has gone too far and gotten out of hand." It was hours after the Capitol building occupation commenced that Trump finally issued a 90-second statement, mentioning again the "stolen election" and telling the rioters to go home.
Despite Trump's considerable domestic and foreign policy successes while president, the stain of that fateful day is indelible.
Fortunately, Trump wisely took the advice of key advisers today and canceled a speech he was scheduled to make from his Florida estate.
Of course, the J6 riot was far less deadly and destructive than any of the nearly 600 riots by violent Democrat mobs that besieged our nation for six months prior to the "Capitol insurrection." It is estimated that there were more than 50 deaths directly associated with that violence, 19 in just the first two weeks of the riots based on the Demos' "systemic racism" lie. Those murdered included several police officers. There were billions of dollars in damages, all while Democrats remained mostly silent if not actively fomenting those riots.
But on January 6, 2021, Democrats finally found a riot they could condemn. If not for double standards, Democrats would have NO standards.
Back in DC, there have been 725 arrests associated with the J6 riot, and 165 of those defendants have pleaded guilty on federal charges of varying seriousness — not one arrest for insurrection or sedition. But Biden has fully weaponized the Department of Justice to continue the hunt for those insurrectionists.
It will be interesting to see by the end of today how Biden, Pelosi, and Schumer will again desecrate the death of Trump-supporting Capitol Police Officer Brian Sicknick, who died of natural causes a day after the riot. Pelosi and her cadre insisted for months after his death that Officer Sicknick was murdered by protesters — that was a lie and they knew it.
The only person who was actually killed that day was Ashli Babbitt, a protester who was arguably unjustifiably shot by an incompetent USCP officer. But there was no public investigation or inquiry into that shooting and the records have been sealed by Pelosi.
Next up, Democrats and their Leftmedia platforms will be attempting to spin the anniversary of Biden's inauguration with his Statue of Disunion speech to follow. That will prove to be an interesting exhibition of alternate reality creations — maybe Hunter Biden will whip out his laptop and use his artistic abilities to help!
And the next notable Biden anniversary after that? Democrats will be avoiding that one like the ChiCom Virus! Just before the midterm election falls the anniversary of Biden's disastrous and deadly surrender and retreat from Afghanistan…
Semper Vigilans Fortis Paratus et Fidelis
Pro Deo et Libertate — 1776
~~~
~~Reprinted with permission. See the original article here and leave some comments! 
By  MARK ALEXANDER January 5, 2022 in Leftist Biden/Harris Regime Despite Trump's considerable domestic and foreign policy successes, the stain of that fateful day is indelible. As a diversion from almost a full year of Joe Biden's abject failures, resulting in his record-low approval ratings and record-high disapproval ratings, the usual cadres of the Democrat Party's inept "leaders," Biden, Kamala Harris, Chuck Schumer, and…
By  MARK ALEXANDER January 5, 2022 in Leftist Biden/Harris Regime Despite Trump's considerable domestic and foreign policy successes, the stain of that fateful day is indelible. As a diversion from almost a full year of Joe Biden's abject failures, resulting in his record-low approval ratings and record-high disapproval ratings, the usual cadres of the Democrat Party's inept "leaders," Biden, Kamala Harris, Chuck Schumer, and…