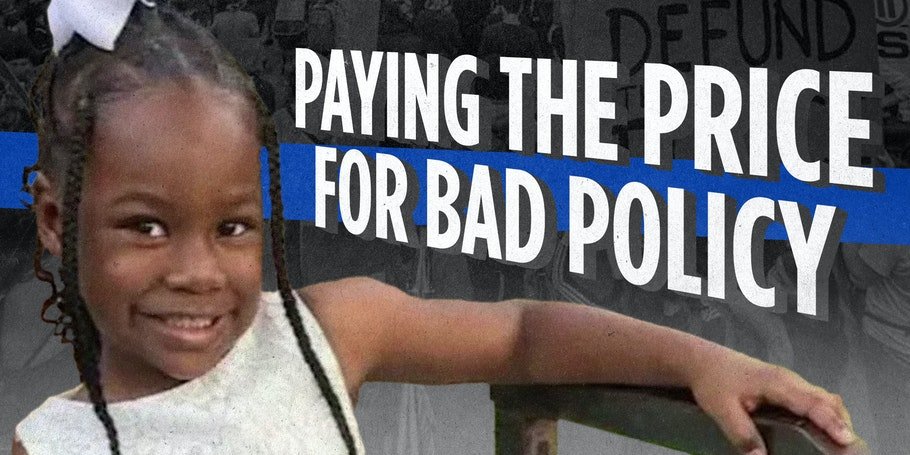 Niece of George Floyd Sustains Gunshot Wound
By  EMMY GRIFFIN January 6, 2022 in Crime
Bad COVID policy has crippled Houston's ability to respond to emergencies.
At a Houston, Texas, apartment at 3 a.m., bullets shattered the night hurting four adults and two children. One of those children, Arianna, was the four-year-old niece of Black Lives Matter's undeserving martyr, George Floyd. What a terrible way to ring in New Year's Day.
Arianna was asleep in her bed when this attack occurred. She was hit in the torso, the bullet breaking her ribs. Emergency services were slow to dispatch, according to this sweet baby's mom. Arianna's dad had to drive her to the hospital.
She was rushed in to surgery and is currently in stable condition. Thank God. But what a horrible ordeal to have to face at such a young age.
Police do not have any suspects at this time. Sadly, they have almost nothing to go on to bring justice for these victims.
This particularly cowardly act is a tragedy, but it is only one of quite a few preventable tragedies in this story.
Let's start with Houston. This Democrat-run city was one of the rare voices of sanity in the 2020 calls to defund the police. Houston's mayor, Sylvester Turner, decided to increase the funds spent on police in the belief that more police and better-trained police are an investment in Houston's communities. Houston is the fourth-largest city in the U.S. It has fewer police than comparable-sized cities and has been working hard to increase that number, but convincing people to become police officers is a tall order these days when murdering cops is met with indifference from politicians.
In spite of all this supposed investment, it is very telling that emergency services were slow to respond. Houston Police Chief Troy Finner responded: "I am aware and have concerns regarding the delayed response time in this incident and have initiated an Internal Affairs investigation. I ask for the city continue to pray for the child's full recovery and assist in providing information that would lead to the arrest of the suspect or suspects responsible."
What was taking the ambulance so long to get to these hurting people? Well, that weekend, there was a significant staffing shortage thanks to COVID. EMTs have long had an issue with staffing that was made worse by the pandemic. To quote one news source, "The loss of staff to pandemic-related burnout and low wages has created a vicious cycle, requiring greater dependence on those workers who have stayed on." This sounds all too familiar, but it points a finger at the pandemic when it needs to be pointing to the policies that have made difficult jobs even harder.
Houston may have more sense than its Democrat-run city cousins, but evidently not enough to staunch the flow of crime that is plaguing cities across the nation.
~~~
~~Reprinted with permission. See the original article here and leave some comments! 
By  EMMY GRIFFIN January 6, 2022 in Crime Bad COVID policy has crippled Houston's ability to respond to emergencies. At a Houston, Texas, apartment at 3 a.m., bullets shattered the night hurting four adults and two children. One of those children, Arianna, was the four-year-old niece of Black Lives Matter's undeserving martyr, George Floyd. What a…
By  EMMY GRIFFIN January 6, 2022 in Crime Bad COVID policy has crippled Houston's ability to respond to emergencies. At a Houston, Texas, apartment at 3 a.m., bullets shattered the night hurting four adults and two children. One of those children, Arianna, was the four-year-old niece of Black Lives Matter's undeserving martyr, George Floyd. What a…