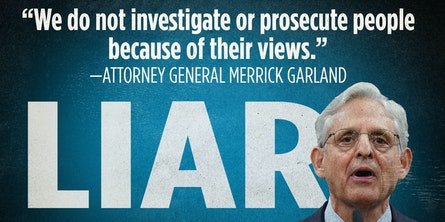 Garland Weaponizes the DOJ – Patriots' Soapbox 24/7 News Network
By  DOUGLAS ANDREWS January 6, 2022 in Politics
Our nation's attorney general seems determined not to let the January 6 riot go to waste.
Attorney General Merrick Garland, perhaps thinking that not enough attention was being paid to the one-year anniversary of the January 6 Capitol riot and sightseeing tour, decided to weigh in with a 30-minute speech of his own at the Department of Justice.
To no one's surprise, it was a partisan speech, one befitting a partisan attorney general who's no doubt still bitter toward Republicans for having denied him his rightful place on the Supreme Court in 2016. And those who'd hoped to hear a full, fair, and honest accounting of the events of January 6 from our chief law enforcement officer were certainly disappointed. And they were no doubt even more disappointed when the AG weaponized the DOJ by using his platform to shill for congressional Democrats who are once again trying frantically to fundamentally remake the nation's election laws. As National Review reports:
Attorney General Merrick Garland used his Wednesday speech marking the anniversary of January 6 to rally support for a pair of bills that would federalize election law and are nearly unanimously opposed by congressional Republicans.

'The Department of Justice will continue to do all it can to protect voting rights with the enforcement powers we have. It is essential for Congress to act to give the Department the powers we need to ensure that every eligible voter can cast a vote that counts,' Garland said after recounting events of January 6.
Of course, Garland's party, the Democrat Party, is increasingly becoming the Party of Voter Fraud. Why else would its members be so resistant toward the commonsense voter ID laws that Republicans are trying to enact in various states? Why else would they be so averse to measures that will help ensure that only eligible voters are able to cast votes in this country?
As National Review continues: "One of the bills under consideration, the Freedom to Vote Act, would set national standards for voter ID laws to include a range of documentation, set a national minimum 15-day early voting period, declare election day a federal holiday, and make it easier for residents to sue state legislatures over redistricting claims."
As our Nate Jackson put it earlier this week: "Democrats and their accomplices in the Leftmedia are doing everything they can to hype the anniversary of January 6, making faux-somber pronouncements about 'democracy' and issuing dire warnings about the 'right-wing extremists' who supposedly threaten it. And then Democrats will turn right around and attempt to make permanent the very election fraud and chaos that brought a mob to Washington last January with legislation that constitutes the real ultimate threat to voting rights and our Republic."
There's plenty of other material to unpack from Garland's speech, but if we had to pull out one howler, one knee-slapper that stood out above all others, it'd probably be this quote: "We do not investigate or prosecute people because of their views."
Yeah, right.
The laughter you hear belongs to artist, addict, influence peddler, tax evader, and gun-law violator Hunter Biden. And it belongs to all the Black Lives Matter thugs and antifa goons who carried out nearly 600 other riots nationwide during the summer of 2020 and cost dozens of Americans their lives and did an estimated $2 billion in damage. And to J6 agent provocateur Ray Epps and the other earpiece-wearing, gun-toting J6 inciters who've somehow managed to avoid arrest and have their photos mysteriously disappear from the FBI's Most Wanted posters. And to the mysterious pipe bomber who's somehow managed to avoid being ID'd and arrested after having placed explosives outside the Democrat and Republican national headquarters in one of the most thoroughly surveilled cities in the world. And, of course, to the hundreds of rioters who burned cars and smashed storefronts in the nation's capital during President Donald Trump's inauguration and somehow managed to have all charges against them dropped by the Department of Justice.
We could go on.
And yet, hundreds of J6 rioters, protesters, and sightseers are still languishing in prison, still being denied their Sixth Amendment right to a "speedy trial" and their Eighth Amendment guarantee against "cruel and unusual punishments."
But, no, Joe Biden's Department of (Two-Tiered) Justice doesn't "investigate or prosecute people because of their views."
We wish you a peaceful January 6. And we say "good riddance" to the Democrats' weird and obsessive efforts to celebrate this day.
~~~
~~Reprinted with permission. See the original article here and leave some comments! 
By  DOUGLAS ANDREWS January 6, 2022 in Politics Our nation's attorney general seems determined not to let the January 6 riot go to waste. Attorney General Merrick Garland, perhaps thinking that not enough attention was being paid to the one-year anniversary of the January 6 Capitol riot and sightseeing tour, decided to weigh in with…
By  DOUGLAS ANDREWS January 6, 2022 in Politics Our nation's attorney general seems determined not to let the January 6 riot go to waste. Attorney General Merrick Garland, perhaps thinking that not enough attention was being paid to the one-year anniversary of the January 6 Capitol riot and sightseeing tour, decided to weigh in with…