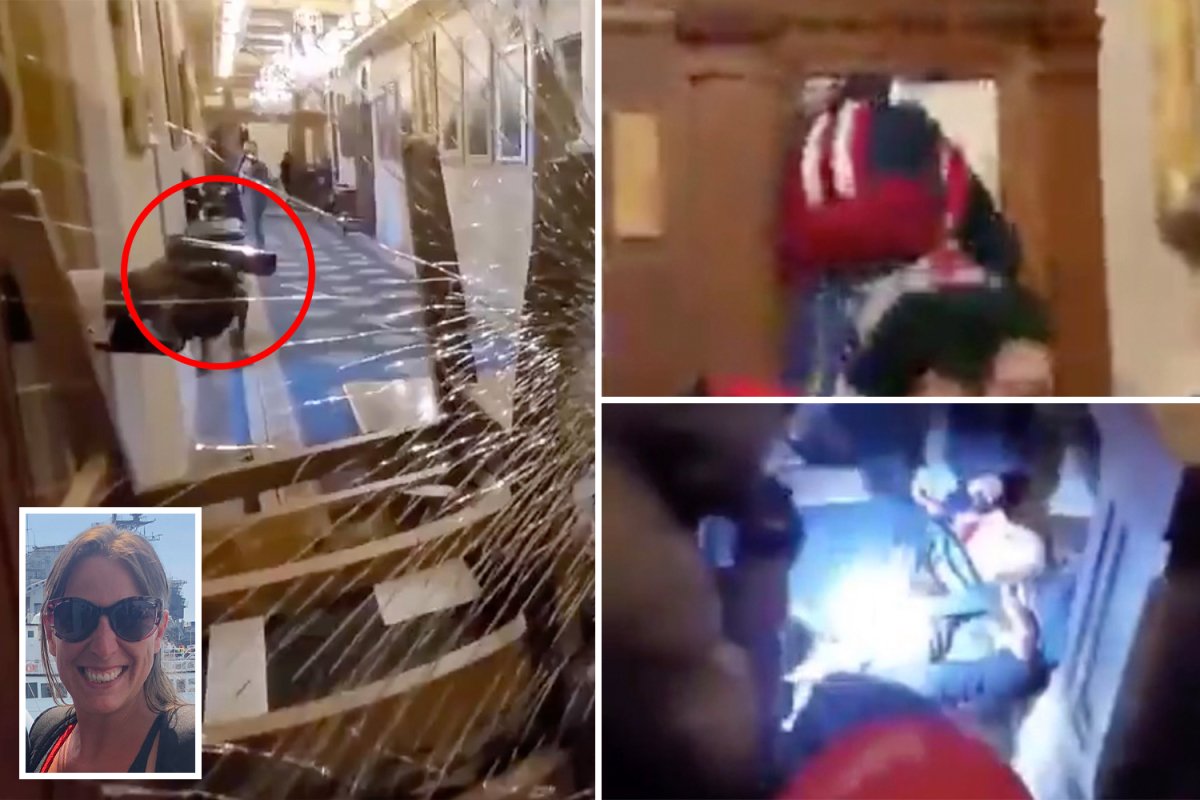 Do NOT Buy into the Demo-commies', their RINO Allies', and Their MSM's January 6th Crap
Posted by Maggie on January 6, 2022 in From the editors
Just a reminder that the only person actually killed was an unarmed female military veteran climbing through a broken window, shot by a Capitol cop who fired from the ajar door of the House chamber … and without verbal warning … and with several of his own brethren standing close behind her. So, when the MSM and the dems repeat the misinformation about how many died at the Capitol that day, just know Ashli Babbitt was the only one who was defenseless and violently killed. Others who died that day died from various natural cases, as did the Capitol police officer Brian Sicknick who died at home on January 7 from multiple strokes … although the dems and the media continue to lie about his cause of death.
Cara Castronuova: EXCLUSIVE INTERVIEW: Ashli Babbitt's Mother and Husband Share their Story One Year After Her Jan 6th Shooting Death
Sam J @ Twitchy: 'Sick of this CRAP!' John Hayward's thread on what Democrats and media are REALLY using #January6th for a DEVASTATING (to them) must-read: "Democrats started their 2022 campaigns TODAY…"
American Greatness writer Julie Kelly has been the keeper of fact(s) for the past year on the J6 protest turned lame riot. Here are some of her articles deserving of the read(s)…
One Year Later, More Lingering Questions About January 6: If Republicans take over Congress next year, they must demand a full investigation under a new select committee.
Surveillance Video Shows D.C. Police Beating Women on January 6: The video supports what Victoria White told Julie Kelly in a series of interviews earlier this month for American Greatness.
Lump of Coal Awards 2021: January 6 Edition: This year's recipients of AG's annual Lump of Coal Awards include several prominent bad boys and girls.
And evidence to J6 being planned and instigated by the 'Deep State' operatives keeps growing. You can find a lot more on J6 from Julie Kelly here.
Mollie Hemingway: Pelosi Owns The J6 Commission, And That's Why It Failed: House Speaker Nancy Pelosi should have taken leadership lessons from House Minority Leader Kevin McCarthy.
David Zukerman: New York Times telegraphs the left's intent to use the January 6 anniversary to repress conservatives
Thomas Buckley: Seven Hours in January Was Not Seven Days in May
The title of the unsigned editorial in The New York Times, January 2, is "Every Day Is Jan. 6 Now," but a chilling assertion in the fourth paragraph justifies the inference that The Times means: "Every Day Is Hunt Down Conservatives Day Now."  The fourth paragraph of this editorial, that should be a passage in a political thriller, not bizarre commentary on political reality, opens: "It is regular citizens who threaten election officials and other public servants[.]"

The following paragraph is no less execrable in mindset: "In short, the Republic faces an existential threat from a movement that is openly contemptuous of democracy and has shown that it is willing to use violence to achieve its ends."

Remember, The Times is referring to "regular citizens," not to the violence committed by Antifa and BLM in the cause of societal transformational reform to the Repressive State.  We must not forget that those store windows boarded up before the 2020 election were boarded up anticipating leftist violence against a re-elected Donald Trump.  The left is the source of most political violence in the country — and now the left's megaphones promote the canard that Middle America must be held down to keep from resorting to violence?  Republicans, where are your denunciations of the calumnies from the left?

Convincing evidence that this twisted Jan. 2 editorial is not to be believed appears in the sixth paragraph, which calls the Pelosi "Jan. 6" House select panel "a bipartisan committee."  Pelosi's panel is an expedition into political ex parte-ism.  All nine members (the authorizing resolution calls for thirteen) are of a single mind on the subject Donald J. Trump: throw him in jail and toss the key…
How ridiculous has the dems' hyping (and dangerously twisting) of the alleged "attack on democracy" that wasn't been? This ridiculous and asinine…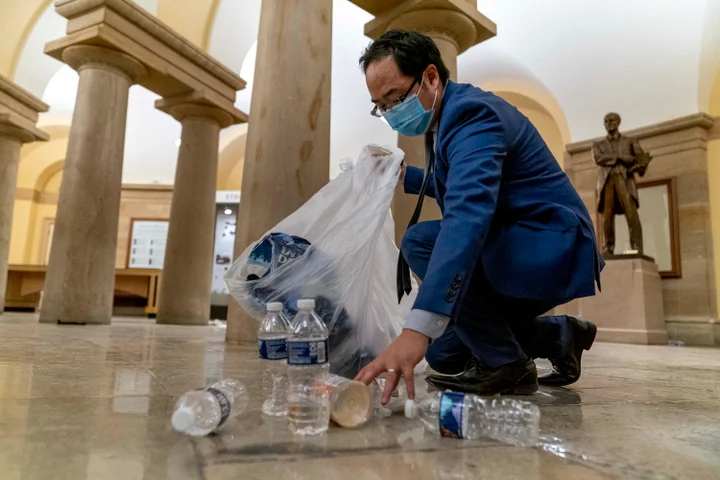 HuffPo (7/7/21): Congressman Donates Clothes From Viral Jan. 6 Photo To Smithsonian: "It'll be surreal to one day take my kids to the Smithsonian and show them the blue suit behind glass," Rep. Andy Kim said.
And the blm/antifa rioting, federal property destruction, looting, and threatening and assaulting of republican Congress members went on for days, if not weeks.
Jeffrey Lord: The Real Insurrection: The BLM Riots: The corrupt January 6 Committee ignores it.
Jim Hoft: Chris Wray Lied: Secret Service Admits They Knew 13 'Counter-Protest' Groups Were Organizing to Attend Washington DC Jan. 6 Protests
UPDATED AND REPOSTED: RealClearInvestigations' Jan. 6-BLM Riots Comparison.

The summer 2020 riots resulted in some 15 times more injured police officers, 23 times as many arrests, and estimated damages in dollar terms up to 1,300 times more costly than those of the Capitol riot.
Authorities have pursued the largely Trump-supporting Capitol rioters with substantially more vigor than suspected wrongdoers in the earlier two cases, and prosecutors and judges alike have weighed Capitol riot defendants' political views in adjudicating their cases.
Dozens of accused Capitol rioters have been held in pretrial detention for months, where they have allegedly been mistreated.
In the summer 2020 riots, the vast majority of charges were dismissed, as they were in the Inauguration 2017 unrest. Prosecutors have dropped a single Capitol riot case.

Related: Trump Just Rained on the Democrats' January 6th Parade. "It seems like Trump realized that, as he cites the machinations of the January 6th committee as the reason for his cancellation. Whatever the reason, it's a smart move on his part to deny them the viral clips and talking points they were banking on. I'm sure he and his advisers sat down and figured out what the game was here and chose not to play along. Now, what do the Democrats have? Some low-rated CNN coverage and a short speech from Joe Biden that no one will watch unless he has another senile moment that causes it to go viral. And that's if the iced-up roads in the city of Washington, D.C., are even cleared in time for them to hold any live events. As it stands, it might snow again on Thursday."

More: Is The FBI Ever Going To Get Around To Finding The Jan. 6 Pipe Bomber, Or Nah?

Heck, We're still waiting for them to uncover the motive of the 2017 Las Vegas mass murderer. Or as America's Newspaper of Record noted last year: FBI Assures Nation They Will Get Back To Figuring Out Why That Guy Shot 400 People In Vegas After They're Done Investigating Parent-Teacher Meetings.
Julie Kelly: Poll: Most Republicans Distrust the FBI
Dumb Hollywood leftists…
~~~
~~Many thanks to Maggie and The Universal Spectator for reprint permission.
Posted by Maggie on January 6, 2022 in From the editors Just a reminder that the only person actually killed was an unarmed female military veteran climbing through a broken window, shot by a Capitol cop who fired from the ajar door of the House chamber … and without verbal warning … and with several of his own brethren standing close behind…
Posted by Maggie on January 6, 2022 in From the editors Just a reminder that the only person actually killed was an unarmed female military veteran climbing through a broken window, shot by a Capitol cop who fired from the ajar door of the House chamber … and without verbal warning … and with several of his own brethren standing close behind…