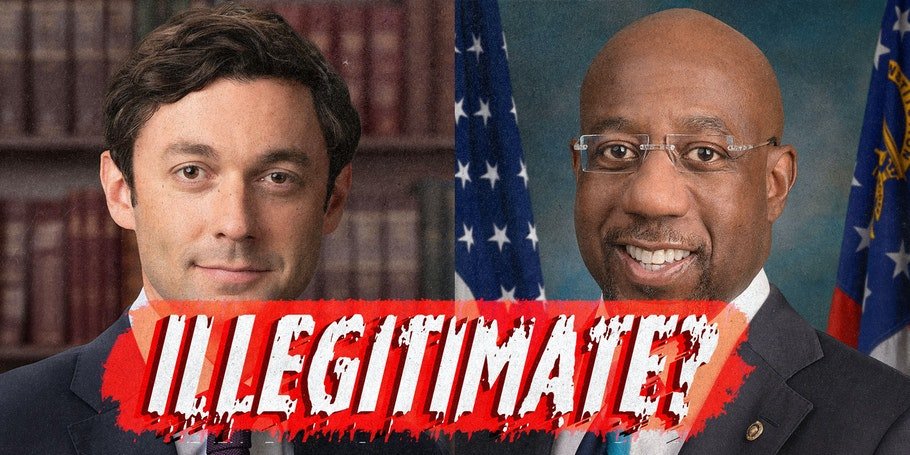 Did Dems Steal Georgia's Senate Seats?
By DOUGLAS ANDREWS January 6, 2022 in Elections
An investigation into massive and systematic ballot harvesting is underway, according to Georgia's secretary of state.
For as long as we can remember, Democrats have contested the results of nearly every narrowly lost election. In this respect, they're the sorest of sore losers. Last we knew, for example, Hillary Clinton still hadn't acknowledged the legitimacy of Donald Trump's victory over her in that glorious election of 2016.
Often, though, with the serendipitous appearance of a trunkful of ballots, Democrats are able to overturn elections that didn't go their way. Heck, they've even been known to level false charges of foreign collusion and launch corrupt FBI investigations into those who best them at the ballot box. Sleazy sore loserdom is simply in their DNA.
But even in defeat, they resort to the next worst thing: They demean their Republican victors with a single classless, crippling smear: illegitimate.
Given all this, we're loath to stoop to their level, but some ballot harvesting revelations out of Georgia this week might make it unavoidable. Indeed, it makes us wonder whether Joe Biden really won the state, and whether that state's senators, Jon Ossoff and Raphael Warnock, are legitimately illegitimate.
Recall that both Ossoff and Warnock won their pivotal Senate seats last January in a pair of special elections, narrowly defeating Republican incumbents David Perdue and Kelly Loeffler respectively. The disastrous results put our nation in its current predicament: a 50-50 Senate, with VP Kamala Harris poised to cast the tiebreaking vote whenever West Virginia's Joe Manchin doesn't do the right thing.
Now Georgia Secretary of State Brad Raffensperger must do the right thing. He confirmed this week that the state is investigating allegations that widespread ballot harvesting occurred during the November 2020 general election and the two subsequent senatorial runoff elections. But how serious is he about getting to the truth?
At issue is evidence of widespread and systemic ballot harvesting uncovered by a nonprofit voting integrity organization called True the Vote. Ballot harvesting, which is strictly illegal in Georgia, is a practice by which party activists pick up and deliver ballots on behalf of voters. As veteran journalist John Solomon reports:
True the Vote's complaint offered Raffensperger's office access to what are characterized as detailed phone records and surveillance video it said would show as many as 242 people repeatedly made trips to the drop boxes to deliver ballots in what it described as a mass 'ballot trafficking operation.' The aspect of the complaint that the secretary's office believed merited attention was the allegation the group had spoken to a man who admitted he and others engaged in ballot harvesting.

Using a tactic increasingly used by the FBI and the intelligence community to solve crimes or national security threats, the group said it bought commercially available geospatial mobile device data showing the locations of suspected ballot harvesters' cell phones in the vicinity of the ballot drop boxes at the times people appeared on the surveillance footage stuffing multiple ballots into a drop box.
What's so compelling here is the electronic evidence and the specific details it provides. According to True the Vote's complaint, 242 people engaged in a total of 5,662 ballot drops, an average of 23 runs per participant, and more than 40% of them occurred between midnight and 5 a.m., not exactly regular business hours. In many instances, people were captured on video "stuffing large numbers of ballots into the boxes, some with so many ballots in hand that some of the envelopes dropped to the ground." Additionally, "Some people were allegedly observed taking pictures of themselves at the boxes after delivering ballots, an action the group said may have been required to receive payments."
The whistleblower in this case, who hasn't even been identified to the state, says he got $10 for each ballot he collected and delivered to a drop box during both the November 2020 election and the January 5 runoffs. And think about it: If there were 5,662 ballot drops, and some of these drops included huge stacks of ballots, we're talking about a very expensive, very sophisticated funding operation.
Could Facebook CEO Mark Zuckerberg's millions have been behind this? Could his infamous Zuckerbucks have bought a couple of crucial elections in Georgia? We the people deserve some answers.
Regardless of who funded this operation, though, the key point is that it was illegal. And it sounds to us like there exists compelling evidence of widespread if not decisive election fraud. The question, then, is whether Georgia authorities — Raffensperger included — have the integrity and the fortitude to get to the bottom of this.
~~~
~~Reprinted with permission. See the original article here and leave some comments! 
By DOUGLAS ANDREWS January 6, 2022 in Elections An investigation into massive and systematic ballot harvesting is underway, according to Georgia's secretary of state. For as long as we can remember, Democrats have contested the results of nearly every narrowly lost election. In this respect, they're the sorest of sore losers. Last we knew, for…
By DOUGLAS ANDREWS January 6, 2022 in Elections An investigation into massive and systematic ballot harvesting is underway, according to Georgia's secretary of state. For as long as we can remember, Democrats have contested the results of nearly every narrowly lost election. In this respect, they're the sorest of sore losers. Last we knew, for…