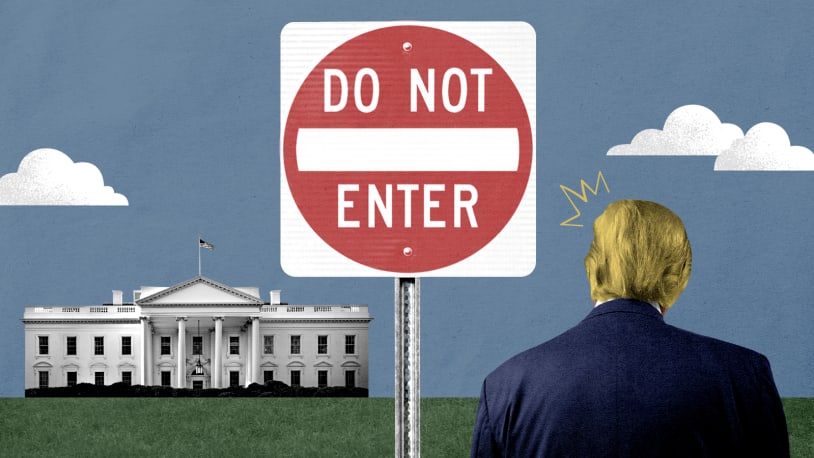 Banning Trump from re-election is a constitutional pipe dream
Could former President Donald Trump be barred from returning to the White House?
To most Democrats and a few Republicans, disqualification seems like simple justice — and an answer to their political prayers. Unfortunately, the opportunity seems to have passed. The Constitution gives Congress the power to ban an impeached president from "any office of honor, trust, or profit under the United States" as a penalty for impeachment. But in January, the Senate refused for a second time to convict Trump of charges that the House of Representatives laid against him.  
But some legislators and scholars think there's a way around that failure. According to The Hill, there's growing interest in the possibility of using the 14th Amendment to accomplish what impeachment could not. Ratified in the wake of the Civil War, the 14th Amendment states that "no person shall be a Senator or Representative in Congress, or elector of President and Vice President, or hold any office, civil or military" if they've "previously taken an oath … to support the Constitution of the United States" and then "engaged in insurrection or rebellion against the same, or given aid or comfort to the enemies thereof."  
The problem is that there's currently no legal judgment that Trump participated in "insurrection or rebellion." The new theory is that a Senate trial is not necessary to make that determination, which could perhaps be imposed by Congressional resolution or bill to empower a special judicial body. 
The appeal of this strategy is obvious. Trump's enduring and overwhelming popularity among Republican voters makes him the favorite for the 2024 nomination if he chooses to run. It's far too early to forecast his prospects in the general election. But negative partisanship is probably sufficient to give him a good chance of victory.
But a 14th Amendment gambit would almost certainly fail. In the first place, it's constitutionally dubious. Articles I and II make it clear that the impeachment process is Congress' main tool for holding presidents accountable for conduct inconsistent with their office. If the Framers had wanted to empower simple majorities or special tribunals to exclude former presidents from returning to the arena, they presumably would have said so. In the weeks before Jan. 6, lawyers who supported the president tried to derive vast, hitherto unknown powers from the ambiguities of the Constitution. Now, some of his opponents are trying to do the same thing. 
Second, it's unlikely that there would be much public support for the move. A majority of Americans blame Trump for the Jan. 6 debacle. But that doesn't mean they want to see it at the top of the national agenda. Voters have short memories and tend to dislike what they see as partisan squabbling. Efforts to disqualify Trump would strike many as excessive or unfair. 
Third, the bar could be lifted by a future Congress. Granted, the Constitution requires a two-thirds majority to do so — a high standard at any time and particularly in the current polarized environment. Even so, "Free Donald Trump" would become a rallying cry for years to come. 
Most important, though, the quest for a legal solution has crippled opposition to Trump from the start. The problem with Trump has never been specific criminal acts. It's his temperamental and psychological unfitness from an office of public trust. Frustrating as it is, the only way to escape that unfitness is by presenting voters with a candidate and agenda they prefer. Biden managed to do that in 2020, although far more narrowly than most analysts expected. In 2024, he or his successors will almost certainly have to try again. 
Could former President Donald Trump be barred from returning to the White House? To most Democrats and a few Republicans, disqualification seems like simple justice — and an answer to their political prayers. Unfortunately, the opportunity seems to have passed. The Constitution gives Congress the power to ban an impeached president from "any office of…
Could former President Donald Trump be barred from returning to the White House? To most Democrats and a few Republicans, disqualification seems like simple justice — and an answer to their political prayers. Unfortunately, the opportunity seems to have passed. The Constitution gives Congress the power to ban an impeached president from "any office of…