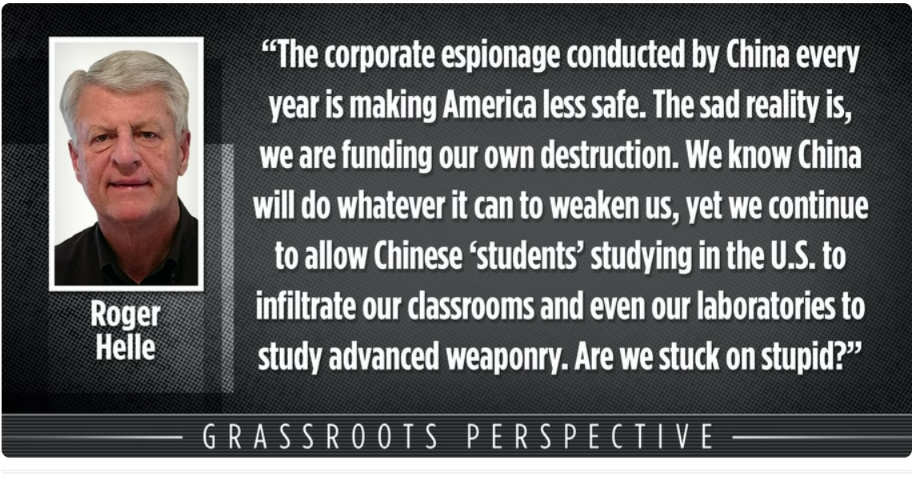 None Dare Call It Treason
By ROGER HELLE January 5, 2022 in National Security
Wherever there was money to be made, Hunter Biden was there making sure the Biden family was well taken care of.
I was still in high school when the book None Dare Call It Treason was published. Not being interested in politics, I didn't pay attention to it. As I was soon to be headed to Vietnam, I wish I had. The book warned about the infiltration of communism in American society, culture, and politics.
Some accused author John Stormer of spreading propaganda. Time has proven him to have been absolutely correct to a degree he could not have imagined. America is being sold out to our enemies by our own countrymen. Some do it for political reasons; most are selling their souls and our nation for financial gain.
Dr. Anthony Fauci, the "god" of American medical malpractice, financed the study of dangerous biological weapons through his National Institute of Allergy and Infectious Diseases. Fauci admitted there was a danger of a pandemic, but the lessons learned would be worth it. As we approach 5.5 million deaths worldwide, can we ask Fauci if it was worth it? And why has he not suffered any consequences for it?
Millions of American jobs were shipped overseas, many to communist China. Why? So corporations could pay their stockholders huge bonuses. We found out what a great plan that was! The pandemic hit and we realized how much of our medicine and medical supplies come from the country that released the plague to begin with.
Social justice warriors like Colin Kaepernick and LeBron James find racism everywhere in our country. Yet somehow they cannot look beyond their bank accounts to see real slavery and racism in the way China enslaves and abuses the Muslim Uighur population.
China has established dozens of schools of Chinese thought (Confucius Institutes) in major universities to influence how students see China. Chinese "students" studying in America have cost us approximately $500 billion in intellectual property theft. That hurts every single family in America.
Senator Diane Feinstein's chauffeur of over 20 years was a Chinese spy. Representative Eric Swalwell of California was engaged sexually with a Chinese spy. His punishment was being allowed to continue serving on the House Intelligence Committee. Nancy Pelosi trusts him, so I guess we're supposed to trust him as well.
Have you wondered why new Chinese warplanes look so much like ours? The corporate espionage conducted by China every year is making America less safe. The sad reality is, we are funding our own destruction. We know China will do whatever it can to weaken us, yet we continue to allow Chinese "students" studying in the U.S. to infiltrate our classrooms and even our laboratories to study advanced weaponry. Are we stuck on stupid?
And lest I forget, we have the Biden Crime Family that seems to be owned by China. The Left saw nothing wrong with Biden taking his drug-addicted son on trips to China where he could work against America's interests but pursue the interests of the Biden family. Normally, we would call that a "conflict of interest" — unless you're a Democrat! Actually, the Obama State Department warned of the conflict. Biden ignored it.
Wherever there was money to be made, Hunter Biden was there making sure the Biden family was well taken care of, America's security be damned! Yet we keep electing these people to office. We are slowly enslaving ourselves as a result!
Something to think about?
~~~
~~Reprinted with permission. See the original article here and leave some comments! 
By ROGER HELLE January 5, 2022 in National Security Wherever there was money to be made, Hunter Biden was there making sure the Biden family was well taken care of. I was still in high school when the book None Dare Call It Treason was published. Not being interested in politics, I didn't pay attention to it.…
By ROGER HELLE January 5, 2022 in National Security Wherever there was money to be made, Hunter Biden was there making sure the Biden family was well taken care of. I was still in high school when the book None Dare Call It Treason was published. Not being interested in politics, I didn't pay attention to it.…