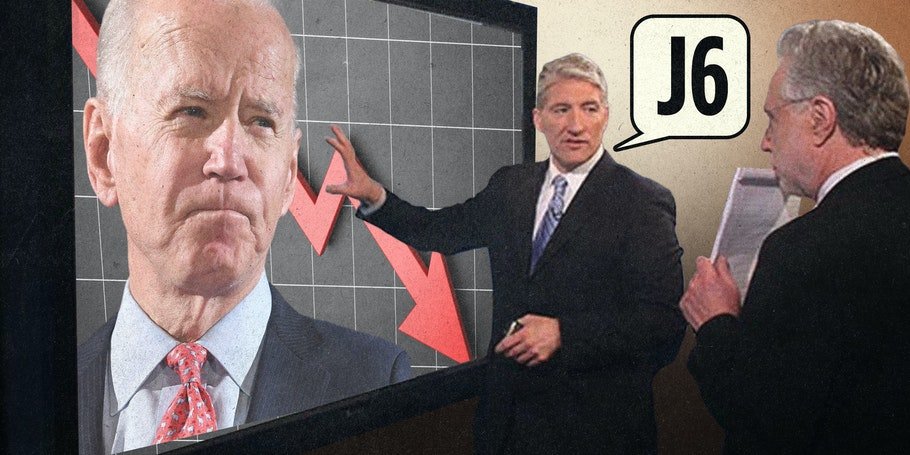 Dems Hell-Bent on Distracting You From Biden
By  DOUGLAS ANDREWS January 5, 2022 in Politics
They want you to believe that nothing is more important than the unarmed non-insurrection of January 6.
Can ya blame them?
It doesn't take too keen a political mind to see that the Democrats are desperate — dog-food desperate — to distract you from the raging dumpster fire that is the Joe Biden presidency. That's why it's been J6 all day and every day.
The border? J6.
The economy? J6.
Gas prices? J6.
COVID? J6.
Mandates? J6.
Inflation? J6.
Heating costs? J6.
Crime? J6.
School lockdowns? J6.
The fentanyl epidemic? J6.
Afghanistan? J6.
Russia? J6.
China? J6.
The midterm elections? J6
Biden's catastrophic approval rating? J6.
J6? J6.
Heck, it's practically a national holiday for Democrats. And it's telling that they're more eager to commemorate the events of last January 6 than they were the 20-year anniversary of the 9/11 attacks.
We know what you're thinking: Today is January 5, so it'll all be over after tomorrow, and then the politicians who control the presidency and both houses of Congress will get back to addressing the very serious issues affecting our nation rather than obsessing endlessly about this January 6 nothingburger.
We wish it were so. But you watch: The Democrats will be on an endless loop between now and November's midterm elections. They'll keep shrieking and prattling on about how our democracy is in peril (even though it's a republic) and about how the Republicans want to keep black and brown people from voting (even though black and brown people are running away from the Democrat Party). And all the while, 79-year-old Scranton Joe Biden and his handlers will be doing for to these United States what Bill de Blasio just finished doing for to New York City.
To hear Nancy Pelosi and Chuck Schumer tell it, the events of last January 6 were an insurrection. It wasn't, of course, but they want you to believe as much. That's why they wouldn't allow any real Republicans — such as Jim Jordan or Jim Banks — to sit on their special January 6 Committee. And it's why they've been withholding information from congressional Republicans: They're afraid that the whole truth will get out, rather than their preposterously one-sided Trump-o-phobic narrative.
No, Nancy and Chuck want you to believe that an angry bunch of middle-aged white guys with MAGA hats and Trump flags nearly succeeded in overthrowing the most powerful nation in the history of the world. Yes, a relative handful of them stormed the Capitol. What was their next move? To take command of our military? To wrest control of the nuclear football from President Donald Trump?
Speaking of Donald Trump, he must be enjoying the view from Mar-a-Lago these days. Multiple polls now show likely voters preferring him over Biden or Kamala Harris in head-to-head matchups, in some cases by double digits. This, of course, also has the Democrats in a panic, and ever more intent on enabling widespread voter fraud by passing the House's unconstitutional H.R. 1 scheme. As The Wall Street Journal's James Freeman writes:
No wonder Senate Democrats want to talk so much about the last days of the Trump presidency. There's precious little for them to celebrate about the current one. Nearly 54% of Americans express disapproval of the job Mr. Biden is doing in the Oval Office — a new high for his term in the RealClearPolitics average of public opinion polls. Meanwhile just 42.3% of Americans approve of the president's work.
So folks aren't just reluctant to approve of the job Joe Biden is doing; they're actively displeased with his performance. And Nancy and Chuck and the rest of the Democrats know how to read an opinion poll.
Yikes, they're yelling. Let's talk about J6!
Was January 6 an insurrection? Get real. Next time you hear an acquaintance call it an insurrection, ask him: How many of the more than 700 people who were arrested have been indicted for insurrection, or sedition, or treason? If he seems stumped, maybe give him a clue: Tell him it's the same number of folks Robert Mueller indicted for criminally conspiring with Russia: Zero.
Yes, zero. And that's exactly what the Democrats have to offer the American people.
By the way: Did you know that more people refused to accept the results of the 2016 election than the 2020 election? It's true, according to the Washington Examiner's Byron York, who writes that while 58% of Republicans today say Biden wasn't legitimately elected, 67% of Democrats said the same thing about Trump back in 2017.
As usual, the Democrats are accusing Republicans of precisely what they themselves are guilty of.
~~~
~~Reprinted with permission. See the original article here and leave some comments! 
By  DOUGLAS ANDREWS January 5, 2022 in Politics They want you to believe that nothing is more important than the unarmed non-insurrection of January 6. Can ya blame them? It doesn't take too keen a political mind to see that the Democrats are desperate — dog-food desperate — to distract you from the raging dumpster…
By  DOUGLAS ANDREWS January 5, 2022 in Politics They want you to believe that nothing is more important than the unarmed non-insurrection of January 6. Can ya blame them? It doesn't take too keen a political mind to see that the Democrats are desperate — dog-food desperate — to distract you from the raging dumpster…