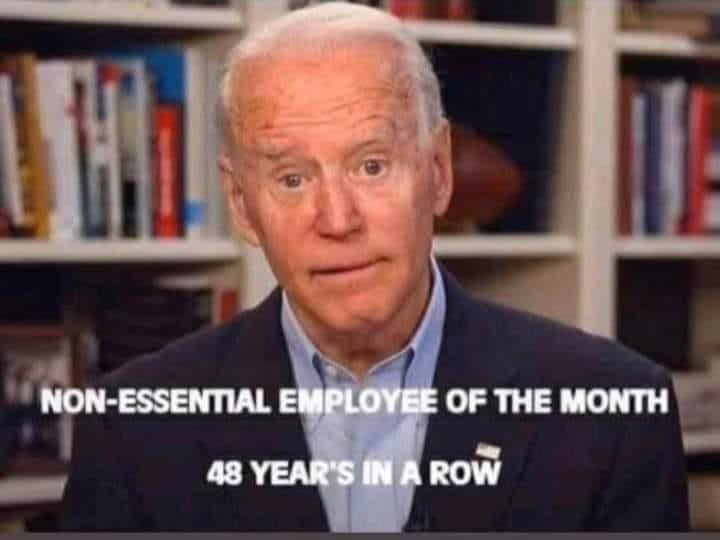 Tuesday Newsfeed: Wastin' Away Again in Joe Bidenville, Searchin' for My Lost Shaker of Salt…
Posted by Maggie on January 4, 2022 in From the editors 
This ain't all about old Joe and his inane ineptitude, but this is the mentality about half the country that is still gaslit-under right now that still strongly supports him and his administration, and no cure in-sight…
Today is Tuesday, January 4th, 2022 and there are still Americans trapped in Afghanistan because Joe Biden abandoned them.

— Benny (@bennyjohnson) January 4, 2022
Thomas Franck @ CNBC: Biden disapproval hits new high as voters give him bad grades on economy, new CNBC/Change poll says
Cristina Laila: Joe Biden's America: Record 4.5 Million Americans Quit Their Jobs in November
Eddie Scarry: Democrats Took Control And COVID Got Worse
Think how dangerously out of touch this Biden White House is…

– Record COVID cases
– Historic price increases on nearly everything
– Violent crime on the rise in Dem cities
– Southern border is a humanitarian crisis
– Wages can't keep up with inflation https://t.co/LKbHSA7j4U

— Nathan Brand (@NathanBrandWA) January 4, 2022
Twitchy: Echo chamber, activated! Multiple White House staffers are sharing this Paul Krugman op-ed arguing '2021 was pretty amazing'
VIDEO: Growing number of Democrats announce retirement ahead of midterms
Tim Pearce: Judge Stays Biden Vax Mandate For Dozens Of Navy SEALs Seeking Religious Exemption
Biden attacks unvaccinated Americans: "There's no excuse. No excuse for anyone being unvaccinated. This continues to be a pandemic of the unvaccinated." pic.twitter.com/yRczI4sEGb

— Tom Elliott (@tomselliott) January 4, 2022
Biden instructs parents to not let their children play with kids who aren't "vaccinated" https://t.co/YoB7rNQ3he

— Tom Elliott (@tomselliott) January 4, 2022
Jessica Chasmar: Biden's 'pandemic of the unvaccinated' narrative falls apart as omicron cases skyrocket: Vaccinated people 'do not spread the disease,' Biden said last month
@JoeBiden: The #vaccinated need to be protected from the #unvaccinated by forcing the unvaccinated to use the #vaccine that does not protect the vaccinated

— Bill is Right (@The_Real_BV) January 4, 2022
Twitchy: 'What a bunch of BS': Joe Biden looks the American public in the eye and repeats 'objectively false' COVID info (and ignores questions, natch)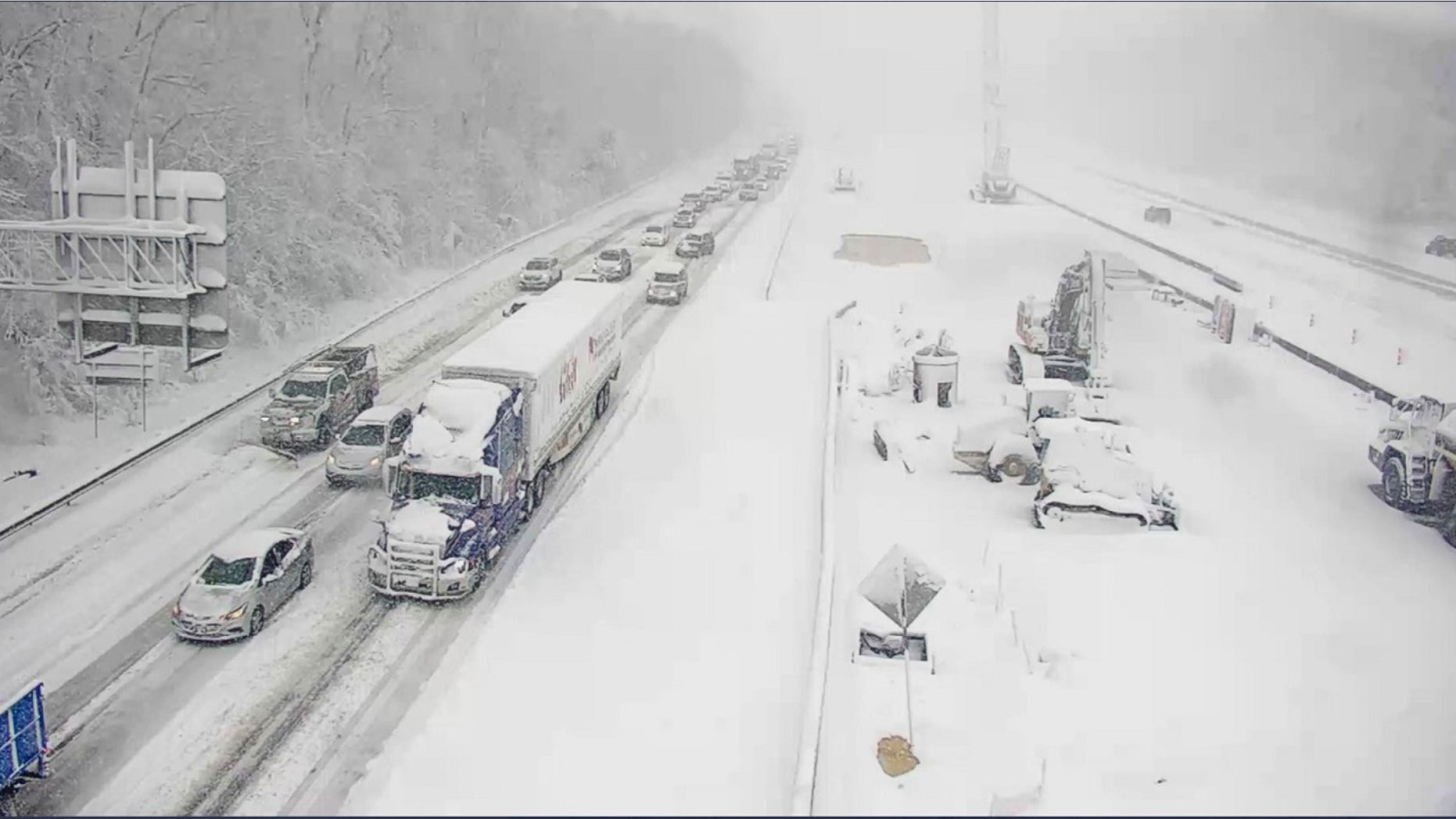 Greg Norman: Virginia I-95 winter storm disaster leaves hundreds stranded: 'This is unprecedented': Region was hit with up to a foot of snow on Monday
Right now, Virginia's I-95 is a frozen parking lot, with some travelers (who, by the way, ignored the meteorologists' forecast and warnings about the storm but traveled anyway) now trapped in their cars for over 24 hours. Like this bloke…
Cristina Laila: Democrat Senator Tim Kaine Stuck in Car For 21 Hours After I-95 Shut Down in Virginia … Atleast Kaine was still wise enough not to fall into the "Blame Youngkin" trap, because he might still realize who's still in charge of the state. Derp…
I started my normal 2 hour drive to DC at 1pm yesterday. 19 hours later, I'm still not near the Capitol. My office is in touch with @VaDOT to see how we can help other Virginians in this situation. Please stay safe everyone. pic.twitter.com/Sz1b1hZJZ5

— Tim Kaine (@timkaine) January 4, 2022
So then, who to blame … well, after blaming themselves? Why, that damned republican "Gov. Youngkin", doncha know…
@GlennYoungkin Virginia governor are you safe and warm?
I95 has been a parking lot since 3 yesterday afternoon
This is a glimpse of the Governor Virginia elected
UNACCEPTABLE

— Lisa (@rexrode1967) January 4, 2022
Hey, if you're not, like, super-duper-busy on 1/15/22 perhaps you can attend Youngkin's swearing-in as VA Governor. Just a thought. But, ya know, "Truth is what sets you free", or something.

— Maggie (@drillanwr) January 4, 2022
Twitchy: Some libs are blaming Gov.-elect Glenn Youngkin for the ongoing humanitarian crisis on I-95 in northern Virginia. Who wants to tell them? … I guess we are supposed to cut some slack for the same imbeciles who think Pres. Trump is still in the Oval Office anytime the Biden administration FUBARs-up. Nah—
My team has been working throughout the night alongside @VSPPIO, @VaDOT, and @VDEM to respond to the situation on I-95.

State and local emergency personnel are continuing to clear downed trees, assist disabled vehicles, and re-route drivers.

— Governor Ralph Northam (@GovernorVA) January 4, 2022
With all due respect, Sir, efforts to open up ONE lane to re-route drivers should've been done 20 hours ago. We have been urinating on the side of the roads, are hungry, livid, and DISAPPOINTED in the way the state have handled this.

— en2523 (@en3smith) January 4, 2022
Twitchy: Holy CRAP, delete this AND your account! VDOT NoVA DRAGGED for thoughtless tweet sent RIGHT as motorists became stranded on #I95
Screen captured for when you sober up and realize this was a garbage tweet, @jonathanchait pic.twitter.com/eX3bjeupNF

— IowaGma2 (@Gma2Iowa) January 4, 2022
And then there are the folks who have been jumping on Florida Gov. DeSantis for being "MIA', or something…
Cristina Laila: "I Guess I Should've Been at the Beach in Delaware" – DeSantis Blasts Leftists Who Claimed He Was 'Missing' During Covid Surge (VIDEO)
Florida Governor Ron DeSantis (R) on Monday hit back at critics who falsely claimed he's been "missing" the last two weeks during a Covid surge.

Governor DeSantis has been by his lovely wife Casey's side as she receives treatment for breast cancer…
The reference to a Delaware beach was aimed at Joe Biden on vacation with his wife during that time. No mention from the same MSM about Biden's Transportation Secretary Pete Buttigieg being MIA for atleast two months during the major supply chain crisis because of "paternity leave" for his and his partner's baby adoption, and still not yet really "in the picture" with solutions.
It is all going according to the left's master plan, sorta-kinda…
Leslie Eastman: Pandemic Response Will Be Used As Model for "Climate Crisis" Response: It's not appropriate. However, unless there is serious push-back, it may be the very model used.
William A. Jacobson: NY State Advantaging Non-Whites For Covid Therapeutics Reflects Growing Racial Radicalization Of Medicine: This ideology of elevating race as the central focus in medical education and care is in sync with what is happening with Critical Race Theory and its variants in K-12 and higher ed. It's all part of an ideological world view that is poisonous and has nothing to do with equality or improving care.
Sam Dorman: New York's racialized coronavirus priorities are illegal and warrant DOJ investigation, critics say: The New York state health department says no one is being turned away from treatment based on race … Yeah, well, Cuomo denied a hell of a lot of shit too … where is he now?
VIDEO: Tammy Bruce: New York's race-based COVID treatment plan has 'horrible irony'
VIDEO: Dr. Oz: Biden's failed policy sows more COVID confusion
Twitchy: 'Tony has no integrity, he lies all the time … ' Dr. Robert Malone absolutely DECIMATES Fauci during Laura Ingraham interview (watch)
Ace: Chicago Teachers Union Polls Members To See If They'd Be Willing to Go On Strike to Return to "Virtual Learning" AKA Sitting On Their Asses At Home "Teaching" On Zoom Calls
VIDEO: Chicago parent slams teachers union: 'A failure for the future of our children'. Chicago father of six Willie Preston on the teachers union planning a walkout in support of virtual learning as students return from winter break.
Ace: Media-Government Complex Shifting Narrative on Covid: Fauci Admits That Most Children Hospitalized "With Covid" Are Not In the Hospital Because of Covid; CNN Admits That Maybe Losing Weight Might Be a Useful Covid Preventative … And so, a huge series of public apologies will be sent out for the people who have been saying/pointing out much of this for near two years now?
~~~
~~Many thanks to Maggie and The Universal Spectator for reprint permission.
Posted by Maggie on January 4, 2022 in From the editors  This ain't all about old Joe and his inane ineptitude, but this is the mentality about half the country that is still gaslit-under right now that still strongly supports him and his administration, and no cure in-sight… Today is Tuesday, January 4th, 2022 and there are still Americans trapped in Afghanistan because…
Posted by Maggie on January 4, 2022 in From the editors  This ain't all about old Joe and his inane ineptitude, but this is the mentality about half the country that is still gaslit-under right now that still strongly supports him and his administration, and no cure in-sight… Today is Tuesday, January 4th, 2022 and there are still Americans trapped in Afghanistan because…