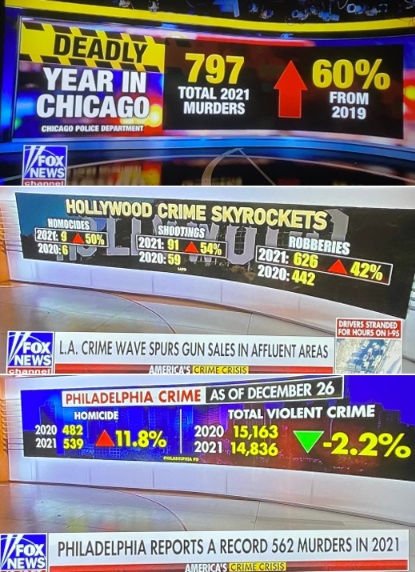 The Nation's Crime Epidemic and Its Willing Contagions
Posted by Maggie on January 4, 2022 in From the editors
America is suffering under a growing epidemic, and it is not a "bat virus" from *China. It is, yet, another manmade disaster that is not getting preventative or treatment, and some people have less of a chance of surviving this sickness than they do surviving a bout of COVID.
The bulk of the nation's 2021 increases in crime and murder rates have been in democrat governed/run cities, and many of them by design from people, like George Soros, who have interloped in the elections of those democrats in those cities. They are carrying out these pro-crime and pro-criminals policies in the name of their #WOKE social justice equity plan…
Kevin Downey, Jr: How Far Will the Left Go to Keep Criminals Out of Jail?
Chicago Mayor Lori Lightfoot and her state's attorney, Kim Foxx, are a one-two punch of commie crime forgiveness. Lightfoot changed the rules involving the police's ability to chase criminals on foot. Foxx dropped 29.9% of all felony cases. She also thinks people illegallypossessing guns shouldn't be arrested if they haven't used the gun to commit a violent crime, even though Chicago's gun violence is at a record high.

FACT-O-RAMA! Chicago had 4,542 shootings in 2021; 81% of the victims were black. Spoiler alert: no MAGA hats were found at any of the crime scenes.

Lefty news is in on the plan, too, going so far as to hide the identities of violent black offenders. Some examples:

A local Chicago CBS affiliate blurred the face of a black man who shot two people execution-style after a crowd pulled them from their car during the Puerto Rican Day parade;
San Francisco's mass transit office, Bay Area Rapid Transit (BART), refused to show surveillance videos of black people attacking riders because they might result in a "high level of racially insensitive commentary toward the district";
In a beautiful example of clowndom, San Francisco police asked for the public's help in identifying a black teen who set an Asian woman on fire, but then blurred his face.

…
Please read Downey's whole article. It's not just Chicago that he cites. But Chicago is the primary city the left's politicians and MSM refuses to recognize when they stupidly insist it's police killing people of color. They refuse to acknowledge black-on-black crime/murder…
Awful but not surprising – new Q1-Q2 data released from prosecutor's office today shows gun violence is way up in King County.

– 80% of shooting victims are POC
– 70% are ages 18-24
– 197 people shot so far this year; 42 murdered
– Shootings up 61% (over the 4-yr average) pic.twitter.com/6Zlj5AJVeL

— Deedee Sun (@DeedeeKIRO7) July 23, 2021
Tom Knighton: 2021 Chicago's deadliest year in quarter century
The MSM and democrats want you to believe it's not bad policies and bails, in the case of NYC no-bail, that is driving up the crime and murder rates. No, it's COVID and people out of work. Seriously? The people doing the smash and looting aren't stealing food for their families. The shootings serve what lack of employment purpose? It's drugs (much of *which is indeed supplied by China, and surging across our southwest border to our cities in the illegal Immigration tsunami) and evil people. It's people who refuse to be civilized, good, and productive citizens that not only refuse to get a damn job but are basically unemployable because they lack basic schooling, can't pass a drug test, and have lengthy rap-sheets stretching all the way from youth. It is their willful lack of personal-responsibility vicious cycle, not our system's. And now the system is perpetrating their lack of personal-responsibility by taking their side and coddling them, leaving the victims abandoned.
Tom Knighton: Illinois thug shot cop begging for her life … The criminals have become very emboldened.
Mary Chastain: Highest in 25 Years: Cook County Saw 1,087 Homicides in 2021, 836 of Which Happened in Chicago: On the bright side, Chicago had its lowest amount of burglaries since the 1960s!
Sarah Hoyt @ Instapundit perfectly and correctly responds: "THIS IS WHAT HAPPENS WHEN THE LAW ISN'T EQUALLY APPLIED TO ALL … And when a government uses career criminals as weapons against the populace."
This Chicago Pastor is fed-up with the Chicago crime rates, and how nothing is being done, and has spent weeks in his own protest while camped out in a tent on a Chicago roof top…
VIDEO: Pastor Corey Brooks: Chicago experiencing 'lack of leadership' in stopping violent crime
However, as I said, it is not just Chi-town…
Louis Casiano: Texas' largest county sees more than 150 killed by suspects out on bonds, victims group says: Houston, the largest city in Texas, closed out 2021 with 473 murders, a sharp jump from the year prior
Rebecca Rosenberg: Alleged Fox Christmas tree arsonist on the lam after he was freed without bail: Craig Tamanaha was freed hours after alleged arson due to New York's controversial criminal justice reforms that bar setting of bail for many serious crimes
DM: The Rotten Apple: Latest NYC crime statistics show shootings are still DOUBLE what they were two years ago, with murders up by 50%
Edmund DeMarche: Mississippi officer responds to shooting call, finds son's body: The investigation is being handled by the Mississippi Bureau of Investigation
Stephen Sorace: Chicago store robbed of $50K in merchandise 24 hours after appearing on local news profile: Chicago police say no arrests made after robbery at Cynthia's Consignments in Lincoln Park
Tom Knighton: Los Angeles homicides hit 15-year high
VIDEO: Americans 'flocking' to purchase firearms as crime rises: Gun shop owner: Beverly Hills Guns owner Russell Stuart shares how the crime wave in Los Angeles is impacting gun sales. … Remember now, these are the same lofty "we need more gun control laws and ban guns" leftists that want those laws and gun bans for the rest of us across the nation.
Charles Glasser @ Instapundit:
IS IT HYPOCRISY, GASLIGHTING OR JUST INSANITY? I suppose one might embrace the power of "and." You remember George Zimmerman, the "White Hispanic" accused and acquitted of the murder of Trayvon Martin?

Elizabeth Warren and Pete Buttigieg certainly do, and they each utilized the February 2020 anniversary of that tragedy to play the race card on Twitter…
MORE:
In addition to the current situation with governments and media mishandling of and representation to the American public of domestic crime, it is even far worse when it involves illegal aliens committing crime in our country. Democrats will not acknowledge those criminals and their crimes. And the media insists that anyone who dares point them out is racist.
FNC: Arizona mayor says city is 'overwhelmed' with border crisis as migrant encounters surge 2,405% – Mayor Douglas Nicholls warned the city may not have the resources to mitigate the massive influx
VIDEO: Mayor of Yuma, Arizona on border crisis as migrant encounters spike 2,405%
When you next hear someone insisting people who've refused the COVID vaccines should not be treated by hospitals or covered by their private or government insurance if they get sick with COVID hit them over the head with these stories. Before the China plague ERs were rife with drug ODs and drug users looking to hoodwink a fix from an ER doctor. And while COVID has added a load to the hospitals already strained by staff shortages and, hence, limited occupancies, the ignored horrific drug abuse states continue to occupy the limited hospital space/services. I know this from my doctor daughters who work in hospitals…
Buried in the CDC data:
🚨Fentanyl poisoning is now the #1 Cause of Death Among Americans 18-45🚨

Surpassing Suicide, Covid-19 and Car accidentshttps://t.co/oCOlNgWN8W

— Families Against Fentanyl (@FafFentanyl) December 16, 2021
The number of fentanyl deaths in the U.S. doubled in just TWO years to over 64,000 deaths. pic.twitter.com/ZeBheLc0Pn

— Families Against Fentanyl (@FafFentanyl) December 16, 2021
Audrey Conklin: Fentanyl overdoses become No. 1 cause of death among US adults, ages 18-45: 'A national emergency': More adults between 18 and 45 died of fentanyl overdoses in 2020 than COVID-19, motor vehicle accidents, cancer and suicide
Timothy H.J. Nerozzi: Texas seized enough fentanyl to kill 200 million people this year alone, officials say: Texas Gov. Abbott's Operation Lone Star sees huge fentanyl seizures
Rebekah Castor: New Orleans hospital gives out overdose reversal drug for free after year of record-high deaths: Over 100,000 Americans died from drug overdoses in 2021
Meanwhile, government corruption reigns eternal in the nation's epidemic of crime…
Andrew Cuomo made decisions that directly resulted in deaths of thousands of elderly NYers. He also sexually assaulted multiple women.

But he's a pro-abort, authoritarian lib Dem and will therefore not face consequences and his image will be rehabbed by our "news" media < 6 mos.

— Bonk (@BonkPolitics) January 4, 2022
Jazz Shaw: Now Cuomo won't face charges in nursing home debacle either … Well, he's a demo-commie, so, it's, you know, 'different'.
Megan Fox: Justice Roberts Talks Judicial Accountability But Fails to Acknowledge Huge Nationwide Problem … Roberts has been the biggest disappointment of the George W. Bush administration.
Karen Townsend: Biden's nominee for 11th Circuit Court of Appeals is a far-left dream candidate
~~~
~~Many thanks to Maggie and The Universal Spectator for reprint permission.
Posted by Maggie on January 4, 2022 in From the editors America is suffering under a growing epidemic, and it is not a "bat virus" from *China. It is, yet, another manmade disaster that is not getting preventative or treatment, and some people have less of a chance of surviving this sickness than they do surviving a bout of COVID. The…
Posted by Maggie on January 4, 2022 in From the editors America is suffering under a growing epidemic, and it is not a "bat virus" from *China. It is, yet, another manmade disaster that is not getting preventative or treatment, and some people have less of a chance of surviving this sickness than they do surviving a bout of COVID. The…