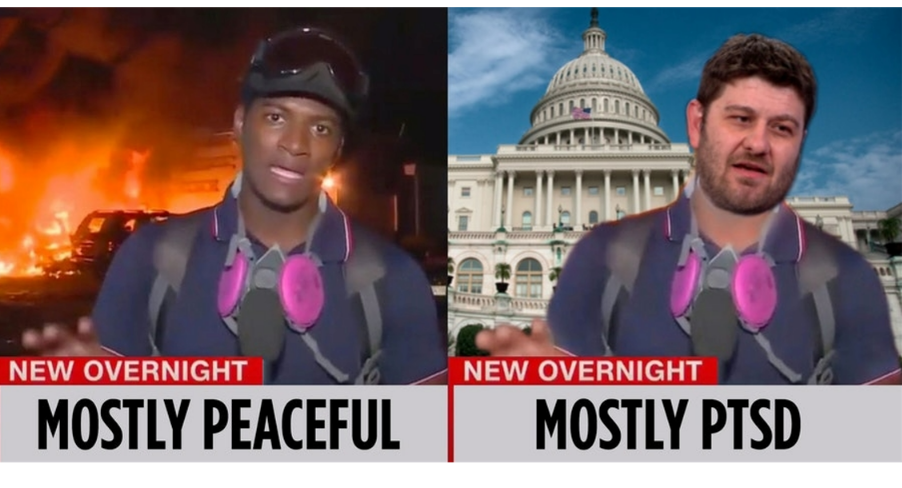 The Dems' Never-Ending J6 Trauma
By DOUGLAS ANDREWS  January 4, 2022 in Politics
With nothing else to go on, the Left cries "PTSD" over January 6.
Honestly, we don't know how Hunter Walker does it. We don't know how anyone so deeply traumatized by the horrific violence, the wanton slaughter, and the awful bloodbath of last January 6 could get out of bed each morning with the courage to carry on as a journalist.
And we thought our nation's warriors and law enforcement officers were brave.
Walker, a Substack blogger and Rolling Stone contributor who's previously written for The New Yorker, The Atlantic, and Vanity Fair — no doubt as a combat correspondent — found himself at the Capitol that day, and he lived to tell about it. As he told CNN's chief media correspondent Brian Stelter:
One hallmark of having post-traumatic stress disorder is sort of having flashbacks and almost eerily clear memories. And for me, the single one that really haunts me is this moment when I was on the phone with my editor. … And the moment I hung up from that call … the thing that rang in my head as I looked in one those windows was, "This is bad." Because it was immediately apparent to me that, um, shooting could break out, from either side, at any moment. … So I was so aware of the possibility of gunfire and trampling in addition to the violence that went on around me … and frankly … [the police] held back from shooting, because they knew how dangerous that was. And that is among, including the bombs not going off, a series of small miracles that prevented this from being as deadly as it could have been.
Whew. What a relief it is to know that the Capitol Police "held back" from shooting any other unarmed 110-pound women besides Ashli Babbitt.
Walker continued, "There's a bit of an informal network of reporters who've been through it that day, and are still coping with that, who are leaning on each other and talking to each other."
Ah, yes, journalistic steel sharpens journalistic steel.
It's not just journalists. "Capitol workers quit jobs that once made them proud," The Washington Post tells us in a real tear-jerker of a piece about how "the trauma suffered by thousands of legislative aides, police officers and blue-collar workers after the insurrection has prompted some to leave the Capitol." The ones who didn't quit are lauded by the Post for having "soldiered on."
Enough. Really. None of this grandstanding surprises us, though. In fact, our Mark Alexander predicted it. As he wrote three weeks ago, "Joe Biden and his leftist cadre of enablers, Kamala Harris, and the Demo tag-team duo of Nancy Pelosi and Chuck Schumer, are hoping the J6 anniversary will be a booster shot for Biden's now-chronically abysmal approval ratings."
Think about it: If Joe Brandon were your party's standard-bearer, what else could you hang your hat on? Racial discord? Rampant crime? Open borders? Runaway inflation? Our disaster in Afghanistan? Biden's non-shutdown of the coronavirus? No wonder they want to "celebrate" January 6. No wonder they want to keep telling us it's "the worst attack on our democracy since the Civil War." They've got nothing else.
The first midterm election of a new administration tends to bring bad tidings for the party in power. Just ask Bill Clinton, who lost 52 House seats and eight Senate seats in 1994. Or ask Barack Obama, who lost 63 and six in 2010 in what he accurately termed "a shellacking." And both of those presidents were young, capable, and charismatic. And Joe Biden is, well, you know, the thing.
Allow us, then, to wish these poor suffering Democrats well. PTSD is indeed a terrible thing — especially the fake, contrived, politically motivated kind.
~~~
~~Reprinted with permission. See the original article here and leave some comments! 
By DOUGLAS ANDREWS  January 4, 2022 in Politics With nothing else to go on, the Left cries "PTSD" over January 6. Honestly, we don't know how Hunter Walker does it. We don't know how anyone so deeply traumatized by the horrific violence, the wanton slaughter, and the awful bloodbath of last January 6 could get out…
By DOUGLAS ANDREWS  January 4, 2022 in Politics With nothing else to go on, the Left cries "PTSD" over January 6. Honestly, we don't know how Hunter Walker does it. We don't know how anyone so deeply traumatized by the horrific violence, the wanton slaughter, and the awful bloodbath of last January 6 could get out…