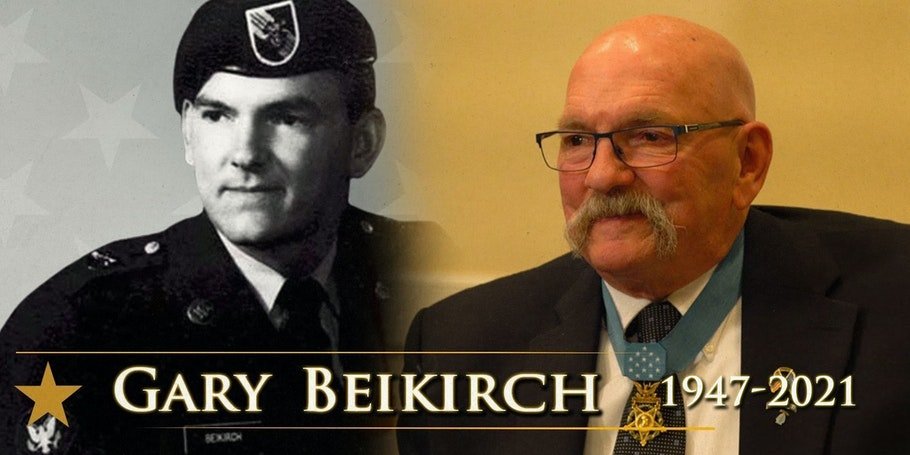 Godspeed, Medal of Honor Recipient Gary Beikirch
By  MARK ALEXANDER January 3, 2022 in Armed Forces/Military Service
A man of God and American Patriot.
A quiet man and humble man, Gary Beikirch, departed this life for the next on 26 December, becoming the third Medal of Honor recipient we said farewell to in 2021, after the deaths of T/Sgt. Charlie Coolidge and Lt. Col. Chuck Hagemeister.
Gary, a Vietnam veteran whose Medal of Honor citation you can read here, was instrumental in shaping and supporting the character education curriculum of our National Medal of Honor Heritage Center.
After his service as a Green Beret Sergeant, a medic with Detachment B-24, Company B, 5th Special Forces Group (Airborne), 1st Special Forces, Gary came back to the States to attend seminary, intending to return to Vietnam and work at a missionary hospital in Kon Tum Province, where he had served. Gary completed his seminary work, but after the fall of Saigon, he completed an additional advanced degree in counseling and became an effective school guidance counselor, pastoring on the weekends. To that end, his advice on developing the National Heritage Center's education curriculum, especially regarding the character traits associated with the Medal of Honor, was indispensable.
I had the opportunity to watch Gary address a class of middle-school students before the very destructive COVID school shutdowns, and you could hear a pin drop in that room. Gary inscribed a copy of his citation to his students, noting: "To really live, you must almost die. To those who fought for it — life has a meaning the protected will never know. Life is about loving God and others."
In a book profile of his life in service to our nation and God, Blaze of Light, by Marcus Brotherton, Gary noted: "For His Honor — On April 1, 1970 … I almost lost my life. On July 2, 1972 … I found eternal life. On October 15, 1973 … my country said I was a hero … but I knew the truth. Once a man of war … now a man of God."
Gary was clear: "My story is God's story. This medal is not about me. This medal is about him. Without God's grace, I wouldn't have been able to survive Vietnam. Without his forgiveness in my life, I wouldn't have been able to live with myself. Without his love, I wouldn't have healed from my wounds. This medal is ultimately about him, and I wear it for his honor."
Gary had been fighting cancer for the last year. His son Stephen wrote of his passing the day after Christmas: "My father was able to give us the best Christmas present ever. He gave our family one last Christmas together. All of us were here yesterday and we were all able to see him and say our goodbyes. He was a blessing and a Hero to everyone that knew him. I am incredibly blessed to be able to call this hero my Dad and a Papa to my kids. I love you so much and I am happy you are at peace and with God now. … Continued prayers for comfort are welcomed and appreciated."
His daughter Stephanie added: "There was immense love and caring from him, and also strength. He was a quiet man, but he had such strength and he imparted that to anyone he spoke to. He would always say to live a life of significance, and make sure what you're doing has a purpose. That motivates me to always want to have purpose in everything I do, everyone I meet and everybody I talk to, to really point them to Jesus."
Gary leaves behind his wife, Lolly, and a large family. He was 74.
Thank you, Gary — God bless you and your family.
Semper Vigilans Fortis Paratus et Fidelis
Pro Deo et Libertate — 1776
~~~
~~Reprinted with permission. See the original article here and leave some comments! 
By  MARK ALEXANDER January 3, 2022 in Armed Forces/Military Service A man of God and American Patriot. A quiet man and humble man, Gary Beikirch, departed this life for the next on 26 December, becoming the third Medal of Honor recipient we said farewell to in 2021, after the deaths of T/Sgt. Charlie Coolidge and Lt. Col. Chuck…
By  MARK ALEXANDER January 3, 2022 in Armed Forces/Military Service A man of God and American Patriot. A quiet man and humble man, Gary Beikirch, departed this life for the next on 26 December, becoming the third Medal of Honor recipient we said farewell to in 2021, after the deaths of T/Sgt. Charlie Coolidge and Lt. Col. Chuck…