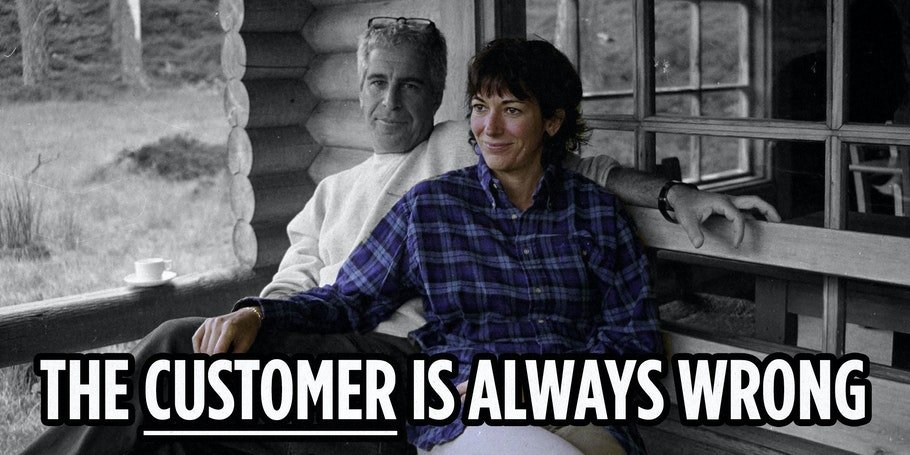 Ghislaine Maxwell: Guilty as Charged. Now What?
Now what? That's the question.
Now that Ghislaine Maxwell has rightly been found guilty by a jury on five of six federal counts related to the illegal sex trafficking of underage girls on behalf of her billionaire financier pedophile boyfriend, Jeffrey Epstein, to be used for the sexual pleasure of Epstein and his many wealthy and influential friends, the question is: What will become of those friends, those clients, those customers, those end-consumers of the Epstein-Maxwell sex-trafficking enterprise?
Regular folks want to know. Regular folks — like the millions who obey the laws of the land under penalty of criminal prosecution. We suspect even those who don't obey the laws want to know. After all, we're not talking about unpaid parking tickets. We're not even talking about tax evasion. We're talking about the sexual violation of our daughters.
Maybe that's just not a big deal to Joe Biden's Department of (Two-Tiered) Justice.
Setting up and tracking down and obsessing endlessly over those January 6 troublemakers and sightseers, though? That's a big deal.
The jurors reached their decision after deliberating five days. One of the five charges that stuck to Maxwell was sex trafficking of a minor, which can carry a maximum of 40 years in prison. The other convictions carry a maximum of 5-10 years. This means she could spend the rest of her life in prison.
"A unanimous jury has found Ghislaine Maxwell guilty of one of the worst crimes imaginable — facilitating and participating in the sexual abuse of children," said U.S. Attorney for the Southern District of New York Damian Williams. "Crimes that she committed with her long-time partner and co-conspirator, Jeffrey Epstein. The road to justice has been far too long. But, today, justice has been done."
Or has it? The two pimps, Epstein and Maxwell, have been held to account. But what about all the well-to-do johns? What about their instrumental roles in these horrible sex crimes? Maxwell, for her part, appears unwilling to trade the names of these customers for a lighter sentence.
Former Utah Congressman Jason Chaffetz reacted to the verdict by making this very point: "I'm glad she's going to essentially spend the rest of her life in jail," he said. "But there's also a lot more to this story. … There are a lot of other people that were complicit. … If the federal government is going to do their job, they need to go after those people as well."
Unfortunately, we can probably learn a lot about the DOJ's unwillingness to get to the bottom of the Epstein affair by considering its recent move to drop its case against two Bureau of Prison workers who admitted to falsifying logs after having been accused of sleeping and surfing the Web when they should've been watching over Epstein the night he (ahem) killed himself in his jail cell. Why would they do this? Why not squeeze these guards to find out why they behaved so irresponsibly and suspiciously?
As our Emmy Griffin noted last month, the trial judge, Alison Nathan, was a Barack Obama appointee who was recently promoted by Joe Biden; disgraced former FBI Director James Comey's daughter was the lead prosecutor in the case; and former President Bill Clinton had several dealings with Epstein, including multiple trips on his private jet. The trial wasn't public, the media were barred from the courtroom, and certain parts of the record were redacted to protect the privacy of certain people. So much for justice being blind.
Department of Justice: What say you?
~~~
~~Reprinted with permission. See the original article here and leave some comments! 
Now what? That's the question. Now that Ghislaine Maxwell has rightly been found guilty by a jury on five of six federal counts related to the illegal sex trafficking of underage girls on behalf of her billionaire financier pedophile boyfriend, Jeffrey Epstein, to be used for the sexual pleasure of Epstein and his many wealthy…
Now what? That's the question. Now that Ghislaine Maxwell has rightly been found guilty by a jury on five of six federal counts related to the illegal sex trafficking of underage girls on behalf of her billionaire financier pedophile boyfriend, Jeffrey Epstein, to be used for the sexual pleasure of Epstein and his many wealthy…