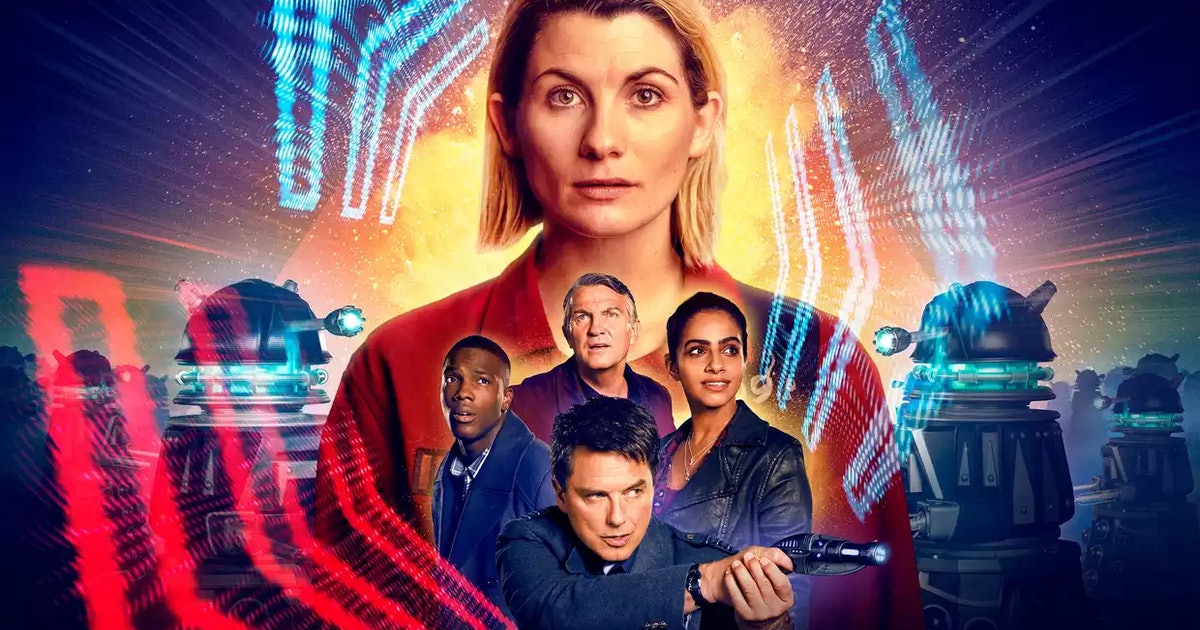 'Doctor Who' Season 13 release date, trailer, Christmas special, and more
This article about Season 13 of the sci-fi series Doctor Who was originally published on March 23, 2020 and updated on January 1, 2022 following the release of the season on BBC One. Read on for the original article, with some new changes to reflect the latest updates on this topic.
It had seemed like an eternity since Doctor Who changed everything with its mind-blowing Season 12 finale. But after its typical Christmas Special, Season 13 came back in a brand-new way, with a shortened season and a unique way of storytelling for the Doctor's adventures. Here's everything to know about the 58th year of the historic sci-fi series.
When was Doctor Who renewed for Season 13?
News about Doctor Who Season 13 was confirmed when showrunner Chris Chibnall told Entertainment Weekly in early 2020 he would be helming the thirteenth season with the Thirteenth Doctor.
However, all those thirteens have led to an inauspicious sign — due to COVID-19 filming restrictions in the United Kingdom, Chris Chibnall confirmed to Radio Times Season 13 would have a fewer number of episodes.
Who's in the cast for Doctor Who Season 13?
Jodie Whitaker returned for her third season as The Doctor. Mandip Gill also returned as companion Yasmin Khan. Unfortunately, that is the last that stayed constant from previous seasons. Bradley Walsh and Tosin Cole left the series during the "Revolution of the Daleks" Christmas special. John Bishop instead joined them as Dan Lewis.
The Christmas special also saw the return of a fan-favorite character: Captain Jack Harkness. Captain Jack, played with lovable smarm by John Barrowman, briefly appeared with a grim warning in the Season 12 episode "The Lone Cyberman." Other returning characters for Season 13 include Jo Martin as the Fugitive Doctor (last season in Season 12's "The Timeless Children") and Jemma Redgrave as U.N.I.T. member Kate Lethbridge-Stewart.
When did the Doctor Who 2020 Christmas special air?
Though technically considered a part of Season 12, Doctor Who stuck to tradition with its annual Christmas special. Airing on New Year's Day, "Revolution of the Daleks" involves a shell of a reconnaissance Dalek arriving on Earth and being used in defense weapons that certainly leads to no good. This special featured the final appearances of Bradley Walsh and Tosin Cole as Graham O'Brien and Ryan Sinclar, respectively.
When was the Doctor Who Season 13 release date?
Doctor Who Season 13 premiered on Halloween night (October 31) 2021.
How many episodes were in Doctor Who Season 13?
Due to the coronavirus pandemic, Doctor Who had to take several measures to get the season in the can. That includes significantly reducing the episode count. While Seasons 11 and 12 (the first two with Jodie Whitaker) had ten episodes, Season 13 was reduced to 6.
What happened in the Doctor Who Season 12 finale?
The Season 12 finale was an eventful one, to say the least. After being imprisoned by The Master, The Doctor was told her entire origin story was a lie: She was a lost child found by a Gallifreyan space explorer named Tecteun, who experimented on her, harnessing her regeneration power and spreading it to all Gallifreyans, who then became the self-appointed Time Lords. The Doctor had her memory wiped to protect her, but now she knows all too well who she really is: the first of the Time Lords, the mythic "Timeless Child."
But wait, that's not all! After revealing all that backstory, The Master declared he killed all the Time Lords and used Cyberman technology to create a super race of cybernetic Time Lords, who can still regenerate and follow The Master's orders.
The Doctor escaped The Master and got her companions safely home, just in time to take a breather. In the closing moments of the finale episode, she's teleported into custody by the Judoon, the space police Rhino-form alien species. She just can't catch a break.
What's the plot of Doctor Who Season 13?
Doctor Who Season 13 marks a unique story for the series. It's the first time since the show was rebooted back in 2005 that all episodes in a season are part of one story, i.e., serialized. While other seasons have had one-, two-, or three-part episodes, all six parts of Season 13 were part of the same story. The season was even given a subtitle: "Flux."
The singular story of Season 13 deals with a titular universe-ending anomaly. It throws the Doctor, Yaz, and new companion, Dan, throughout space and time. Simultaneously, a number of the Doctor's enemies from over the years, from the Weeping Angels to the Daleks to the Cybermen, come together to take over the Earth. Season 13 also sheds more light on the mysterious Division, which was introduced back in Season 11
Is there a trailer for Doctor Who Season 13?
Yes! The trailer was dropped in October 2021, only a couple of weeks before Doctor Who Season 13 premiered. You can watch it below as it highlights "one epic story over six thrilling chapters."
Was Doctor Who renewed for Season 14?
While Doctor Who is all but confirmed for Season 14, it will be a while before we see it. That's because 2022 will feature three specials that will be used to close out the journey of Jodie Whitaker as the Doctor. The final one, which will see her regenerate into a yet-unknown actor, will air in late 2022 to coincide with the 100th anniversary of the BBC.
When Season 14 does premiere (most likely in 2023 or 2024), a new person will be taking the sonic screwdriver as the Doctor. But a familiar face will be returning behind the camera. Russell T. Davies, who helmed the Doctor Who reboot for its first few seasons, is returning as showrunner, taking over from Chris Chibnall. His first priority? The 60th anniversary special, which falls in November 2023.
Doctor Who Season 13 premiered on October 31, 2021.
This article was originally published on
This article about Season 13 of the sci-fi series Doctor Who was originally published on March 23, 2020 and updated on January 1, 2022 following the release of the season on BBC One. Read on for the original article, with some new changes to reflect the latest updates on this topic. It had seemed like…
This article about Season 13 of the sci-fi series Doctor Who was originally published on March 23, 2020 and updated on January 1, 2022 following the release of the season on BBC One. Read on for the original article, with some new changes to reflect the latest updates on this topic. It had seemed like…