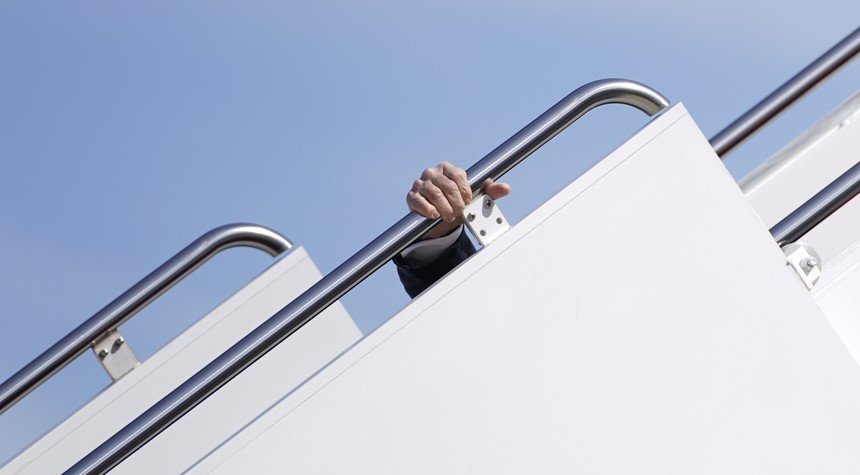 Thursday Newsfeed: Are We Going Out of 2021 With a Bang or With a Whimper?
Posted by Maggie on December 30, 2021 in From the editors
It's really been such a swell year. And Joe and his junta have really built us all back better, no? AmIright?
The Most Out of Touch With Reality Administration In History:
Twitchy: POTUS: One analyst has described 2021 as 'the strongest first-year economic track record of any president in the last 50 years' … Apparently Joe's hearing voices now. Unfortunately, it's his own … and it's leaning in and whispering.
We know old Joe's mental issues, but the issue with his puppet masters is either they are just this stupid, ignorant and clueless … or this is intentional deliberate deception coming out of the White House. Either way, it is incredibly dangerous…
Michael Lee: Biden mocked for celebrating historic 2021 economic record: Biden failed to cite which analyst made the claim, leading to some users to mock the president's claim
Chris Queen: Here's What Biden's Failure to Order Enough COVID Tests Could Mean for You
Dominic Green: Biden now owns the pandemic: 'There is no federal solution,' he says, which is not what he claimed in 2020
Everything is Racist, Especially When It's Not, But They'll Make It Racist, Dammit:
Twitchy: Deadspin turns racist in order to make an attempted hit on ESPN's Sage Steele
Graham Colton: Extra pay for non-White teachers 'racist,' an attempt to return to 'something dangerous': education activistCynthia Garrett ripped a Minnesota school board's policy Wednesday
VIDEO: Education activist slams school board pushing stipends for non-white teachers: Cynthia Garrett weighs in on a Minnesota school board voting to give non-white teachers 'additional stipends.'
Victoria Taft: Washington State Democrats Want Decreased Penalties for Drive-By Shooters Because… Aw, You Guessed
Andrew Mark Miller: Virginia teachers fire back after school district mulls implementing more 'equitable' grading system: The teachers say that the changes would negatively affect the push for equality
Mike LaChance: AZ State U. Students Disciplined For Harassing White Student Post Bizarre Video Accusing School of Racism: "We're being persecuted for defending our multicultural center from racism and sexism."
Robert Spencer: Yet Another Hate Crime Hoax, This Time in Maryland
"Eyes Wide Shut" Fauci is That Wad of Gum On the Bottom of Our Shoe in a Florida Parking Lot in August:
Twitchy: 'Sciencing so hard': Dr. Anthony Fauci explains to us non-experts why 'the decision was made' to cut COVID isolation period in half
Chris Queen: Fauci Stands to Rake in the Biggest Federal Retirement in History … Well, he's already the highest paid federal employee … who seriously believes he's the boss of us.
Twitchy: THIS IS THE END! MSNBC tries TERRIFYING the masses with Omicron segment but even the angry little COVID gnome Fauci disagrees
Lloyd Billingsley: Fauci's Wife Heads Department of Bioethics at NIH: Dr. Doom's colossal conflict of interest.
The COVID Manipulation is Growing:
Twitchy: People are wondering why Biden wears a mask to play with his dog on the beach 'but not in a crowded bookstore on Nantucket'
Why is the good doctor not wearing a mask? https://t.co/laItbyXa3m

— TheMorningSpew2 (@TheMorningSpew2) December 29, 2021
Not-so-long-ago-TBT (just a month ago)…
NYPost: Biden seen flouting mask-wearing rule at Nantucket store
Meanwhile, they admit they're coming for our kids…
The Hill: Child COVID-19 hospitalizations up nearly 400 percent in New York City
Except the hospitalized are roughly 50 kids, and then Dr. Mary Bassett says the "quiet part" out loud— and admits we are (STILL) being intentionally lied to after two years of COVID…
Reddit: New York State Department of Health Director Dr. Mary Bassett: Deceptively reporting the severity/frequency of Pediatric Covid cases was not to scare people but instead was meant "to motivate parents and pediatricians to vaccinate children"
NY health official admits the released that scary alert about increasing pediatric hospitalizations not because there's an actual issue, but just to "motivate" parents to vaccinate kids. https://t.co/AN2iMy6wLy

— Kelley K 😀 * covid-georgia.com (@KelleyKga) December 29, 2021
She says the numbers are very small—the reason they reported them? "It's really to motivate paediatricians and parents to seek the protection of vaccines"

— d'Artagnan (@shashanatasham) December 29, 2021
Here's the clip! pic.twitter.com/11HeYKQu6V

— Keep School Open (@KeepSchoolOpen) December 28, 2021
"Omicron & children" thread, for your bookmarking pleasure.

Let's start with this surprise gem from @nytimes

Omicron Is Not More Severe for Children, Despite Rising Hospitalizations

— NYC Angry Mom (@angrybklynmom) December 29, 2021
"In fact, preliminary data suggests that compared with the Delta variant, Omicron appears to be causing milder illness in children, similar to early findings for adults."

— NYC Angry Mom (@angrybklynmom) December 29, 2021
"We test anybody who's admitted to the hospital for whatever reason… we're definitely seeing an increase in cases. However, we're really not seeing an increase in children who are hospitalized for Covid or in the ICU for Covid," -Dr. Paul Offit, CHOP https://t.co/tzukmxx8h5

— Marty Makary MD, MPH (@MartyMakary) December 28, 2021
Again-again, when you hear the MSM and others panting about 'hospitals at-capacity/overrun' remember that availability of rooms/beds has been cut down because of the restrictions on healthcare workers cutting staff numbers. Yet, another manmade crisis, folks…
Peter Aitken: Some vaccine mandates may leave US vulnerable at home and abroad as omicron numbers surge: Some states have used National Guard to support depleted health care work forces
Emma Colton: Termination of unvaccinated health care workers backfires as Biden pledges help amid COVID surge: More than 30,000 health care workers are out of jobs in New York alone due to vaccine mandates
Thousands of doctors and nurses were fired over vaccine mandates. Just unbelievable. Another government created problem. https://t.co/i40joaTv2T

— Katie Pavlich (@KatiePavlich) December 27, 2021
If "hospital capacity" is the new goalpost – why not test all the fired health care workers for immunity and re-hire?

Let's not pretend these aren't the same health care workers that already worked thru the pandemic – without the vax.https://t.co/esvYIVmqIS

— Elisa Martinez (@elisa1121) December 21, 2021
The Hill: Growing use of at-home tests could lead to an undercount of omicron cases
JUST IN – Netherlands plans to inject people with "up to six doses" of COVID vaccine – Health Minister (Newsweek)

— Disclose.tv (@disclosetv) December 30, 2021
Twitchy: Jen Psaki announces $137 million of taxpayer money to make components for rapid tests we can already buy online from Europe if the FDA would let us
VIDEO: Will Cain: Fear, neurotic paranoia seem more rampant than early days of 2020 – The omicron panic is driving people insane.
Breitbart: Shut Down the Virus Treatment? Joe Biden Denies Monoclonal Antibody Treatments as States Experience Shortages
The most obnoxious form of post-COVID cope is gonna be the "Well, both sides were kinda wrong" thing the wrong people are gonna do.

No, both sides were not kinda wrong. Some of us were right about every single thing. You were wrong.

— Jesse Kelly (@JesseKellyDC) December 30, 2021
Debra Heine: Dr. Robert Malone, Renowned Physician and Inventor of mRNA Technology, Permanently Banned From Twitter
JUST IN – Robert Koch Institute report released today states that 95.58% of the #Omicron cases in Germany are fully vaccinated (28% of those had a "booster"), 4.42% are unvaccinated.

— Disclose.tv (@disclosetv) December 30, 2021
Twitchy: STOP THE PANIC! Mia Malan's detailed thread sharing actual DATA behind Omicron a must-read (and a must-SHARE)
A Hell of a lot of "there" there from top to bottom of every inch of this damn pandemic for these last two years. But the cover-up has many MANY blanket-throwers…
Why was Pfizer partnering with the Chinese Communist Party's platform for vaccine passports & social credit scores the year before the COVID-19 pandemic started? pic.twitter.com/9jjmR7CVTe

— Natalie Winters (@nataliegwinters) December 30, 2021
Natalie Winters: Pfizer Partnered With China's Vaccine Passport Platform, Admits Being 'Proud To Stand With China Leaders.'
Kristin Jensen (TBT 11-19-20): Pfizer strikes a deal with newly formed China biotech
MORE:
This is in New England, a very 'blue' region of the nation. Let that sink in…
Jessica Chasmar: Let's Go Brandon store chain to expand in New England: 'Business is very, very good': Chain owner Keith Lambert tells FOX Business he's opening two new locations to meet demand
Hard to choose, there were so many. And 'missteps' is waaaay too kind. It was ALL intentional…
Lindsay Kornick: The mainstream media's top 10 missteps in 2021: Media pundits and publications spun on inflation, critical race theory, and more
Your Grandpa's/Dad's democrat party is dead, buried and completely decomposed, folks…
Paul Steinhauser: Surge in House Democratic 2022 retirement announcements as 2021 comes to a close: House GOP leader Kevin McCarthy in August predicted the current wave of Democratic retirement announcements
Well, ya know, some 'domestic terrorists' are more equal than others…
Bradford Betz: Portland Antifa rioter charged with assaulting police has case dismissed after 30 hours community service: Portland, like other major U.S. cities, dealt with a wave of protests and social unrest in the summer of 2020
Twitchy: 'Merry Insurrectmas!' CNN is pleased to announce their upcoming January 6 commemorative event (featuring some very special guests!)
Too soon? No, not for the reality of a former prime career DC elitist who declared Americans are smelly…
T. Becket Adams: Harry Reid: Victory at any cost: Amoral.
The tech world is eating this generation alive…
WKBN: DEA releases emoji drug decoder: The Drug Enforcement Administration has released an "emoji drug code" guide the agency said can help provide readers "a better sense of how emojis can be used in conjunction with illegal drug activity."
Breitbart: Amazon Alexa's Deadly Electrocution 'Challenge' Suggestion to 10-Year-Old Has Origins in TikTok Trend
BONUS:
J.J. Sefton @ AoSHQ: National Divorce: Great Idea Except We'd Be Tina, They'd Be Ike
~~~
~~Many thanks to Maggie and The Universal Spectator for reprint permission.
Posted by Maggie on December 30, 2021 in From the editors It's really been such a swell year. And Joe and his junta have really built us all back better, no? AmIright? The Most Out of Touch With Reality Administration In History: Twitchy: POTUS: One analyst has described 2021 as 'the strongest first-year economic track record of any president in the last 50…
Posted by Maggie on December 30, 2021 in From the editors It's really been such a swell year. And Joe and his junta have really built us all back better, no? AmIright? The Most Out of Touch With Reality Administration In History: Twitchy: POTUS: One analyst has described 2021 as 'the strongest first-year economic track record of any president in the last 50…