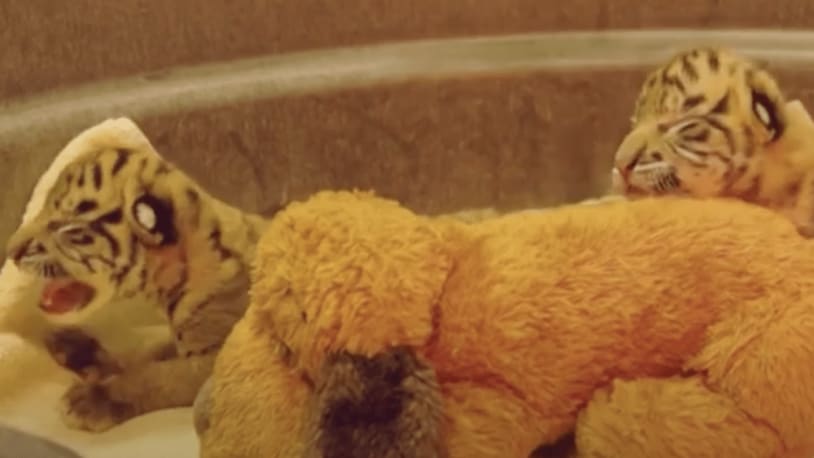 In a 'major win,' 2 Sumatran tiger cubs are born at the Dallas Zoo
It's cuteness overload at the Dallas Zoo, where two Sumatran tiger cubs were born earlier this month.
The healthy cubs — a male and a female — were born on Dec. 6, each weighing about 2 pounds, the zoo announced Monday. Their mom is Suki and their dad is Kuasa, making them full siblings to Sumini, a cub born over the summer. Sumini was the first tiger born at the Dallas Zoo since 1948. 
Because Suki is having trouble with milk production, the yet-to-be-named cubs are being cared for 24/7 by several zoologists and veterinarians. An estimated 400 to 600 Sumatran tigers remain in the wild, and the zoo said in a statement that "each birth is a major win for this critically endangered species," adding, "we're thrilled to be able to contribute to the population once again with these adorable new additions." 
It's cuteness overload at the Dallas Zoo, where two Sumatran tiger cubs were born earlier this month. The healthy cubs — a male and a female — were born on Dec. 6, each weighing about 2 pounds, the zoo announced Monday. Their mom is Suki and their dad is Kuasa, making them full siblings to…
It's cuteness overload at the Dallas Zoo, where two Sumatran tiger cubs were born earlier this month. The healthy cubs — a male and a female — were born on Dec. 6, each weighing about 2 pounds, the zoo announced Monday. Their mom is Suki and their dad is Kuasa, making them full siblings to…