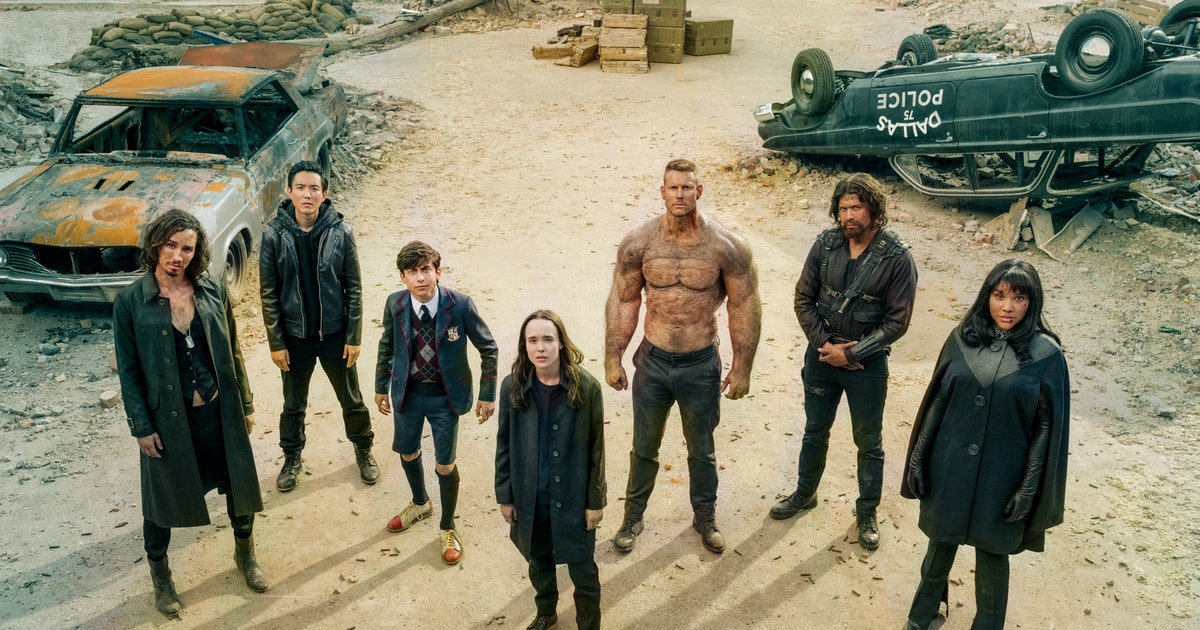 'Umbrella Academy' Season 3 release date, trailer, cast of the Netflix series
Powerful siblings unite! The Umbrella Academy Season 2 ended with the Hargreeves siblings facing down another apocalypse and actually succeeding. However, they found themselves in yet another conundrum that involved the effects of time travel, the mysterious dealings of their adoptive father Reginald, and several run-ins with the Commission, the agency that oversees and protects the timeline.
The Hargreeves — collectively known as the Umbrella Academy — believe they've finally stopped the apocalypse from happening and have gotten rid of the Handler, who attempted a coup within the Commission at the end of Season 2. However, upon successfully returning to 2019, they're met with some shocking changes to the timeline, including Reginald Hargreeves back from the dead and the Sparrow Academy. Whoops!
It's such a doozy of a cliffhanger that we can't even speculate what happens to the Umbrella Academy in this newly warped timeline. But here's everything we do know about The Umbrella Academy Season 3, including the plot, renewal information, and who in the cast will return.
Has Netflix renewed The Umbrella Academy for Season 3?
Yes! The Umbrella Academy is officially getting a third season. A production leak initially made the announcement, suggesting that the series would return to filming in early 2021. But Netflix officially confirmed the renewal in November 2020, four months after Season 2 debuted on Netflix on July 31. Season 3 began production in Toronto, Canada in February 2021 and will consist of ten one-hour episodes. Steve Blackman will also be returning as showrunner.
When is the release date for The Umbrella Academy Season 3?
While fans lay in wait for most of 2021, The Umbrella Academy surprised its fans with a video on its Netflix page in October 2021. The video confirmed that the series would be returning for Season 3 at some point in 2022. However, no outright premiere date has been confirmed as of yet.
What is the plot of Umbrella Academy Season 3?
The Umbrella Academy returns to an alternate timeline at the end of Season 2. The Commission is no longer in the hands of the Handler (or so we think), Lila has disappeared, and the Hargreeves return to see that Reginald (who's supposed to be dead) has created the Sparrow Academy with Ben (who's also supposed to be dead) as a member. Neither Ben nor Reginald have any recollection of the Umbrella Academy.
That's a pretty exciting setup for Season 3, with the Umbrella Academy attempting to figure out all the changes and where they went wrong. Season 3 will likely answer some mysteries left unresolved in Season 2, the first being the identities of the elusive Sparrow Academy.
Speaking with Inverse, The Umbrella Academy showrunner Steve Blackman teased that the Sparrow Academy members will be explored:
"I will only say this given the fact that some of this is in the graphic novel. But they are new people. They're not our characters. They are different people, and that's all I can really say."
What's more, with Reginald revealing himself as an alien creature, it's possible the Netflix series will address the nature of the Majestic 12, a secret society working behind the scenes throughout Season 2. Series star Tom Hopper told RadioTimes that Season 3 would be a "whole new world" for the siblings:
"We're now taking them into this whole new world where they're going to be tested in different ways." Co-star Robert Sheehan added that, "They have to, with no money in their pocket, make it work. That's what the siblings are dropped into."
Blackman has revealed the titles for all ten episodes in The Umbrella Academy Season 3. They are:
"Meet the Family"
"World's Biggest Ball of Twine"
"Pocket Full of Lightning"
"Kugelblitz"
"Kindest Cut"
"Marigold"
"Auf Wiedersehen"
"Wedding at the End of the World"
"Six Bells"
"Oblivion"
Blackman also followed up with explanations for a few of the titles. "Kugelblitz" is a real word that describes a radiation-created black hole. Blackman said "Marigold" would hold meaning for those who are fans of the graphic novel. Speaking of which, the finale title indicates that at least some portion of the season will be spent in Hotel Oblivion, an unsettling location seen in the third volume of the comics.
In short, fans should prepare for another wild plot for the Umbrella Academy to tackle in Season 3. Hey, at least they're not facing the end of the world again.
Who is in the cast of The Umbrella Academy Season 3?
As you can probably guess, the seven Hargreeves siblings will be back. Here is everyone confirmed to return for Season 3.
Ellen Page as Vanya Hargreeves
Tom Hopper as Luther Hargreeves
David Castañeda as Diego Hargreeves
Emmy Raver-Lampman as Allison Hargreeves
Robert Sheehan as Klaus Hargreeves
Aidan Gallagher as Five
Justin H. Min as Ben Hargreeves
Colm Feore as Reginald Hargreevs
Ritu Arya as Lila
Netflix has not confirmed the return of Jordan Claire Robbins as Grace (aka, Mom). Either her casting is a secret for now (she left at the end of Season 2), or she's not coming back at all. The latter would be a bit disappointing.
Additionally, a whole new group of characters will appear in the form of the Sparrows. Here's a list of all of the announced Sparrows from January 2021, courtesy of TVLine:
Justin H. Min as Sparrow #2. Min previously played Ben, but his new role was teased in the closing of Season 2. His teaser describes, "This is not the sweet Ben we know and love. This Ben is a Machiavellian tactician, wrapped up in a pretty boy body with a rumbling inner-squid. Vicious, pragmatic, and hyper-vigilant, Ben is determined to gain his status as the leader at all costs."
Justin Cornwell (The InBetween, CBS' Training Day) as Marcus aka Sparrow #1, a "charming, chiseled, colossus. Honest, virtuous, and demanding, Marcus keeps the family together. Graceful but lethal, calculated but compassionate, he is as smart as he is strong. Marcus is disciplined, rational and in control. He oozes confidence and leadership without ever having to raise his voice."
Britne Oldford (The Flash, The Path) as Fei aka Sparrow #3, who "sees the world in a special way. She comes across as a misanthrope who would rather be alone than spend even a second with you. But truth be told, Fei wishes she had a friend. Most of the time, Fei is the smartest person in the room and willing to work things out. But if you cross her there's no looking back because Fei won't stop until the job is done."
Jake Epstein (Designated Survivor, Suits) as Alphonso aka Sparrow #4. "Years of crime fighting have left his face and body with countless visual reminders of his battles," says his teaser. "To compensate, Alphonso is armed with a caustic and biting sense of humor. The only thing he likes better than verbally battering anyone foolish enough to get in his face, is a good pizza and a six-pack of beer."
Genesis Rodriguez (The Fugitive, Time After Time) as Sloane aka Sparrow #5, "a romantic and a dreamer who feels a higher cosmic calling leaving her eager to see the world and experience a life beyond her upbringing. But obligations to her family keep Sloane tethered to the Academy, as does her fear of crossing the family line. But Sloane has plans… and one day she might just be brave enough to act on them."
Cazzie David (Eighty-Sixed miniseries star/creator) as Jayme aka Sparrow #6, "a loner hidden under a hoodie. She doesn't say much because she doesn't have to. Jayme has a fear-inducing snarl. Catch a glimpse of it, and you'll run across the street to avoid what follows. Smart and sharp as a knife, she spends most of her time hanging with Alphonso, her only friend."
"Dread-Inducing Psykronium Cube" as Christopher aka Sparrow #7, "a telekinetic cube of unknown origin. He can turn the room freezing cold and induce paralyzing fear. He acts as the Sparrows' consulted oracle who hands out incredible advice and serves as the family mediator. Trustworthy, loyal, and is treated by the Sparrows like any other sibling, Christopher is a force to be reckoned with."
Is there a trailer out for The Umbrella Academy Season 3?
No. All we have is a teaser from the show's Netflix page. It doesn't show any footage from Season 3, but does announce a 2022 release date and shows a bell to indicate the setting of Hotel Oblivion. You can watch it below.
The Umbrella Academy Season 3 releases in 2022 on Netflix.
This article was originally published on
Powerful siblings unite! The Umbrella Academy Season 2 ended with the Hargreeves siblings facing down another apocalypse and actually succeeding. However, they found themselves in yet another conundrum that involved the effects of time travel, the mysterious dealings of their adoptive father Reginald, and several run-ins with the Commission, the agency that oversees and protects…
Powerful siblings unite! The Umbrella Academy Season 2 ended with the Hargreeves siblings facing down another apocalypse and actually succeeding. However, they found themselves in yet another conundrum that involved the effects of time travel, the mysterious dealings of their adoptive father Reginald, and several run-ins with the Commission, the agency that oversees and protects…