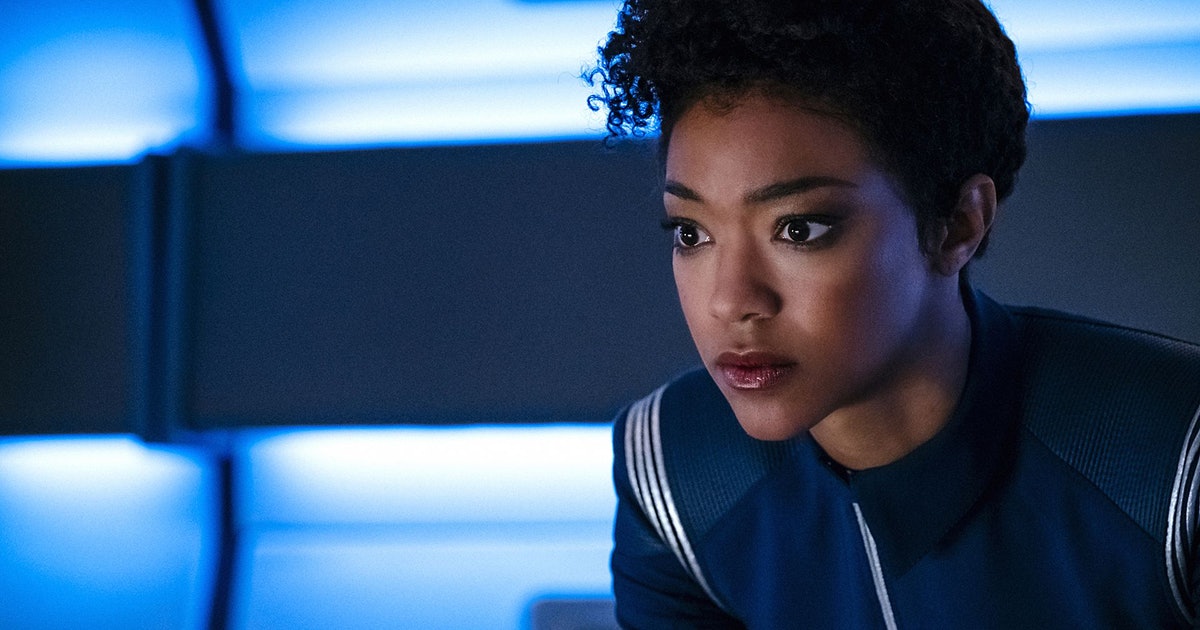 'Star Trek Discovery' Season 3 release date, trailer, cast, and timeline
This article about Season 3 of Star Trek: Discovery was originally published on February 25, 2020 and updated on December 26, 2021 following the release of the season on Paramount+. Read on for the original article, with some new changes to reflect the latest updates on this topic.
It was a long wait for fans of Star Trek: Discovery since the Season 2 finale aired in April 2019. But over the fall of 2020 and winter of 2021, Paramount+ (then CBS All Access) rolled out Season 3 of the sci-fi series. And it was a big one!
After a season spent hob-nobbing with Spock, Captain Pike, and Number One, Discovery's did something completely unprecedented for Trek, leaping nearly 1,000 years into the future. The crew said their farewells to everyone they know and love, but what awaits them at the other side of that wormhole? Here's everything to know about Season 3 of Star Trek: Discovery.
What happened in the finale of Star Trek: Discovery Season 2?
In a desperate bid to thwart the malicious AI behind Section 31, known as Control, the crew of Discovery enter a wormhole that will take them 950 years into the future. In order to prevent anything like this from happening again, Spock suggests that Starfleet erase any reference to Discovery in its databases. The black-ops research vessel was already off the books – remember all that secret tardigrade and space fungus business in Season 1? But now, it's extra, extra off the books. Which is why no one in the Original Series era ever bothers to mention it.
Spock, bless his heart, never discussed his secret kinda-sister in three television seasons and seven feature films. (Did she meet Sybok? I guess we'll never know.) Truly, he's a Federation man through and through.
The Discovery crew also left Pike, Spock, and Number One in the 23rd century. However, this won't be the last we see of these characters. The popularity of Anson Mount's Pike, in particular, inspired an upcoming series Star Trek: Strange New Worlds, which focuses on the adventure of the Pike-era U.S.S. Enterprise.
When was the release date for Discovery Season 3?
Star Trek: Discovery Season 3 premiered on October 15, 2020. The season consisted of 13 episodes, the shortest one so far. The show aired through the holiday season and concluded on January 7, 2021.
Is there a trailer for Discovery Season 3?
Yep! The official trailer for Star Trek: Discovery Season 3 aired on September 8, 2020, a little over a month before the season premiered. You can watch it below.
What was the plot of Discovery Season 3?
Star Trek: Discovery Season 3 sent the titular ship ahead almost 1000 years to the year 3188. The latest series in Star Trek history, the crew finds that the universe is torn asunder. A cataclysmic event known as "The Burn" caused dilithium supplies to explode everywhere, destroying ships and galactic travel. Afraid of what could come next, planets everywhere lost faith in the Federation, leaving Starfleet just a shell of what it was.
Naturally, Discovery is there to fix it. The season revolves around the crew getting their bearings in the new time period. Simultaneously, they try to ingratiate themselves into the new version of the Federation in the hopes of making it what it once was. Then there's the little matter of figuring out the origin of "The Burn."
Who is in the cast of Discovery Season 3?
The majority of the Discovery crew returned for Season 3, including:
Sonequa Martin-Green as Michael Burnham
Doug Jones as Saru
Anthony Rapp as Paul Stamets
Mary Wiseman as Sylvia Tilly
Wilson Cruz as Hugh Culber
Rachael Ancheril as Nhan
Michelle Yeoh as Philippa Georgiou
Tig Notaro as Jett Reno
But a new time period brings in a slew of new characters. David Ajala joined the main cast as Cleveland "Book" Booker, a smuggler with empathetic abilities to connect to creatures. He joined up with Burnham after her arrival in the 32nd century. Blu del Barrio plays Adira Tal, a member of the Earth Defense Force. Ian Alexander plays Gray, their Trill boyfriend. Del Barrio and Alexander are the first non-binary and trans performers to play major characters in a Star Trek series, respectively.
Which cast members didn't return for Discovery Season 3?
The whole "950 years into the future" thing meant that a few familiar faces from previous seasons wouldn't come along for Season 3. Characters who we know have a future ahead in the 23rd century, like Pike, Number One, and Spock, obviously didn't make the trip to the distant future.
Mary Chieffo, who played the Klingon L'Rell, shared her farewells via Twitter, as did Jayne Brook, who played Admiral Katrina Cornwell. Someone who received less fanfare in departure was Shazad Latif's Ash Tyler. As he stayed behind to run Section 31, he was also sunset from the series.
Which Discovery cast members left during Season 3?
Interestingly, Discovery Season 3 also saw some cast members leave over the course of the season. With the brand-new environment of the 3100s, naturally, some characters found new paths to travel outside of Starfleet. Security officer Nhan was the first to depart, deciding to reconnect with her species.
But the larger spotlight went to Michelle Yeoh's Philippa Georgiou. The two-part episode "Terra Firma" had a mysterious anomaly allowing her to relive one of her days in the Mirror Universe. Due to medical issues from being part of another universe, she left the ship and the show. Initially, it was assumed she would be doing so for an upcoming Section 31 spinoff. But it has since been announced that the series has been put on ice until other Trek series have been sunset.
Has Star Trek: Discovery been renewed for Season 4?
Yes! Shortly after Season 3 premiered, in October 2021, CBS announced that Star Trek: Discovery would be coming back for a fourth season. Season 4 premiered on November 18, 2021.
Star Trek: Discovery Seasons 1-4 are available now on Paramount+.
This article was originally published on
This article about Season 3 of Star Trek: Discovery was originally published on February 25, 2020 and updated on December 26, 2021 following the release of the season on Paramount+. Read on for the original article, with some new changes to reflect the latest updates on this topic. It was a long wait for fans…
This article about Season 3 of Star Trek: Discovery was originally published on February 25, 2020 and updated on December 26, 2021 following the release of the season on Paramount+. Read on for the original article, with some new changes to reflect the latest updates on this topic. It was a long wait for fans…