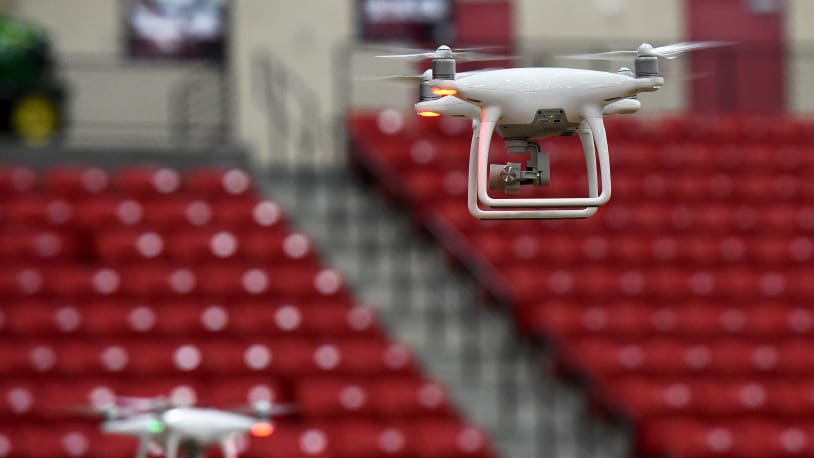 Drone wars: U.S. imposes new sanctions on China
The smartest insight and analysis, from all perspectives, rounded up from around the web:
New restrictions on a key dronemaker show how serious the U.S. is about cutting its reliance on Chinese technology, said Bruce Einhorn and Todd Shields in Bloomberg. China's DJI Technology is "the world's top producer of unmanned aerial vehicles" and controls "more than half of the U.S. drone market." But the Treasury Department last week added DJI and seven other Chinese tech companies to a growing "blacklist," blocking it from receiving any U.S. investments. Though DJI is a private company, it "has become the poster child for a much wider national security threat" — China's "ability to obtain sensitive data on millions of Americans," as "everything from cars to yoga mats to toilets are now transmitting data." Harnessing that information is viewed as a "key to dominating technologies like artificial Intelligence" — and "exploiting weaknesses in strategic foes." The move against DJI echoes how the U.S. started its campaign against Huawei, China's leading phonemaker, said Gina Chon in BreakingViews. But "it was relatively easy to make" the Chinese telecom disappear from the U.S., because it was just making its first inroads. DJI is a different story. "More than 900 U.S. public safety agencies use its products," including the New York Police Department, making a commercial ban "unrealistic."  The pressure to disengage, though, comes from both countries, said the Financial Times in an editorial. China pressured Didi to delist shortly after it "launched the biggest listing of a Chinese company since Alibaba in 2014," and has allowed a "slow unraveling" of property giant Evergrande, which defaulted on debts held by foreign investors. The moves seem to be part of "a bulwark" against "mistrusted foreign forces" as Beijing constructs a new "Fortress China."
Fine — let's shut our doors to China, too, said Henry Olsen in The Washington Post, even if it hurts corporate profits in the short term. U.S. companies are now "self-censoring anything that might offend the Communist Party of China." It was reported recently that Apple secretly agreed to a $275 billion deal in 2016 to buy more Chinese-made components in return for reduced Chinese regulatory pressure. That and "hundreds of other corporate decisions" have helped China design weapons systems "more sophisticated than our own." Our addiction to China's cheap goods is "endangering our national security." China is not a stable market for U.S. corporations, anyway, said Desmond Lachlan in The Hill. President Xi Jinping's recent "clampdown on the high-tech sector" in the pursuit of "common prosperity" threatens China's future growth. Meanwhile, the country's property sector is imploding. "One has to wonder whether the Chinese economy might prove to have clay feet."
The U.S. still should fear China's technological gains, said Graham Allison and Eric Schmidt, the former CEO of Google, in The Wall Street Journal. Experts say it "could soon be the global leader" in artificial intelligence, semiconductors, 5G wireless, quantum computing, biotechnology, and green energy — if it doesn't already hold the dominant position. The U.S. holds sway in aeronautics, medicine, and nanotechnology, but China has "emerged as a serious competitor" in these fields, too. Lawmakers are just "beginning to wake up to this reality."
This article was first published in the latest issue of The Week magazine. If you want to read more like it, you can try six risk-free issues of the magazine here.
The smartest insight and analysis, from all perspectives, rounded up from around the web: New restrictions on a key dronemaker show how serious the U.S. is about cutting its reliance on Chinese technology, said Bruce Einhorn and Todd Shields in Bloomberg. China's DJI Technology is "the world's top producer of unmanned aerial vehicles" and controls…
The smartest insight and analysis, from all perspectives, rounded up from around the web: New restrictions on a key dronemaker show how serious the U.S. is about cutting its reliance on Chinese technology, said Bruce Einhorn and Todd Shields in Bloomberg. China's DJI Technology is "the world's top producer of unmanned aerial vehicles" and controls…