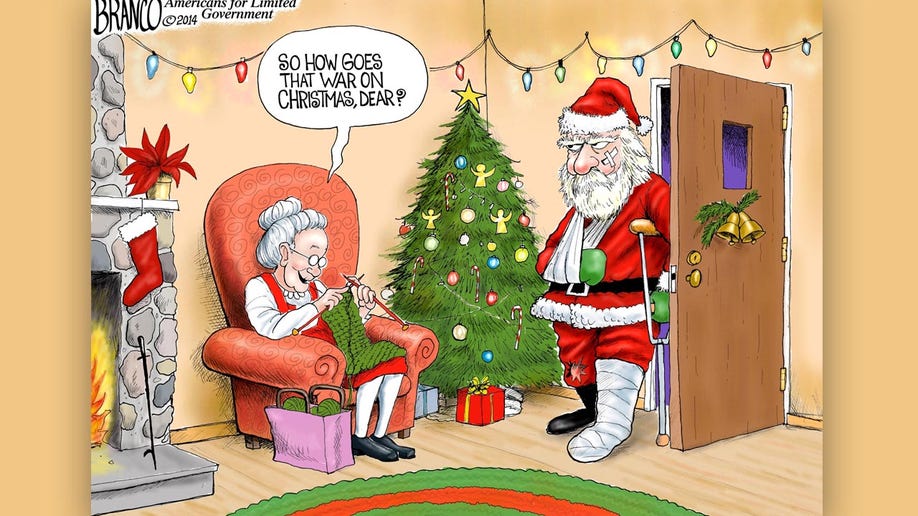 Friday Newsfeed: Santa's Checking His List
Posted by Maggie on December 24, 2021 in From the editors
It's been a tough year on Santa too. Masking over that beard. Supply chain messes. Inflation. Way higher fuel prices. Here's hoping Santa won't get grounded tonight…
Adam Sabes: SLEIGH IT AIN'T SO: Major airlines forced to CANCEL Christmas trips as nationwide COVID surge triggers staffing problems
And Counting: At least 1800 flights worldwide have been canceled so far…
Buyer's remorse a Christmas too late…
Andrew Mark Miller: Home Alone Joe: Biden's popularity sinking in the White House as unhappy staffers plan post-holiday exit: Biden and Harris are both polling underwater as the year comes to an end
Yael Halon: Tammy Bruce: 'Chaos and confusion' at the White House has staffers considering jumping ship
Twitchy: NY Times report on Kamala Harris blaming racism/sexism for negative coverage contains a 'damning' claim from a Dem Rep
Kamala Harris, who was picked to be Vice President because she's a black woman, is now complaining that she's being treated unfairly by the media because she's not a white man. This was eminently predictable. It's also why Democrats have to nominate her for president in 2024.

— Clay Travis (@ClayTravis) December 23, 2021
If Democrats don't nominate Kamala — presuming Biden doesn't run in 2024 — it will be racist & sexist of them to pick someone else. This is how identity politics works. Kamala will get destroyed by any Republican candidate in 2024 & it will deal a death blow to identity politics.

— Clay Travis (@ClayTravis) December 23, 2021
Two caveats: 1. Biden already said he'd put a black woman on the Supreme Court so Kamala could be his choice here. 2. A different minority woman might be able to beat out Kamala without it being sexist and racist to exclude her from the nomination. But Democrats are screwed here.

— Clay Travis (@ClayTravis) December 23, 2021
Two caveats: 1. Biden already said he'd put a black woman on the Supreme Court so Kamala could be his choice here. 2. A different minority woman might be able to beat out Kamala without it being sexist and racist to exclude her from the nomination. But Democrats are screwed here.

— Clay Travis (@ClayTravis) December 23, 2021
Jim Hoft: Wow! Even 41% of Democrats Believe It Somewhat Likely That Cheating Affected Outcome of 2020 Presidential Election
Matt Leach: Americans tell Fox News what they want from President Biden for Christmas: Solving the COVID crisis and finishing wall at Southern border top asks for Christmas
Twitchy: WH invited a bunch of nurses to do cringy Christmas lip-synching routine, so our 'winter of severe illness and death' can't be *that* bad, right?
Cringy grinchy Grinches…
"At its heart, wokeness is divisive, exclusionary, and hateful. It basically gives mean people a shield to be cruel, armoured in false virtue." ~ Elon Musk.
Tyler O'Neil: Parents outraged after teacher mocks 'bigots,' 'evangelicals' in Dr. Seuss-style poem at school board meeting: The poem claimed that 'evangelicals' and 'bigots' oppose reading books because parents objected to books with sexual content
"Everyone in Leander liked reading a lot/ but some evangelicals in Leader did not," … "These kooks hated reading, the whole reading season./ Please don't ask why, no one quite knows the reason./ It could be perhaps critical thinking causes fright./ It could be their heads aren't screwed on just right./ But whatever the reason, their brains or their fright,/ they can't follow policy in plain black and white."

"These bigots don't get to choose for us, that's clear./ Then how, I am wondering, did we even get here./ They growl at our meetings, all hawing and humming,/ 'We must stop this indoctrination from coming!'/ They've come for the books and the bonds and what for?/ Their kids don't even attend Leander schools anymore./ Bring back our books, maintain decorum, good grief./ Wouldn't it be nice to have a meeting in peace?"
Nice, huh? But at these meetings parents aren't allowed to read aloud passages from the CRT classroom materials or from the clearly XXX-rated garbage books in the school libraries.
Twitchy: 'Deplatform White Parents': BuzzFeed looks at how the media framed 'debates' over trans issues and critical race theory
Twitchy: Abigail Shrier shares Boston College professor's troubling request for help 'creating a program to train high school staff in gender-affirming practices'
Ellie Gardey: Pramila Jayapal: The Loser of the Year: Everything she does creates catastrophe for the Democrats.
Kevin Downey, Jr: Santa's List of Naughty Commie Scumbags: Who Dare to Call Themselves Americans
Ronn Blitzer: The most memorable political gaffes of 2021: 2021 had more than its fair share of awkward moments in politics
Brian Flood: CNN and the terrible, horrible, no good, very bad year: Network's 2021 mishaps and gaffes go far beyond those of a typical mainstream news organization
Kelsey Koberg: Mainstream media treats Republican and Democrat women differently: This is how to react – Morgan Ortagus told Fox News Digital that results mean more than any magazine cover could
Stephen Moore: Green energy firms the biggest corporate welfare recipients ever: No other industry in American history has ever received this lucrative a paycheck
John D. O'Connor: Can A Struggling America Afford Costly Climate Hysteria? Is climate religion worth the destruction of our society?
DC: Rand Paul Announces 'Festivus Report' Found $52,598,515,585 In Government Waste
Matt Margolis: China Will Never Be Held Accountable for COVID—Not By This Administration.
Michael Walsh: Merry Christmas from the Great Resetters
BONUS:
What a difference the COVID era makes in politics. From COVID to the nation's crime rate to inflation to behind the door dust-ups with the Prezy and the Veep staffs, the MSM and the left assume a totally alien thought process and language when it's a dem.
This example and reminder from TUS contributor Honey:
Repeating one of the left's revolting lies so you will recognize it for all time, Honey reminds us that the President and First Lady have sat next to the honorees at Kennedy Center Honors every year since this began.

In 2017, when it came time for Trump and his gorgeous First Lady to sit there, EVERY honoree announced in advance that if Trump tried to put the ribbon on, each would walk out. They also said if Trump showed up sitting next to them at the Kennedy Center, EVERY ONE of the honorees said he'd get up and leave.

Now if you were the President, what would you do? To avoid a scene, Trump did not tweet. He just didn't go.
The left soon after criticized Trump for being the first President to stay away. With no context about why.
As if they knew in advance, when Biden and Dr. Jill were introduced, cameras found audience members who were showing gratitude and celebration that we have a new and better president at last.
And not to be outdone, and again with no context, David Letterman made a snarky remark about how good it is to see a president sitting there at the Kennedy Center Honors again.
I am getting sick of these lying bastards. Aren't you?
I often wonder who are the fools who vote in polls FOR Biden. A lot of them were there that night.
MORE:
VIDEO: Grocery store shoppers react to increasing prices
Cortney Moore: Most popular Christmas recipes on TikTok revealed: 'Grinch brownies' and other viral favorites: Jack & Beyond Christmas Cakes found which Christmas foods, drinks and desserts will be hot items this holiday season
~~~
~~Many thanks to Maggie and The Universal Spectator for reprint permission.
Posted by Maggie on December 24, 2021 in From the editors It's been a tough year on Santa too. Masking over that beard. Supply chain messes. Inflation. Way higher fuel prices. Here's hoping Santa won't get grounded tonight… Adam Sabes: SLEIGH IT AIN'T SO: Major airlines forced to CANCEL Christmas trips as nationwide COVID surge triggers staffing problems And Counting: At least…
Posted by Maggie on December 24, 2021 in From the editors It's been a tough year on Santa too. Masking over that beard. Supply chain messes. Inflation. Way higher fuel prices. Here's hoping Santa won't get grounded tonight… Adam Sabes: SLEIGH IT AIN'T SO: Major airlines forced to CANCEL Christmas trips as nationwide COVID surge triggers staffing problems And Counting: At least…