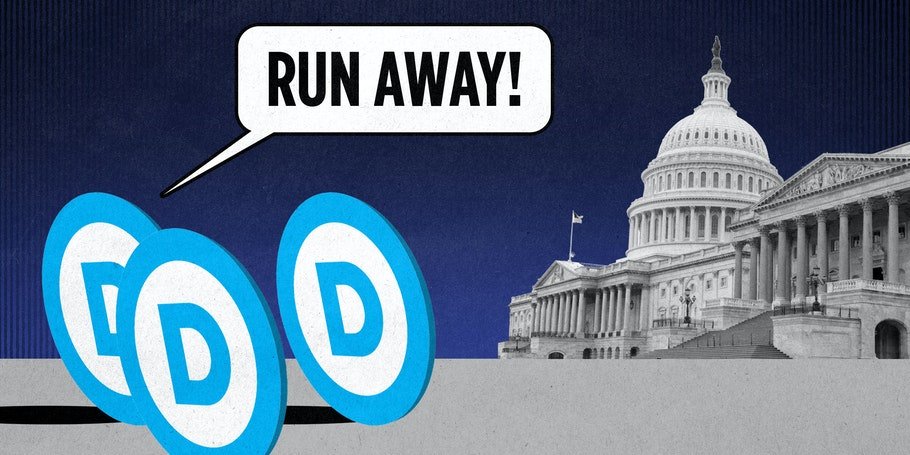 The Rats Are Fleeing the Democrats' Ship
By  DOUGLAS ANDREWS December 23, 2021 in Politics
There are no good tidings for the Democrat Party when it comes to next year's midterm elections.
There's never a good time to be a Democrat — unless, we suppose, you're up on rioting charges or your dad is the president — but now is a particularly bad time, especially for members of Congress.
Democrats can read a political opinion poll as well as anyone — like this one, or this one, or this one, or this one, or this one — and they're all saying the same thing: A wave is coming next November. A big wave. A tsunami.
Historically speaking, the first midterm election of a new administration tends to bring bad tidings for the party in power. Think Bill Clinton in 1994 and Barack Obama in 2010. Clinton lost 52 House seats and 8 Senate seats to Newt Gingrich and his Contract with America, while Obama lost 63 and 6 in what he accurately termed "a shellacking." Both of those presidents were young, capable, and charismatic. And neither of them rode into office amid an electoral controversy, nor lost a war, nor opened our southern border, nor turned a blind eye to rampant crime, nor bolluxed up the economy as badly as Joe Biden has.
Given all this, it's no wonder so many House Democrats are suddenly interested in, uh, spending more time with their families. As Fox News reports:
A trio of Democrats in the House of Representatives … on Monday said that they'll retire at the end of next year rather than seek another term in Congress in the 2022 midterm elections. The latest news brings to 23 the number of House Democrats who are retiring or bidding for another office rather than run for reelection in 2022, when their party tries to defend its razor-thin majority in the House amid historically unfavorable headwinds and a rough political climate. The GOP needs a net gain of just five seats in the 435-member chamber next year to regain the House majority it lost to the Democrats in the 2018 midterms.
On average, the party in power loses 25 seats in its first midterm. But this environment doesn't seem "average" at all. Of the five polls we linked to above, the last of them is the most stunning. That poll, from The Wall Street Journal, shows a particularly ominous shift in a crucial part of the electorate. Hispanics appear to be running away from the Democrats in droves.
"One year after giving Democratic House candidates more than 60% of their vote," the Journal reports, "Hispanic voters are evenly split in their choice for Congress. Asked which party they would back if the election were today, 37% of Hispanic voters said they would support the Republican congressional candidate and 37% said they would favor the Democrat, with 22% undecided."
As the Journal put it, this is "a troubling development for the Democratic Party, which has long counted on outsize Hispanic support."
You're telling us. As the Journal continues: "Hispanic voters were also evenly divided when asked about a hypothetical rematch in 2024 of the last presidential contenders, with 44% saying they would back President Biden and 43% supporting former President Donald Trump. In 2020, Mr. Biden won 63% support among Hispanic voters, nearly 30 points more than Mr. Trump, according to AP VoteCast, a large survey of the presidential electorate."
If Hispanics have a sitting president running neck-and-neck with a guy he beat by nearly 30 points just a year ago, he and his party are in big trouble.
Democrats, though, are opportunistic if nothing else. Given the writing on the wall, it's likely that they'll try to "accomplish" as much as they can before the citizenry gives them the gate. "Biden needs to lean on his executive authority now," shrieked Congresswoman Alexandria Ocasio-Cortez, who herself is Hispanic. "He has been delaying and underutilizing it so far. There is an enormous amount he can do on climate, student debt, immigration, cannabis, health care, and more. Time is running out — we need to move and use alternative paths."
We can certainly argue about the merits of her agenda, but we can't argue with her urgent tone.
Merry Christmas, Republicans. Don't screw this up.
~~~
~~Reprinted with permission. See the original article here and leave some comments! 
By  DOUGLAS ANDREWS December 23, 2021 in Politics There are no good tidings for the Democrat Party when it comes to next year's midterm elections. There's never a good time to be a Democrat — unless, we suppose, you're up on rioting charges or your dad is the president — but now is a particularly…
By  DOUGLAS ANDREWS December 23, 2021 in Politics There are no good tidings for the Democrat Party when it comes to next year's midterm elections. There's never a good time to be a Democrat — unless, we suppose, you're up on rioting charges or your dad is the president — but now is a particularly…