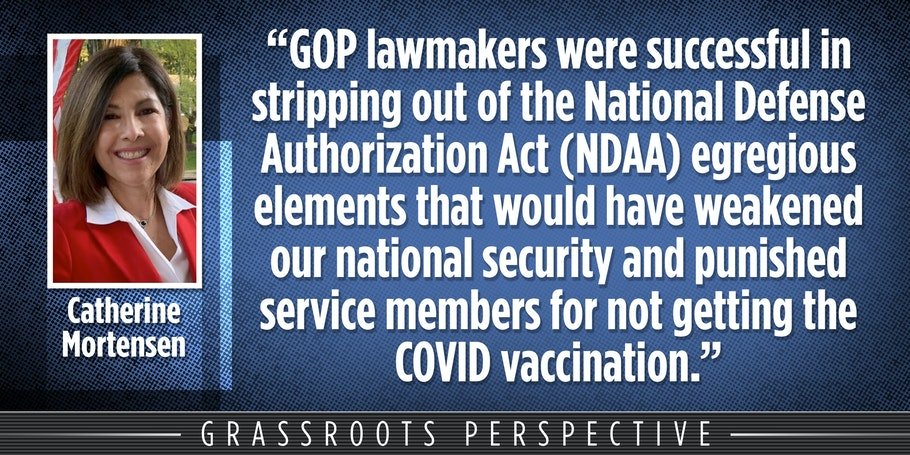 GOP Fights and Wins Battles to Protect Our Troops
By CATHERINE MORTENSEN December 23, 2021 in National Security
"What a difference Republicans can make in Congress by standing up and fighting!" ~~Richard Manning, President, Americans for Limited Government
Senate Republicans recently won several battles to protect our troops from the Biden/Pelosi/Schumer agenda. GOP lawmakers were successful in stripping out of the National Defense Authorization Act (NDAA) egregious elements that would have weakened our national security and punished service members for not getting the COVID vaccination.
Constitutionally charged with providing for the common defense of the United States, Congress each year takes up debate of a defense appropriations package to set the military's funding objectives for the following year.
The NDAA's initial framework included an assortment of controversial far-left provisions that were successfully removed.
The final bill sent to President Joe Biden's desk:
Prohibits Department of Defense (DOD) from dishonorably discharging service members and instead requires an honorable or general discharge under honorable conditions, which will retroactively apply to the date of the DOD COVID-19 vaccine order and be in place for at least two years;
Prohibits Biden from closing the terrorist prison at Guantanamo Bay, Cuba (GTMO), transferring detainees from GTMO to the US, and/or building a facility in the US to house terrorist detainees;
Establishes an independent commission to review the entirety of the Afghanistan War, including the disastrous withdrawal, and present finding and recommendations to Congress while prohibiting DOD from providing any financial support to the Taliban;
Continues funding for the deployment of National Guard to the southern border;
Requires DOD and the Director of National Intelligence to assess the involvement of the Chinese Communist Party in the origins of COVID-19;
Does not limit the Second Amendment rights of Americans;
Does not require women to register for the draft;
Does not establish an Office of Extremism within DOD or make troops take training courses on extremism, and
Does not provide the DC Mayor with the same authorities as a governor of a state regarding authority over the National Guard.
Senator James Lankford (R-OK) said in a press release the bill "gives members of the military a raise, protects service members from dishonorable discharge if they choose not to get the COVID-19 vaccine, rejects forcing women to sign up for the draft, and blocks 'woke' training for our services members, and allows them to prioritize the mission. We should always work toward a defense bill that focuses on our military missions and readiness, not a progressive political agenda."
Americans for Limited Government President Richard Manning noted that congressional Republicans thwarted President Joe Biden, Nancy Pelosi, and Chuck Schumer from "fundamentally transforming" our military.
"Congressional Republicans won some important battles to minimize the damage that Democrats intended," Manning said. "Believe it or not, the Democrats sought to slip in language that would have made women vulnerable to any future military draft. Republicans stopped them. GOP members also won a victory by stopping the Pentagon from dishonorably discharging our service members who objected to and refused to get the COVID vaccination."
Manning added: "Democrats sought to indoctrinate our troops with the false narrative that America is a systemically racist country and then ask those same troops to go and die for that country. It is just insane. But this … victory shows what a difference Republicans can make in Congress by standing up and fighting!"
~~~
~~Reprinted with permission. See the original article here and leave some comments! 
By CATHERINE MORTENSEN December 23, 2021 in National Security "What a difference Republicans can make in Congress by standing up and fighting!" ~~Richard Manning, President, Americans for Limited Government Senate Republicans recently won several battles to protect our troops from the Biden/Pelosi/Schumer agenda. GOP lawmakers were successful in stripping out of the National Defense Authorization Act…
By CATHERINE MORTENSEN December 23, 2021 in National Security "What a difference Republicans can make in Congress by standing up and fighting!" ~~Richard Manning, President, Americans for Limited Government Senate Republicans recently won several battles to protect our troops from the Biden/Pelosi/Schumer agenda. GOP lawmakers were successful in stripping out of the National Defense Authorization Act…