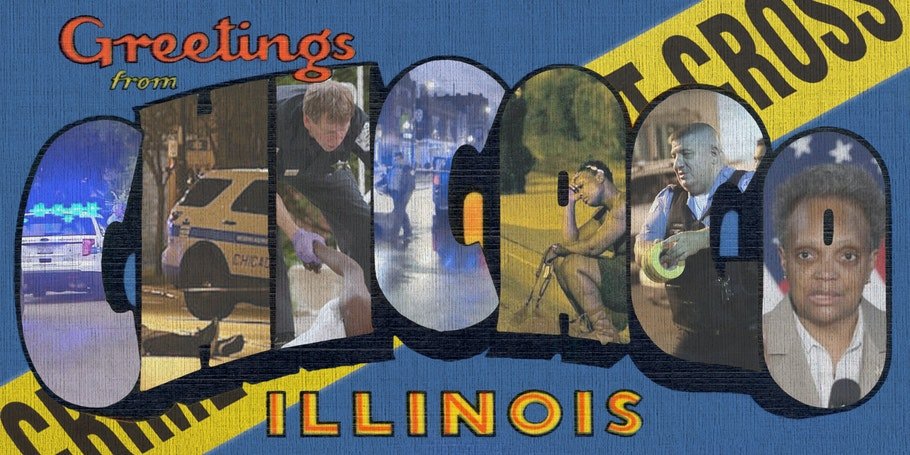 Corruption Has Pushed Chicago to the Brink
By EMMY GRIFFIN  December 23, 2021 in Crime
The mayor asks the DOJ for help with rising crime, and Kim Foxx is brought to task.
Today's story of Chicago is twofold. One the one hand, you have a city spiraling out of control. Crime and killings are compounded with willful corruption and a mule-like stubbornness of its leaders who either won't or can't acknowledge their failing policies. On the other hand, you have the blatant malfeasance of the Cook County state's attorney, who is trying to excuse and bury the obvious hate-crime hoax of Jussie Smollett.
Mayor Lori Lightfoot gave a 40-minute speech to the citizens of Chicago on Monday. She informed them that she was just as troubled by the rising crime rate as were they. Chicago has reached 777 homicides so far this year, surpassing last year's 769. There have been 4,270 shooting victims, considerably more than last year's record of 3,930.
Lightfoot declared that she had asked the Department of Justice for help. In her plea, she asked U.S. Attorney General Merrick Garland to send agents from the Bureau of Alcohol, Tobacco, Firearms and Explosives. These agents would help with stripping the city's criminal element of illegal guns.
This is ironic because when President Donald Trump offered help last year, Lightfoot scornfully wrote him a letter, saying, "What we do not need, and what will certainly make our community less safe is secret, federal agents deployed to Chicago." She proceeded to demand that Trump help with her other pet projects instead. It read more like a kidnapper's list of demands.
With fellow Democrat Joe Biden at the helm, she's singing a different tune. "Public safety has been, is and will continue to be my highest priority. Keeping you safe is my priority," she assured her constituents Monday. "I wake every morning with this as my first concern." If only her actions matched her words. Not 24 hours later, she announced that she was imposing COVID vaccination crackdowns that intentionally ostracize the unvaccinated. Recall that her oppressive vaccine mandates are a huge reason why her police force is short-staffed. Looks like the "Little Napoleon in pant suits" couldn't resist a chance to play dictator in spite of her suffering city.
Lori Lightfoot may be able to pin some of the blame for her ability to stop crime on Cook County State's Attorney Kim Foxx. Lightfoot doesn't have to get her hands dirty though — she just gets to watch with glee as her rival gets taken to task by Judge Michael Toomin and special prosecutor Dan Webb regarding her mishandling of the Smollett hate-crime hoax. There are allegations of ethics violations over false statements by Foxx in this particular case. Calls have been made for her resignation. Foxx has a history of not bringing charges to criminals when it was clear and obvious a crime had been committed. The Smollett debacle was just the latest and most high-profile of her apathy toward prosecuting crime.
Chicago itself has a congenital dilemma with electing Democrats. The policies that have been entrenched by decades of leftists are never going to be undone by even a hypothetical Republican mayor because the supporting authorities won't help the figurehead. Of the 50-member city council, the majority are Democrats, and six aldermen are self-proclaimed socialists. The best formula for reforming the city would be a top-to-bottom change in the guard: A new mayor, new aldermen, and new prosecutors. That'll take more than a Christmas miracle.
~~~
~~Reprinted with permission. See the original article here and leave some comments! 
By EMMY GRIFFIN  December 23, 2021 in Crime The mayor asks the DOJ for help with rising crime, and Kim Foxx is brought to task. Today's story of Chicago is twofold. One the one hand, you have a city spiraling out of control. Crime and killings are compounded with willful corruption and a mule-like stubbornness…
By EMMY GRIFFIN  December 23, 2021 in Crime The mayor asks the DOJ for help with rising crime, and Kim Foxx is brought to task. Today's story of Chicago is twofold. One the one hand, you have a city spiraling out of control. Crime and killings are compounded with willful corruption and a mule-like stubbornness…