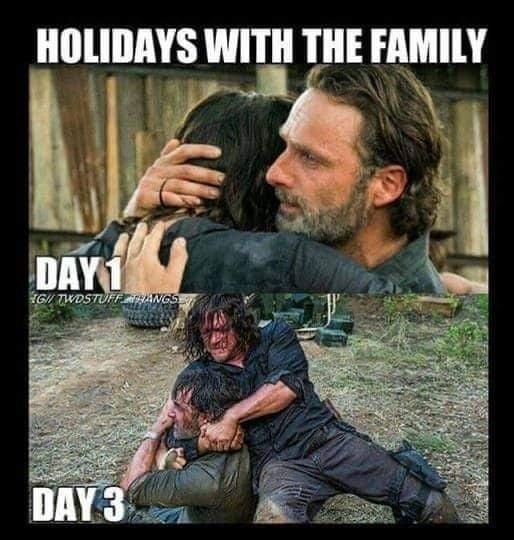 Wednesday Newsfeed: As We Gather with Kith and Kin for the Long Winter's Holiday Weekend…
Posted by Maggie on December 22, 2021 in From the editors
^^^Your Holiday Public Service Announcement^^^
You're welcome!
Let's all hope our Christmas cheer is better than this buck's disappointing encounter with reality…
The Dodo: Real Deer Isn't Amused By Rudolph Lawn Ornament
Ties in pretty good with the growing percentage of the nation not amused with the current situation:
Matt Margolis: White House Desperately Seeking Accomplishments to Brag About … Derp!
Jessica Chasmar: 2021 in political scandals: Biden's Afghanistan withdrawal, Trump impeachment, Cuomo brothers, and more: 2021 wasn't short on political scandals as the coronavirus pandemic continued to grip the world
Dom Calicchio: Biden, Democrats face grim findings in 2 new polls: President's approval rating among independent voters dropped by 8 points in just one week, according to poll
Jim Hoft: SIMPLY THE WORST: Joe Biden's Economic Ratings Are Worse than Jimmy Carter's
Nick Arama: It's Confirmed: Joe Biden Now Officially Worse Than Jimmy Carter
Mike Miller: Biden Support Among Independent Voters Swan-Dives Into Ratings Toilet
Timothy Nerozzi: Hispanic voters shift toward Republicans, now split evenly between both parties: poll – Hispanics 'becoming swing voters,' Democratic pollster warns
VIDEO: Economy remains key issue for Hispanic voters: Latino National Republican Coalition Chairman: Manny Rosales explained how inflation, mandates, and supply chain issues affect concerned Hispanic voting blocs.
Breitbart: Poll: Voters Favor Republicans to Control Senate, House in 2022: A recent poll revealed that registered voters prefer Republicans to have control of the U.S. Senate and the U.S. House of Representatives after the midterm elections.
Victoria Taft: Americans Fled 'Woke' States in 'Historic' Numbers in 2021 … AGAIN, do NOT continue to vote for the same crap people and crap policies that wrecked the states you left behind and ruin the sane state(s) you are now finding relief in.
Twitchy: 'They're just mocking you now': Jen Psaki's latest sneering dismissal of struggling Americans solidifies her status as 'a nasty piece of work'
The Nation's Surge in Crime Serves "For The Greater Good" #WOKE Purpose:
Emma Colton: Chicago small businesses suffer from crime plague with no 'effort' from city to stop it: Local Chicago businesses are being targeted by thieves this holiday season
Rick Moran: Chicago Mayor Lightfoot Begs Biden for Help After Turning Down Trump Offer for Assistance
Emma Colton: Biden's approval rating on crime tanks amid rise in smash-and-grab robberies: President Biden has 43% approval on his handling of crime back in October
Audrey Conklin: New Florida residents who fled high-crime cities praise DeSantis' policies: 'The governor has done a good job'
The Faux Must Go On, eh, Nan?:
Rick Moran: Pelosi and Dems Plan Day of 'Solemn Observance' and a 'Prayer Vigil' for January 6
Stephen Kruiser: Democrats Want Jan. 6 to Be a Holy Day for Their Dark Church
Jim Hoft: The Curious Case of 'Videographer' Baked Alaska: Marched and Filmed at the Charlottesville Tiki Torch March – Conversed with Ray Epps on Jan. 5 – Broke into Pelosi's Office on Jan. 6 to Film Faces – But Somehow Spared from Jail?
Meanwhile, he's an experienced General and ain't taking any of Nan's bullshit…
Robert Spencer: Gen. Michael Flynn Files Restraining Order Against Nancy Pelosi
Gen. Michael Flynn, who knows a thing or two about witch hunts, is taking action to stop the latest one. Naming all the members of the House Select Committee to Investigate the January 6th Attack on the United States Capitol as defendants, he has filed a complaint intended to stop a subpoena from that committee. At the same time, according to the Western Journal, Flynn "filed a motion for a temporary restraining order and preliminary injunction specifically" against House Speaker Nancy Pelosi (D-Smirnoff). It is always refreshing, and far too rare, to see someone fighting back against this latter-day American version of the Stalinist show trials…
Stephen Kruiser: The Morning Briefing: Michael Flynn vs. Granny Boxwine—Make Extra Popcorn
MORE:
Brandon Morse: Democrats are Desperately Trying to Convince You the Emperor Isn't Naked
Tucker Carlson: The Democratic Party is failing, so they are trying to ruin your Christmas: The good news is, it is not working, because this is still America
Gary Gastelu: NASCAR driver Brandon Brown addresses anti-Biden 'Let's go, Brandon' chant: Xfinity Series driver says he wants to highlight 'the problems we all share as Americans'
VIDEO: Brnovich: 'Americans will die' if border crisis isn't solved
BONUS:
The Babylon Bee does non-satire (legit) interview with Elon Musk…
Elon Musk just said he isn't "perverted enough" to be on CNN. 🤣 He should buy CNN and clean house.

— Susan St. James (@SusanStJames3_) December 22, 2021
~~~
~~Many thanks to Maggie and The Universal Spectator for reprint permission.
Posted by Maggie on December 22, 2021 in From the editors ^^^Your Holiday Public Service Announcement^^^ You're welcome! Let's all hope our Christmas cheer is better than this buck's disappointing encounter with reality… The Dodo: Real Deer Isn't Amused By Rudolph Lawn Ornament Ties in pretty good with the growing percentage of the nation not amused with the current situation: Matt Margolis: White…
Posted by Maggie on December 22, 2021 in From the editors ^^^Your Holiday Public Service Announcement^^^ You're welcome! Let's all hope our Christmas cheer is better than this buck's disappointing encounter with reality… The Dodo: Real Deer Isn't Amused By Rudolph Lawn Ornament Ties in pretty good with the growing percentage of the nation not amused with the current situation: Matt Margolis: White…