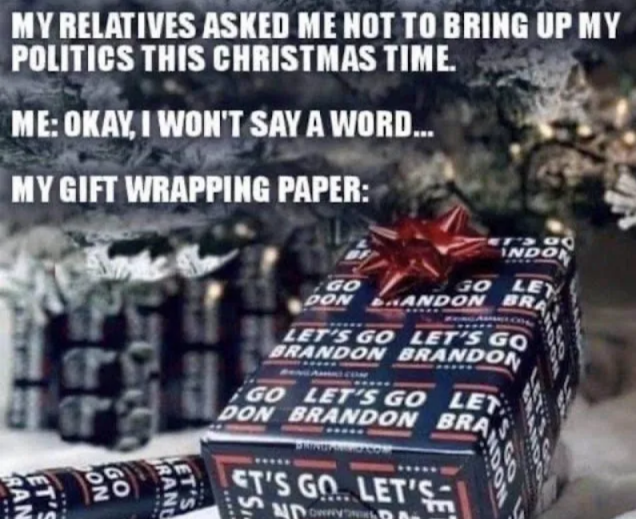 Tuesday Newsfeed: Naughty or Nice, Winter is Here and the Big Chill isn't Far Behind
Posted by Maggie on December 21, 2021 in From the editors
Some might consider this as a short 'work week'. But let's be hones … whether it's work or school, these handful of days leading up to Christmas Eve are pretty much one long office party with plates of employees' Christmas cookies and dollar store Santa hats on heads and…
The Daily Zuby:
I've been to 7 countries and 25 cities over the past 18 months.

In every single one, I was approached in public by multiple people wanting to say, "Thank you"

Never underestimate how much power you have to inspire, help and motivate others. 🙌🏾

Online words have offline impact.

— ZUBY: (@ZubyMusic) December 21, 2021
If you are going to believe in something that you cannot absolutely prove to be true, then at least pick something that makes your life better, not worse.

— ZUBY: (@ZubyMusic) December 21, 2021
They want you to be overwhelmed. They want you to be desperate.
Ignore them. Let their nastiness roll off your back and be free. If everyone let's go, they will not be able to enforce their tyranny. Christmas is a time for family, generosity and hope. Life is for living!!!!

— Matthew Marsden (@matthewdmarsden) December 21, 2021
Moving and Shaking:
Brooke Singman: Biden to announce support for hospitals, access to free COVID tests, vaccine availability amid omicron surge: Biden is expected to announce three steps he'll take to counter the omicron variant's spread … And I will wager he will not be putting any attention to increasing the use of therapeutics that many have used and have gotten good to great results.
Michael Lee: Harris contrasts with Biden, refuses to blame unvaccinated for COVID waves: Biden has taken a tougher stance on unvaccinated Americans … As Joe's "Border Czar" maybe you can atleast put some blame on the unvaxxed and even infected/sick millions of illegal aliens that continue to invade our border and are transported to cities across the nation by your administration.
Twitchy: Vice President Kamala Harris tells CBS News it's no one's fault that the coronavirus hit the world … Sure.
Twitchy: Biden's new position on at-home tests makes Jen Psaki look even WORSE
Tucker Carlson: Biden's COVID policies are the muscle spasms of a dying political party: Regimes in decline often become ruthless and dangerous, and that's very bad news for Americans
Stephen Kruiser: The Morning Briefing: Democrat Psychopaths to America—Merry Christmas! You're All Gonna Die!
Frank Bergman: Hillary Clinton Emails Surface
Emails have from 2009 have surfaced that reveal Hillary Clinton knew about — and possibly covered up — the threat posed by the Chinese Communist Party's Wuhan Institute of Virology while she was in office as President Obama's secretary of state.

In a leaked State Department cable obtained from Wikileaks, Clinton warned that the Wuhan Institute of Virology could lead to "biological weapons proliferation concern."

The email was sent in June of 2009 from the State Department to all embassies in member nations…
Well, why didn't she and the Obama/Biden tag team make a big stink about it? This is what happens when the "Progressives" put diplomacy way ahead of national security. And they do it every damn time. When John Kerry took over Hillary's job at State, he and the tag team were all sweetness and light with Iran … Let's hope the world doesn't pay dearly for that 'progress' in diplomacy.
DC: Democrats Urge Health Officials To Require Vaccination Or Negative Test For Domestic Flights … "PAPERS, PLEASE!"
Noah Rothman: The Pandemic Isn't About COVID Anymore: As early as September 2020, the "experts" were starting to say aloud what was previously the exclusive province of cranks and conspiracy theorists: The temporary emergency measures necessitated by the pandemic were never going away…
Lisa Bennatan: Do West Virginians back Joe Manchin's opposition to Build Back Better?: West Virginians told Fox News they supported Sen. Joe Manchin's opposition to the social spending agenda
Landon Mion: Ted Cruz Says Dems' Treatment of Joe Manchin Could Lead Him to Switch Parties
Lindsay Kornick: Mitch McConnell says he'd welcome Manchin to the GOP if he was so 'inclined': McConnell told Guy Benson, 'He doesn't fit well over there'
Here's something to think about: The DNC is not too kind to those who don't 'go along', and they put less, or no, funds into the campaign coffers of those candidates who don't. A political tactic Manchin might very well seriously consider very soon is switching parties in the very beginning of the new year, because I have a feeling the dems are going to primary him (and throw the money into the challenger). He represents a very 'red' area of West Virginia, and voters will indeed vote for him with an "R" after his name. If they've voted for this DINO they'd vote for him for RINO.
Stacey Lennox: Chuck Schumer's Tough-Guy Act Could Backfire Spectacularly in 2022 and Beyond … Chucky might-well find AOC nipping at his re-election ankles with a primary challenge for that Senate seat come the 2022 midterms…
The Hill: Ocasio-Cortez: Democrats need to to 'crack down' on 'old boys club' in Senate
Cristina Laila: Another House Democrat Retirement Spells Trouble For Pelosi – 23rd Incumbent Dem Won't Seek Reelection Next Year
Sen. Tom Cotton: Recall, Remove & Replace Every Last Soros Prosecutor
BREAKING REPORT: Kevin McCarthy to Launch 7 INVESTIGATIONS Into Biden Admin AFTER GOP Takes House in 2022…

— Chuck Callesto (@ChuckCallesto) December 21, 2021
Yeah, Kevin, let's win majorities and leadership (NEW leadership) in both houses in 2022 first. But yes, have a plan of action ready to roll. And make sure it includes Hunter Biden and "The Big Guy".
Oh, yes, our elitist betters, y'all…
This is exactly what they think of good hardworking Americans that live outside of their elite bullshit NY/LA bubbles. They hate that a Democrat would actually represent his constituents rather than follow blindly the insane and radical plans of lunatic DC Dems! https://t.co/PeJXbakTN3

— Donald Trump Jr. (@DonaldJTrumpJr) December 21, 2021
Twitchy: 'I'm just seeing red': Bette Midler apologizes for calling the people of West Virginia 'poor, illiterate and strung out'
I apologize to the good people of WVA for my last outburst. I'm just seeing red; #JoeManchin and his whole family are a criminal enterprise. Is he really the best WV has to offer its own citizens? Surely there's someone there who has the state's interests at heart, not his own!

— bettemidler (@BetteMidler) December 20, 2021
"When someone shows you who they are, believe them the first time."

You've shown us that the democrats think they are the elites who look down on working class America.

Your destructive policies shut down our business & force us out of work.

We reject the democrat party.

— #ThePersistence (@ScottPresler) December 21, 2021
Amen, Scott.
Leah Barkoukis: Critics Go Off on Actress For 'Despicable' Attack on Manchin Voters
Bette Midler is now less popular than Jane Fonda in West Virginia. Never thought I'd see that lol

— Stephen Smoot (@S_A_Smoot) December 21, 2021
Breitbart: Joe Biden Touts Supply Chain Crisis and Costly Gas Prices as 2021 Achievements
Twitchy: 'You sound like a communist demagogue': Christina Pushaw breaks out the puppets and crayons to explain inflation to Elizabeth Warren and ROFL
Giant grocery store chains force high food prices onto American families while rewarding executives & investors with lavish bonuses and stock buybacks. I'm demanding they answer for putting corporate profits over consumers and workers during the pandemic. https://t.co/NvY2MKKJNP

— Elizabeth Warren (@SenWarren) December 20, 2021
You sound like a communist demagogue. Prices rise during inflation. Inflation happens when the government prints too much money.

— Christina Pushaw 🐊 (@ChristinaPushaw) December 21, 2021
Last week it was the big bad meat industry. Now it's the big bad grocery industry. I understand the need to deflect from Biden's train wreck economy and rampant inflation, but if you want to know how we got here…look in the mirror. Democrats did this and we all know it.

— R.C. (@Bzboyzmom) December 21, 2021
The real sicknesses plaguing the US Congress…
Tom Tillison: Pelosi unveils her 'full program of events' to mark Jan. 6 anniversary
Jim Hoft: We Already Know Capitol Police Killed 2 Female Trump Supporters on Jan. 6 – Now Video Shows a Third Dead Trump Supporter Killed After Police Fired on the Crowd (VIDEO)
Jim Hoft: Celebrity Capitol Police Officer Who Was Seen Beating Trump Supporters on Jan. 6 Gets Contributor Gig on CNN
BONUS:
BET YOU DIDN'T KNOW: He "has been the topic of more songs, hymns and symphonies than any other figure in history. [His] followers innovated and changed the nature of music forever, and musicians and singers in every musical style continue to sing about him."

And that's just one of dozens of amazing facts about Jesus documented and compiled by J. Warner Wallace in his "Person of Interest." It's doubly amazing because, even in this most secular age ever, and no matter your particular opinion of Him, Jesus remains the single most influential individual who ever lived.

Just think: If you were writing a story about a guy you wanted to be remembered 2,000 years later, would you have his birth be to a couple of poor peasants in a backwater land of the greatest empire the world had ever seen and in a stall with a bunch of horses and cows? Merry Christmas…
My secular footnote…
To de-stress I have become addicted to watching endless episodes of "The Waltons" and "Little House on the Prairie" on The Hallmark Channel – Drama. Now then, we are (mostly all) aware of The Hallmark Channel's dedication to jamming their viewing schedule with as many of their own formulaic Christmas romance movies. And some folks are devoted to watching the cable channel to watch them, from Thanksgiving through the Christmas holiday. However, I just can't. As I said, the scripts/storylines are so redundant, just with different weak actors/actresses chosen mostly for their model-groomed looks than acting ability. So, watch them and enjoy. They aren't very demanding of intellect, and good to fall asleep on the couch by. It's just that the promos for those Hallmark produced movies are the majority of ads in the commercial breaks during the programs I'm watching. As a former worker-bee in all departments of the broadcasting profession (radio and TV), I have become so worn-out from the Hallmark movie promos that I have begun yelling, "SELL SOME AD TIME, FOR CRIPESAKES!!!" at the TV during the commercial breaks. For a TV (or radio) station/channel to run company promos costs very little, but it is not money coming into the business with ads for consumer products or commercial businesses/companies brings in.
Anyhow, I'm not the only person on a sugary sweet love story overload (and just from the movie promos!). Last week I heard Glenn Beck bemoaning the cable network's fare. And now this…
Twitchy: Townhall's Kurt Schlichter has a winning pitch for a Hallmark Channel Christmas movie that must be made
Hallmark movie about a beautiful but unlucky in love DC Dem consultant who goes to WV to yell at Manchin over Christmas and falls in love with a rough-hewn carpenter who drives a Tahoe with a Trump 2024 sticker.

— Kurt Schlichter (@KurtSchlichter) December 20, 2021
Now, that's a unique idea! Kudos, Kurt!
~~~
~~Many thanks to Maggie and The Universal Spectator for reprint permission.
Posted by Maggie on December 21, 2021 in From the editors Some might consider this as a short 'work week'. But let's be hones … whether it's work or school, these handful of days leading up to Christmas Eve are pretty much one long office party with plates of employees' Christmas cookies and dollar store Santa hats on heads and… The Daily Zuby: I've…
Posted by Maggie on December 21, 2021 in From the editors Some might consider this as a short 'work week'. But let's be hones … whether it's work or school, these handful of days leading up to Christmas Eve are pretty much one long office party with plates of employees' Christmas cookies and dollar store Santa hats on heads and… The Daily Zuby: I've…