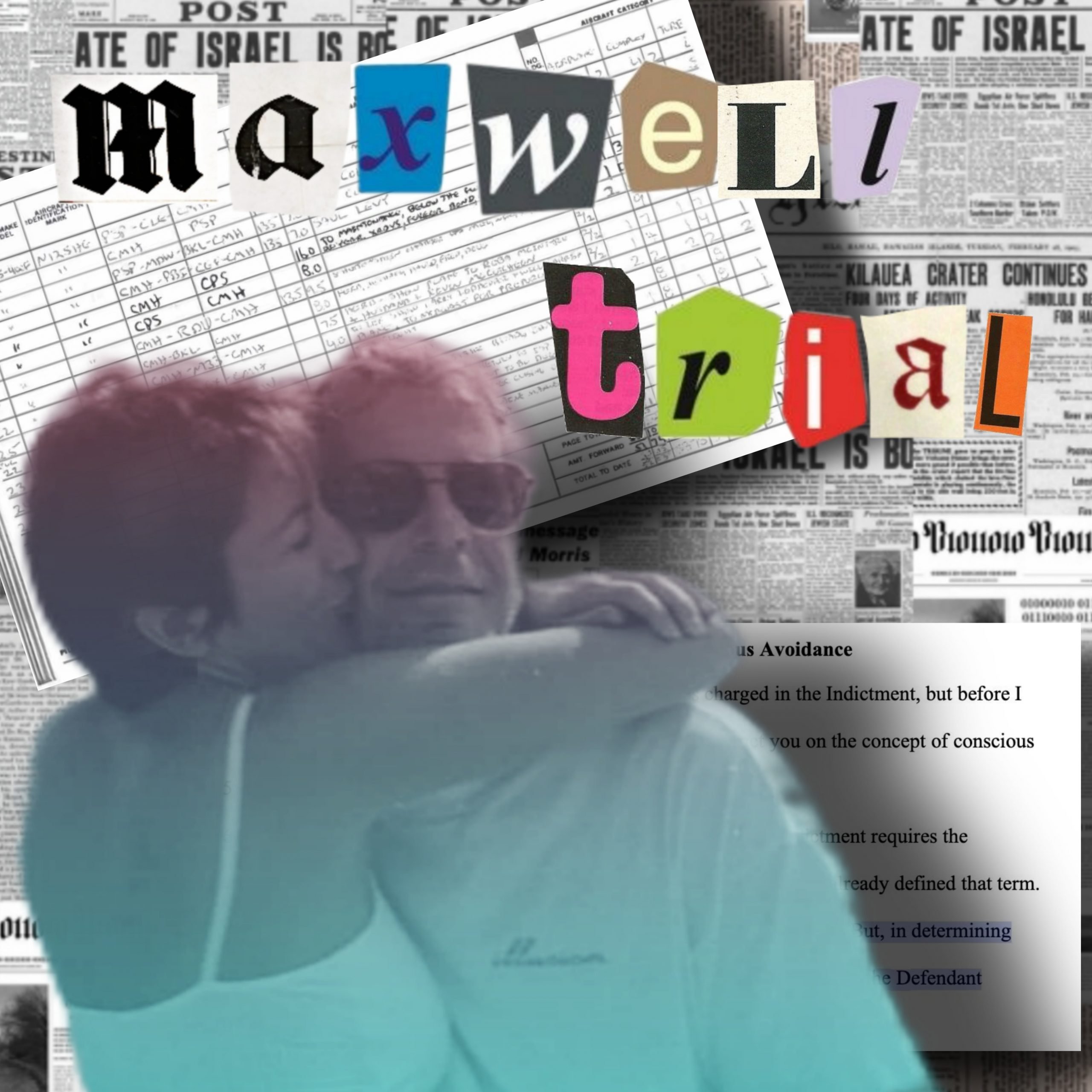 Ghislaine Maxwell Trial: Days 13 & 14
December 21, 2021 — Today began the fourteenth day of trial in the case of the U.S. vs Ghislaine Maxwell. We have been providing daily coverage of the ongoing trial.  If you haven't been following the trial, be sure to read our prior reporting to get caught up first.
Ghislaine Maxwell, daughter of infamous Israeli "superspy" Robert Maxwell has pleaded not guilty to eight charges, including child sex trafficking. Maxwell was partners with disgraced "financier" and "philanthropist" Jeffrey Epstein. Epstein was charged with child sex trafficking and arrested in 2019 but then died while in custody, conveniently shelving his expected trial. U.S. District Judge Alison Nathan has been presiding over the Maxwell case and has imposed strict secrecy, refusing to livestream the trial and redacting and sealing many exhibits. The judge also declined the public call-in line, despite this being a fairly standard practice.
Yesterday's Proceedings
Yesterday was the first day of closing arguments in the Ghislaine Maxwell Trial, after it was mysteriously cut short by the prosecution and the defense rested last week.
Inner City Press reports on the 13th day of the proceedings which was yesterday:
On the morning of December 20 AUSA Alison Moe gave the government's closing argument. Inner City Press live tweeted here, podcast here, 8:30 am live stream here

now US v. #GhislaineMaxwell day of closing arguments begins, after AUSA Maurene Comey Sunday afternoon said public and press should not see the slides in real time.

Judge Nathan asks if the exhibits that have been withheld throughout the trial have at least been put in the public docket this morning. No – only on DOJ's USAfx password protected site. And no defense exhibits in sight. #CourtroomConfidential

Amid secrecy, lunch time for jurors is being discussed. Judge Nathan: The government will go straight through "then an early lunch." The defense, then rebuttal, charge and deliberations possibly beginning today. A comfort break somewhere in there.

Judge Nathan: Stay a few minutes away, so Ms. Williams can reach you, if the jury has notes or a verdict. Note: Inner City Press' immediately filing opposition to withholding of slides and all defense exhibit still not docketed. 

Judge Nathan: Anything else? The box is turned. [That is, the speaker's box, so that the public can't see. Note: no problem without confidentiality / privacy of victims / survivors. But they are withholding ALL slides and demonstratives, and all defense exhibits

 And note: SDNY Judge Rakoff, when Inner City Press requested in US v. Weigand (Eaze / Wirecard case), ordered that all exhibits, US and defense, be put on a public website, not just USAfx. Inner City Press asked Judge Nathan to follow the precedent here: UNdocketed 

 While awaiting entry of jury & US argument, noting that yesterday after Inner City Press wrote to Judge Nathan, AUSA Comey and 2 on defense, suddenly exhibits from much earlier in the case were put onto USAfx, redacted, including Virginia Roberts' school records

There are also Epstein Victims Compensation Fund general releases, one for Annie Farmer and another with name redacted. And a long video Inner City Press is still belatedly downloading. Hide the ball until the last day, then put it up in redacted form

 Jury entering – all rise! [Ghislaine Maxwell is in a beige sweater today, at defense table with Bobbi Sternheim. In front row of gallery, Kevin Maxwell and, yes, Leah Saffian

Judge Nathan: We'll break early for lunch, then we'll come back and hear Ms. Menninger. Then another break. Rebuttal by the government & instructions from me. Ms Moe? AUSA Moe: Ghislaine Maxwell was dangerous. She targeted a girl whose father had just died [Jane]

AUSA Moe: Maxwell ran the same playbook again and again. She groomed them. She caused deep and lasting harm to young girls. It is time to hold her accountable. [Maxwell flipping through papers, flipping hair]. AUSA Moe: You've heard from law enforcement officers

AUSA Moe: You've seen documents: phone messages, and a little black book with victims' names. This summation is our opportunity to explain who all this evidence fits together. Maxwell is guilty. Today I'm going to talk to you about 8 different reasons she's guilty

 AUSA Moe: First, Maxwell and Epstein were partners. They were in a romantic relationship. Maxwell wrote this document. [Not show to public or press.]

 AUSA Moe (reading from slide not shown to press or public) "A couple for 11 years… great partners… rarely apart… best of friends." Does that sound like a personal assistant? No.

 AUSA Moe: When you're with someone for 11 years you know what they like. Epstein liked young girls. Epstein could not have done this alone. A single middle aged man inviting a girl to a ranch is creepy. That set of "alarm balls."

 AUSA Moe: Maxwell as key – you saw photos how close they were. Let's look at those. [Not shown to press or public]

AUSA Moe: You are looking at Maxwell and Epstein swimming naked in a pool. [Not shown during closing – and otherwise redacted or withheld] Here she is massaging Epstein's feet with her breasts.

AUSA Moe: Let's talk about the charges, six counts. [Note: CourtListener still does not have the jury charge, which was only docketed on PACER this morning]

[Note – even now during the closing argument, with all slides and demonstrative withheld, searching in PACER for the jury charge, doesn't seem it's there, just a six page cover letter. #Fail

OK – Inner City Press has dug to get the jury charge, and puts it (in case as some complained DocumentCloud doesn't work) on Patreon here   and here it is on DocumentCloud

 AUSA Moe: Beyond the law, and venue, let me respond to what the defense has said. In their opening, Maxwell's counsel said Maxwell is being blamed for something a man did. But she made her own choices.

AUSA Moe: This case is about manipulating young girls. And the case was about money. Carolyn got a few hundred dollars, Maxwell got $30 million.

 AUSA Moe: This trial was also about memory – you heard about trauma. They argue Maxwell was too busy to commit these crimes. But Maxwell had personal assistants, and a woman to walk her dog. She ordered sand to be delivered to Epstein's private island.

AUSA Moe: Their expert Elizabeth Loftus tried to convince people they say Bugs Bunny at Disney World. She admits she is an advocate for the defense. She's made a lot of money.[Does not mention Harvey Weinstein, or Robert Durst, etc]

AUSA Moe: The payments under the Epstein victims compensation fund are done, the witnesses have no financial stake in the outcome of this trial. They are corroborated, by Juan Alessi, Mulligan, and the witnesses called Matt and Shawn

 AUSA Moe: There is only one conclusion, that Maxwell is guilty and you should convict her. Use your common sense. You will reach the only verdict consistent with the evidence: Maxwell is guilty. Judge Nathan: We're going to take a lunch break. [It's 11:16 am]

 Judge Nathan: No discussions about the case. Bobbi Sternheim: The massage table coming from California is not enough [for interstate commerce]. We want a limiting instruction.

 [Eager to record short podcast – but defense keeps arguing, for mistrial, against invocation of grooming by proxy. And now -] 

AUSA: We showed the listings in the list of masseuses of numbers for Mom and Dad. Judge Nathan: I deny the motion for a mistrial. – Inner City Press
The defense doesn't appear to have much of a robust argument for Ghislaine's "innocence" and appears to be looking for technicalities to get her off.
Inner City Press reports on the defense rebuttal in closing arguments:
On the morning of December 20 AUSA Alison Moe gave the government's closing argument. Inner City Press live tweeted here, podcast here, 8:30 am live stream here

Then, the defense rebuttal, live tweeted here, podcast here

Maxwell's lawyer Menninger: I am not here to defend Jeffrey Epstein. He is not my client. The US presented evidence like a sensational tabloid. Private island, photos. These were things that Epstein did, perhaps, his crimes. But Ghislaine Maxwell is not Epstein

Menninger: Where are the other 37,000 photographs? Who was in them? You don't know. They didn't bring you those photos. There were folders and binders. But they brought you the most innocuous photos of a couple that was once together.

 Menninger: This is straight up sensationalism, your Honor, I mean, ladies and gentlemen. There's the lack of evidence. Jane hired Robert Glassman two weeks before she spoke to the FBI in 2019. The lawyers like Boies Schiller helped set up the Epstein victims fund

 Menninger: Then there's the manipulation piece. We'll go through the stories of each witness. The stories have changed. Carolyn had a lawyer in 2008, a story about Epstein and Sarah Kellen who she also sued without mentioning Ghislaine Maxwell.

 Menninger: Where are your boots that you say they bought you? We had to ask those questions. The truth was manipulated over time. They've made Ghislaine Maxwell to be Cruela DeVille and the Devil Wears Prada all rolled up in to one.

 Menninger: The pilot told you Jane was a fully grown, mature woman. Ghislaine didn't entice her to travel. The US said she was "sometimes in the room when it happened." But Jane said she wasn't sure.

 Menninger: Jane said she went to Epstein's house every week. But no one took the stand to say she spent time with Ghislaine. Who are these relatives? Annie's mom came; she said she never spoke to Maxwell.

Menninger: Larry the pilot said Jane was fully mature. No pilot testified he saw Carolyn, or Kate, or Annie. There was not culture of silence, you just got the sound of silence. One got a two time burglar with an ax to grind.

 Menninger: They said you'd learn Ghislaine was in the room. But Jane can't remember. And there's no motive. They say a happy, educated woman in her 30s would end her career as a facilitator of sexual abuse – but where's the evidence? Epstein was a manipulator

Menninger: Do you know Ghislaine's life style before Epstein, and after? Maybe it was Jeffrey who needed Ghislaine and her connections, and not the other way around.

 Menninger: I want to talk about Jane's age. Her father died at 13 – tragic. But she's applying to go to an arts camp that cost $4000 per person. They didn't even apply for financial aid.

 Menninger: We see her travel records, this person who says he was indigent – she traveled to Italy. There's a flight I'll show you [slides withheld from press and public] that shows Jane flew at earliest at 16.

Menninger: Jane got her dates wrong, in a case that's about dates, and about travel. This homeless Jane, traveling all over. She says she sang for Mike Wallace's 80th birthday. But she was 17 by then. She got it wrong.

Menninger: The government just said, We'll assume your first time to New York wasn't the Lion King data. Doctor Loftus said this is unlikely, this unremembering.

Menninger: Now let's talk about the boots. She said the government didn't ask for them in 2006. You'll have the boots with you back in the deliberation room, you'll see how worn they are.

 Menninger: Where is the chef from the ranch? Where are her diaries? What you got is a photograph of the front and back of a diary, and few pages. But not the rest. Ms. Farmer told you she met Boies Schiller when she was going to be a witness in Roberts' case ]

Menninger: Kate filled out a U visa application for exceptional people. She said she is exceptional – she's a music therapist. She says she's using a pseudonym because of her child. But she used her own name in court after Epstein's death.

Menninger: Kate claims she met Ghislaine Maxwell in London, when she was younger than 17. The said "the house with the red door," look at it, across from the Nag's Head Pub. [Slide withheld from Press and public]

Menninger: Let's talk about Carolyn. She says she saw a photograph of Ghislaine Maxwell pregnant. But no one else saw this. Money. The first time Maxwell is accused of anything by Carolyn was during the compensation process. Inner City Press @innercitypress · 3h Menninger: Let's talk about Shawn, her ex boyfriend, with his felony convictions. Carolyn tried to minimize her drug abuse. But Shawn told you they were abusing marijuana, cocaine, ecstasy and other drugs. They shared a phone, calls from Kellen and Epstein

Menninger: Let's talk about Dr Rocchio, the ultimate victim apologist. She's not trained to question accusers accounts. There was no evidence Ghislaine Maxwell groomed anyone. Kate was dating a man Maxwell's age.

 Menninger: The government has no basis to say that Ghislaine Maxwell wrote the document about her relationship with Epstein, told in the third person. There's no proof.

Menninger: And why didn't Virginia Roberts testify? If she could corroborate what Carolyn told you, don't you think she would have? Why would a proper Oxford educated woman do this?

Menninger: Larry the pilot said sure he signed a Non Disclosure Agreement, people don't want talk about famous people flying on the plane, like Bill Clinton and John Glenn…

Menninger: Epstein put his helicopter in the name of Air Ghislaine. That would correspond to the $7 million. Rich people do that. Epstein was generous. He was building a lodge at Interlochen that was handicapped accessible.

 Menninger: Certainly no one from JP Morgan told you what the money was for…  Judge Nathan: Ms. Menninger, we're just going to take a real quick stretch break. [Ghislaine Maxwell stands up, stretches, sits down]

Menninger: Mr. Alessi told you when women other than Ghislaine visited, he would take her photo down — Oops, I got ahead of myself [Menninger say] Check out the flight logs for yourself.

Menninger: Mr. Alessi was not doing a good job. Does being a tough boss make you an enforcer of a code of silence? He doesn't really authenticate the black address book. Where are the other staff?

 Menninger: Mr. Alessi told you a story that was not true. That he broke in to help someone. But it was to steal a gun. He broke in twice. You can't trust this man's word.

 Menninger: Memory doesn't work like a tape recorder, that you could rewind and just hit play. None of these interviews were recorded. They all had a plan to get money.

 Menninger: The government would ask again and again, are you sure there was no sexual abuse in New Mexico? Doctor Dubin was solid on what she did not have the group sex alleged.

 Menninger: Counts 2 and 4 rely on Jane entirely. If you don't believe her, drop the counts Count 6 relies on Carolyn. If you don't believe her, drop the count.

Menninger: Ghislaine is being tried here for being with  Jeffrey Epstein. Maybe it was the bigger mistake of her life. But it is not a crime. Acquit her.

Judge Nathan: Let's take a break.

Then the rebuttal by AUSA Comey and charge, live tweeted here:

in US v. #GhislaineMaxwell, now AUSA Maurene Comey's rebuttal summation – with all slides and demonstratives withheld from Press and public. Inner City Press challenged

AUSA Comey: Ghislaine Maxwell touched three witnesses breasts. The defense tried to get you to look way through the massive amount of evidence Ms. Moe walked you through this morning [all slides and demonstratives withheld from public and Press]

AUSA Comey: You saw it in this exhibit [withheld] – who needs that many massages? She was in the room, she knew. The $30 million is "we molested kids together" money.

AUSA Comey: People who prey on children do not leave behind documents. The defendant was not walking out of massage rooms and writing a memo, Today I touched Jane's breasts.

AUSA Comey: Look at the flight logs [we'd like it], Epstein flying to New Mexico, then leaving a year later with Ms. Maxwell. Ms. Menninger was trying to mislead you.

 AUSA Comey: The defense's own expert Professor Loftus said, Some things you never forget, moments that change your life. Imagine you had to remember Thanksgiving from years ago. Turkey happens every time

AUSA Comey: There is not a shred of evidence that a group of lawyers got together and made up a story about Maxwell. The lawyers got their money before this trial started.

 AUSA Comey: Why would the ex-boyfriends come here and lie to you? And Alessia – the defense tried to dirty him up. But he admitted he stole. He has no reason to lie.

AUSA Comey: If they wanted to frame Maxwell they would have put way deeper in. No. They testified for justice. … The defendant is guilty.

Judge Nathan: Thank you Ms. Comey. I will now read the charge.

Programming note – during reading of the jury charge, a copy of which Inner City Press put on DocumentCloud, ran to cover proceeding in CIA #Vault7 leaks case of Joshua Schulte. Small world: he complained about delay getting back to MDC because of Maxwell

 Judge Nathan has reached page 50 of 83 of the charge: "when Jane was under the age of 17, Maxwell participated in multiple group sexual encounters with Epstein and Jane." While read-out continues, we'll tweet into the thread counts and penalties per SDNY

 "counts/potential sentences: Count 1: conspiracy to entice a minor to travel to engage in illegal sex acts, which carries a maximum sentence of 5 years; Count 2: enticing a minor to travel to engage in illegal sex acts, which carries a maximum sentence of 5 years

 Count 3: conspiracy to transport a minor with the intent to engage in criminal sexual activity, which carries a maximum sentence of 5 years' Count 4: transporting a minor with the intent to engage in criminal sexual activity, carries a maximum sentence of 10 years

 Count Five: conspiracy to commit sex trafficking of minors, which carries a statutory maximum of five years in prison; and Count Six: sex trafficking of minors, which carries a statutory maximum of 40 years in prison. [Judge Nathan still reading the charge]

 Judge Nathan's charge read-out almost over. It's 4:39 – unclear how much deliberation could occur today. (Jurors was asked to be prepared to stay to 6 pm, but we'll see). Should find out soon – watch this thread Judge Nathan: I'm sure if you listen to the views of your fellow jurors. Give me a few minutes for a sidebar while you remain in the juror boxes. Everyone else, remain quiet.  [Ghislaine Maxwell is sitting all alone at the defense table]

Judge Nathan: Five alternate jurors can leave, but remain on call. They are Jurors number 125, 149, 151, 152 and 170. The others you can begin to deliberate. Ms. Williams will show you how to access the admitted exhibits. All rise!

 [With jury gone] Judge Nathan: We'll wait to hear back from the juror. I want to thank the 8 counsel, I learned a lot from you. [Marshals take Maxwell out of the courtroom. But she'll be brought back in when the jurors came back in, or for any note they send.] – Inner City Press
The defense arguing about sensationalism is absolutely absurd. Comparing Maxwell to Cruella DeVille and the Devil Wears Prada is hardly a good argument. It is sensational, exactly how they characterized the government's case. The one good point the defense made was asking why the government didn't call Virginia Roberts to testify and back up Carolyn's story.
A couple of notations about the logs:

* They're 118 pages.
* They span from April 1991 to Jan. 2006.
* They're signed by Epstein's ex-chief pilot David Rodgers.
* They appear to be pretty lightly redacted, including—we learned in court—by shielding the names of the accusers.

— Adam Klasfeld (@KlasfeldReports) December 20, 2021
Adam Klasfeld of Crime and Law also reported on yesterday's proceedings, you can read this entire thread by clicking on the tweet above.
Archive so you can readhttps://t.co/CHZ7D1NucN

— Bigfish (@trebillion) December 20, 2021
Former President Donald Trump flew on Epstein's plane six more times than was previously known.
Today's Proceedings: 14th Day of Trial
Today begins the 14th day of the trial, and day two of jury deliberations, after closing arguments yesterday. Today is the first FULL day of jury deliberations.
To be clear:

The claims against Maxwell are NOT that she avoided knowledge of alleged crimes.

Maxwell is accused of facilitating and participating in Jeffrey Epstein's abuse of minors. Three accusing witnesses testified that she touched their breasts.

— Adam Klasfeld (@KlasfeldReports) December 21, 2021
This is a weird part of the jury instructions, but it does indeed make sense that it would be included with the other instructions.
Jurors will then need to be asked whether Ghislaine Maxwell, described by two of Epstein's ex-pilots under oath as his "No. 2" and by his ex-house manager as the "lady of the house," knew what the late sex offender was up to.

— Adam Klasfeld (@KlasfeldReports) December 21, 2021
I can't see how the jury could find her "willfully blind" to what was happening when she was clearly participating and recruiting for Epstein.
The defense in that case was that Ghailani was an unsophisticated errand boy by hardened terrorists to obtain the bomb-making materials.

Their summations went: "Ahmed did not know."

Jurors acquitted on more than 200 counts and convicted on one—leading to his life sentence.

— Adam Klasfeld (@KlasfeldReports) December 21, 2021
The entire justice system needs to be reformed in the United States.
Just a follow-up point:

All of this makes things significantly **harder** for Maxwell. "Conscious avoidance" charges are quite common — and the bane of defense attorneys.

— Adam Klasfeld (@KlasfeldReports) December 21, 2021
I find it a little disconcerting that the jury is asking for more instructions on conscious avoidance, because she didn't avoid anything.
Ghislaine Maxwell "a dangerous woman" and "a predator".

Faces decades behind bars.

Will the jury reach a verdict today? https://t.co/zUiwY9eXav

— Ghislaine Maxwell Trial Live (@thepeepingdog) December 21, 2021
This is a very good point. Ghislaine Maxwell's attorneys don't have much of a defense other than trying to claim each witness was somehow lying and/or had some sort of "false" or "distorted" memories from trauma. This seems to indicate an admission that there was a traumatic event that occurred in the first place.
Jurors were shown 103 slides during the gov's closing argument in the Maxwell trial yesterday, including this array of photos as AUSA Alison Moe argued Maxwell and Epstein were "partners in crime." pic.twitter.com/hQ6GvMGLN5

— Ben Feuerherd (@benfeuerherd) December 21, 2021
Most of the evidence and exhibits have been sealed from the press and the public. This secrecy has been imposed by lead prosecutor, AUSA Maureen Comey.
The updated flight logs submitted as evidence in the Ghislaine Maxwell trial seem to confirm that one woman many initially viewed as an Epstein accomplice was herself an Epstein victim and underage.

The question now is why did Palm Beach law enforcement do nothing about this? pic.twitter.com/IhrRGP6Dha

— Chris Spargo (@chrisonchris) December 21, 2021
This is an interesting statement. I haven't seen anyone else point this out or confirm it.
Judge Nathan took to the bench at 10:10 am and said, I've gotten a note. The jury wants the transcripts of the testimony of Jane, Annie and Carolyn.
It will be assembled and sent to them via the Court Security Officer, who's been sworn in for this function.

— Inner City Press (@innercitypress) December 21, 2021
Hopefully this is a good sign that the jury wants to flesh out the testimony of the witness/survivors.
As of 11 am, current status in Courtroom 318: empty, but sitting at defense table are Maxwell's official lawyer Bobbi Sternheim and unofficial / undocketed lawyer or photo-fixer Leah Saffian: https://t.co/PhRxvg9lXD

— Inner City Press (@innercitypress) December 21, 2021
Saffian is a personal friend of Maxwell. It was she who took the now infamous photos of her outside the "In and Out" burger joint that clearly had been photoshopped for reasons unknown.
Here is the Defense Closing Presentation Slides, Redacted, initially withheld:
https://www.documentcloud.org/documents/21165807-usvmaxdefredactedicp
Uploaded by Inner City Press.
Now 4:06 pm –
Judge Nathan: I have received a note. The jurors say they want to end today at 5 pm, deliberate tomorrow from 9 to 4:30 & have lunch at noon.
[And if not decision by the end of Dec 22?] Judge Nathan: It is possible for them to deliberate on Thursday

— Inner City Press (@innercitypress) December 21, 2021
The jury goes home today after a full day of deliberation, which will pick back up tomorrow.
We will continue to provide updates on the trial, please check back for more information.
December 21, 2021 — Today began the fourteenth day of trial in the case of the U.S. vs Ghislaine Maxwell. We have been providing daily coverage of the ongoing trial.  If you haven't been following the trial, be sure to read our prior reporting to get caught up first. Ghislaine Maxwell, daughter of infamous Israeli…
December 21, 2021 — Today began the fourteenth day of trial in the case of the U.S. vs Ghislaine Maxwell. We have been providing daily coverage of the ongoing trial.  If you haven't been following the trial, be sure to read our prior reporting to get caught up first. Ghislaine Maxwell, daughter of infamous Israeli…