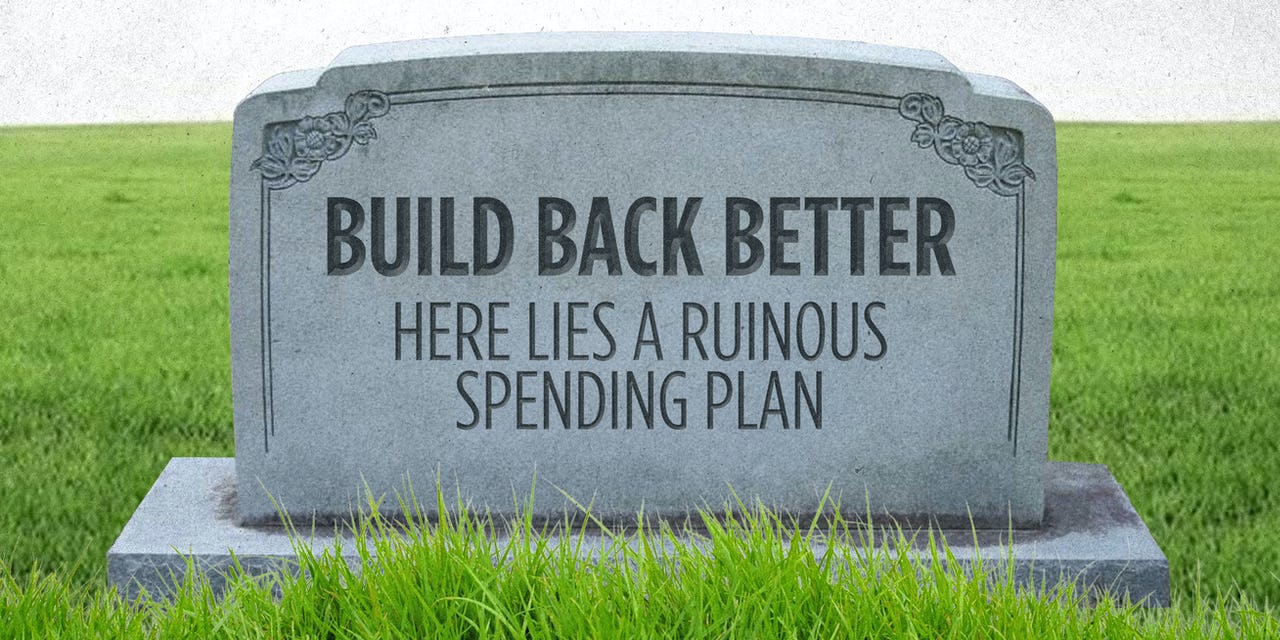 Biden's Bill Crashes and Burns
It took all 50 GOP senators and one Democrat, but the good guys prevailed.
So said hard-left anti-Semite Minneapolis Congresswoman Ilhan Omar, who clearly thinks she knows West Virginia Senator Joe Manchin's constituents better than he does. Perhaps she didn't get the memo that his state's voters went for Donald Trump over Joe Brandon by a colossal 39 points, and that they narrowly reelected Manchin in spite of his party affiliation, not because of it.
In any case, Manchin announced yesterday that he'd be a "no" vote on the 79-year-old lame-duck president's massive Build Back Better spending bill. By our math, that'd drop the Senate's yeas to 49 while elevating its nays to 51, thus killing this budget-busting inflation bomb and sending all fiscally responsible Americans into the holidays with a smattering of good tidings from the Swamp.
On Friday, we proposed two cheers for the West Virginia Democrat. This might merit a full three.
"This is a mammoth piece of legislation," said Manchin, "and I had my reservations from the beginning when I heard about it five-and-a-half months ago. … The inflation that I was concerned about — it's not transitory, it's real, it's harming every West Virginian … the cost of gasoline, the cost of groceries, the cost of utility bills — all of these things are hitting in every aspect of their life … and then you have the debt that we're carrying at $29 trillion. … If I can't go home and explain it to the people of West Virginia, I can't vote for it. And I cannot vote to continue with this piece of legislation."
Clearly, Manchin has his reasons for voting against this bill, but perhaps most prominent among them is the hidden tax that hits the poorest among us hardest of all. "We have inflation that can … really harm a lot of Americans, and especially those who are most needy. … So I think that's where our attention needs to be directed towards immediately."
We agree. And so does UPenn's Wharton School of Business, which is hardly a right-wing think tank but which nonetheless put hard dollars to a somewhat murky concept. In running the numbers, Wharton reports that "inflation in 2021 will require the average U.S. household to spend around $3,500 more in 2021 to achieve the same level of consumption of goods and services as in recent previous years."
Nancy Pelosi and Chuck Schumer, though, aren't taking the news lying down. In an effort to appear brave in the face of unmitigated disaster, Schumer announced this morning that he's calling for a Senate vote anyway. "Therefore," he says, "senators should be aware that the Senate will, in fact, consider the Build Back Better Act very early in the new year so that every member of this body has the opportunity to make their position known on the Senate floor, not just on television."
Make our day, Chuck. We're confident that the more the American people learn about this reckless leftist monstrosity, the more they'll appreciate what 50 Republican senators and one sensible Democrat did to derail it.
As for Joe Biden, his handlers aren't happy. "Just as Senator Manchin reversed his position on Build Back Better this morning," said White House Press Secretary Jen Psaki, "we will continue to press him to see if he will reverse his position yet again, to honor his prior commitments and be true to his word."
We're not sure calling Joe Manchin a liar is a good strategy, but it shows just how unhinged the Democrats can become when someone — anyone — gets in their way. In any case, it didn't keep Texas Republican Congressman Dan Crenshaw from rubbing a bit of salt into their wound.
"BREAKING: Joe Manchin on Build Back Better: 'This is a no on this legislation.' America has dodged a serious bullet. BBB is dead. Merry Christmas!" he wrote.
Merry Christmas, indeed.
~~~
~~Reprinted with permission. See the original article here and leave some comments! 
It took all 50 GOP senators and one Democrat, but the good guys prevailed. So said hard-left anti-Semite Minneapolis Congresswoman Ilhan Omar, who clearly thinks she knows West Virginia Senator Joe Manchin's constituents better than he does. Perhaps she didn't get the memo that his state's voters went for Donald Trump over Joe Brandon by…
It took all 50 GOP senators and one Democrat, but the good guys prevailed. So said hard-left anti-Semite Minneapolis Congresswoman Ilhan Omar, who clearly thinks she knows West Virginia Senator Joe Manchin's constituents better than he does. Perhaps she didn't get the memo that his state's voters went for Donald Trump over Joe Brandon by…