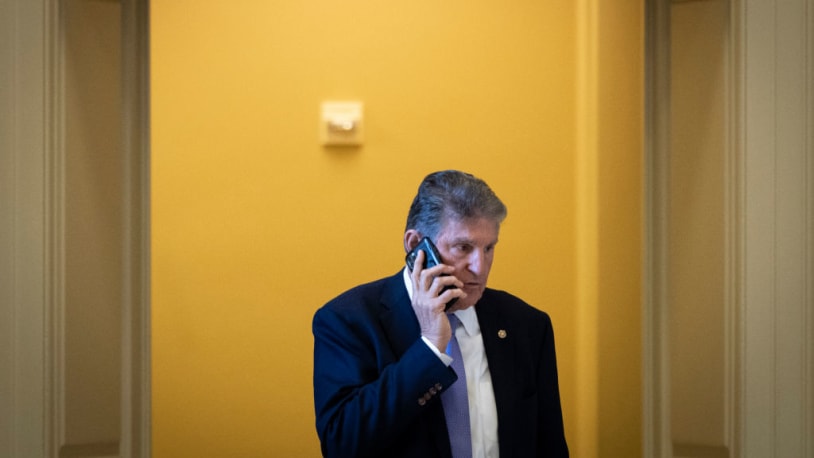 Biden and Manchin reportedly spoke after Manchin's Build Back Better bombshell, and talks may resume
Democrats are, in fact, in disarray after Sen. Joe Manchin (D-W.Va.) put the kibosh on their Build Back Better legislation Sunday morning. But they are still talking. Manchin and President Biden spoke Sunday night, hours after Manchin announced on Fox News Sunday that he is a "no" on the bill and suggested he was done negotiating, Politico reports. 
The two Joes had a cordial conversation, three people familiar with the call told Politico, and "the conversation ended with a sense that negotiations would, in fact, resume around the Build Back Better Act in some form in the new year." Manchin blamed White House staff Monday for pushing him to tank the legislation — he did not want to be mentioned by name in Biden's announcement last Thursday that the bill won't pass until next year, Politico says — but did not blame Biden himself.
"How can things end this way when the two Joes were made for each other?" Margaret Carlson writes at The Daily Beast. "The two share nostalgia for bipartisanship, the filibuster, and the backslap." Both feel under the gun and at the end of their ropes, but "I suspect that when the two Joes connected, they put their troubles in perspective and remembered better times when, like so many of us, they made promises to each other they intended to keep and then life intervened and connections got crossed," Carlson adds. "What's another round or two for the Joes if they leave the world better than they found it?"
Manchin's way forward is starting over and passing a smaller number of longer-funded items through Senate committees before combining them in a tidier package, "but many Democrats take that as just another delay, since Manchin still hasn't definitively committed to passing new legislation," Politico reports.
Still, "when Democrats' anger subsides," their most likely and "most logical" strategy is to heed Manchin's instructions and "deconstruct and then reconstruct Build Back Better to include fewer programs, but to also ensure that those programs are fully funded for the life of the bill," Gerald Seib writes at The Wall Street Journal. Progressives may hate it, but it "would be an approach easier to explain to voters in the 2022 election year. As an added political bonus for Democrats, it might compel Republicans to be on the record opposing specific programs that Democrats insist are popular when standing on their own."
Democrats are, in fact, in disarray after Sen. Joe Manchin (D-W.Va.) put the kibosh on their Build Back Better legislation Sunday morning. But they are still talking. Manchin and President Biden spoke Sunday night, hours after Manchin announced on Fox News Sunday that he is a "no" on the bill and suggested he was done…
Democrats are, in fact, in disarray after Sen. Joe Manchin (D-W.Va.) put the kibosh on their Build Back Better legislation Sunday morning. But they are still talking. Manchin and President Biden spoke Sunday night, hours after Manchin announced on Fox News Sunday that he is a "no" on the bill and suggested he was done…